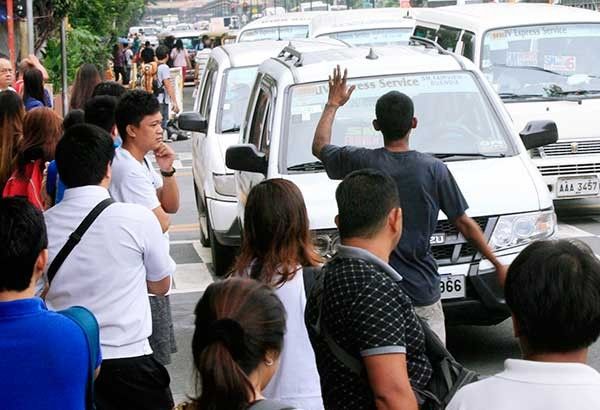 Commuters wait for a ride along España in Manila during the jeepney strike yesterday.
EDD GUMBAN
Hyundai Modern Jeepney Okd for PUV modernization
MANILA, Philippines — The official distributor of Hyundai vehicles in the country has secured the certificate of compliance (COC) from the Department of Transportation (DOTr) for the Hyundai Modern Jeepney, its entry to the government's public utility vehicle (PUV) modernization program.
Hyundai Asia Resources Inc. (HARI) president and chief executive officer Ma. Fe Perez-Agudo said the company's Modern Jeepney Class 1 and 2 are ready to serve the public after obtaining COC from the DOTr.
Powered by a 2.5-liter Euro-4 compliant CRDi diesel engine with a six-speed manual transmission, Hyundai's H-100 Class 1 Modern Jeepney can accommodate 12 passengers and the driver, as well as move cargo on a daily basis.
As a modern vehicle, the Class 1 Modern Jeepney is equipped with CCTV (closed-circuit television), digital signboard, optional WiFi router, and two automated fare collection systems (AFCS) for convenient payment.
Meanwhile, Hyundai's Class 2 HD50S Modern Jeepney is powered by a 2.9-liter Euro 4-compliant CRDi engine which promises fuel efficiency, reliability and cleaner emissions.
Apart from AFCS, WiFi and CCTV, the Class 2 Modern Jeepney features global positioning system tracking, a seven-inch monitor, as well as a speed limiter.
Owners of the Class 1 and Class 2 Modern Jeepneys can avail of HARI's after-sales support at its commercial vehicle dealerships across the country.
Launched in 2017, the PUV modernization program seeks to promote environment-friendly and more efficient public transport systems through the replacement of old jeepney units with modern PUVs which have Euro 4-compliant diesel engines or electric motors.
Through the PUV modernization program, the government wants to better serve passengers, as well as help mitigate the effects of climate change.
"We are not only in the business of cars – we're in the business of mobility. More than just delivering innovative products, we continue to rethink our business model, connect with people and institutions, and are open to new perspectives and new ways of thinking and doing things," Agudo said.
Earlier, she said HARI expects total sales to reach 40,000 to 45,000 units this year, up from 35,401 units last year.
As of end-August, HARI sold 22,329 units, down slightly from 22,511 units last year.
At present, HARI has 42 passenger car and 14 commercial vehicle dealerships in the country.