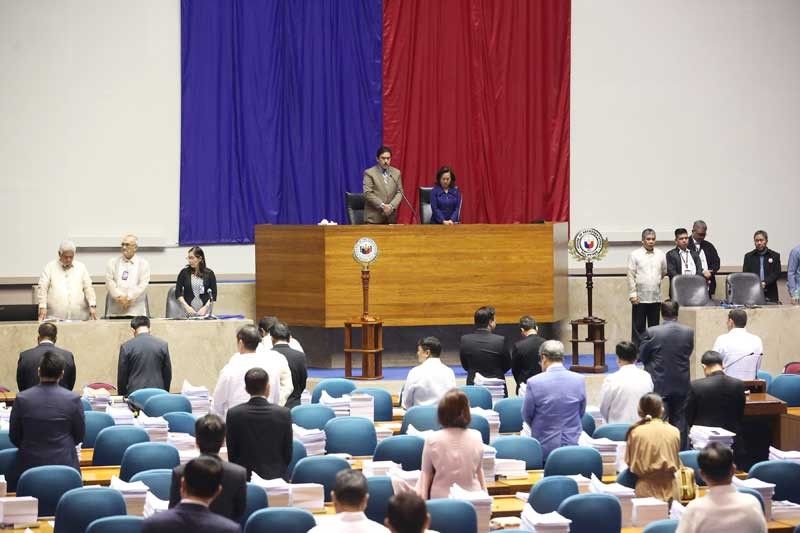 The House of Representatives proposed a P14-billion 2020 budget for themselves, to among others, support 22 deputy speakers. Each will get P750 million. Parang nanalo ng lotto. Two deputy speakers should be more than enough.
Michael Varcas
Total disrespect for taxpayers
DEMAND AND SUPPLY
-
Boo Chanco
(The Philippine Star) - September 27, 2019 - 12:00am
Our public officials today totally disrespect us, the taxpayers. They also think we are idiots who will believe their excuses for outrageous spending.
Speaker Cayetano claims the additional P1.6 billion for the 2020 budget of the House of Representatives will be used for legislative research. That's on top of the at least P100 million per congressman that Rep Joey Salceda said they will receive. Research? Hahaha!
The House of Representatives proposed a P14-billion 2020 budget for themselves, to among others, support 22 deputy speakers. Each will get P750 million. Parang nanalo ng lotto. Two deputy speakers should be more than enough.
Given the persistent poverty in our country and a few million Filipinos still don't have enough food, this very expensive maintenance budget for our legislators is a grievous scandal.
Worse, they have fattened their own budgets by cutting down on allocations for public services. Our elected public servants have clearly betrayed the public trust.
For instance, the budget for disease surveillance — which is crucial in the monitoring of vaccine-preventable diseases — has been cut amid outbreaks of measles, dengue and polio in the country.
Research Institute for Tropical Medicine (RITM) director Celia Carlos told the Senate health panel last Tuesday that their proposed budget for disease surveillance has been slashed by '80 million for 2020. Actually, their budget should have been augmented by about '50 million more for next year.
The RITM is a very important unit of the Department of Health given their essential work on preventing epidemics of infectious and other tropical diseases. It was instrumental in discovering the reemergence of polio in the country.
The first two confirmed cases of polio in 19 years turned up in Laguna and in Lanao del Sur.
The president of the Philippine Pediatric Society, Dr. Salvacion Gatchalian, warned the Senate "we will have emergence of all diseases if no surveillance is in place."
The health department itself reportedly faces a 10-billion budget cut.
That is not only stupid, but callous and immoral in the face of the resurgence of once eradicated diseases like measles and polio. Dengue has had its worst outbreak and very high number of deaths this year.
"Every department is supposed to have a five to 10 percent increase annually considering the increase in population," Former health secretary and now Rep. Janette Garin told ANC's Early Edition.
The former health chief said there was a 71 percent reduction in the DOH's fund for human resources deployment, which would affect its immunization program since the agency needs experts and personnel who would administer the vaccine.
There was also a 63 percent reduction in the health facilities enhancement program (HFEP), which Garin said would affect government's implementation of the Universal Health Care Law.
Garin added that there was a 45 percent decline in the department's budget for its rabies vaccination program and a 16 percent decrease in its non-communicable diseases program, among others.
Sen. Ralph Recto said the DOH is also being shortchanged of its rightful share in sin tax collections. For 2020, the senator said, DOH and Philhealth are getting P28.3 billion short of what Republic Act 11346 guarantees.
According to Sen Recto, in 2018, total collections from alcohol was P68.8 billion; from tobacco P136.08 billion; from sugar sweetened beverages, P38 billion, or a total of P242.8 billion.
"Thus, the combined DOH-PhilHealth 50 percent should be P110.9 billion, net of other deductions. Following the 80-20 sharing, P88.72 billion should go to PhilHealth, and P22.18 billion to DOH-HFEP and medical assistance.
"But under the proposed 2020 national budget, PhilHealth is getting P67.3 billion, or P21.42 billion below what its share should be.
"As for the DOH, its HFEP is earmarked P5.9 billion, and its medical assistance program P9.4 billion, or P6.9 billion short of what the law guarantees."
Apparently, the current leadership at the health department failed to defend its budget. It didn't help DOH that COA discovered government purchased drugs rotting in DOH bodegas, undistributed despite a serious shortage of prescription drugs in the field.
The sane solution is to replace incompetent health officials, but not cut the department's budget. The health department performs a crucial public service and supporting its programs is a wise use of public funds.
Ensuring the people's health is an investment in human capital which is necessary for economic growth. Health problems and epidemics are threats to the well-being of every citizen, making the mission of DOH of utmost importance.
Perhaps, President Duterte can show that the trust of our people in him is not misplaced by disapproving this scandalous House budget. But it is a "scratch my back and I will scratch yours" situation.
Duterte himself is seeking an outrageous increase in his non-audited intelligence budget. Duterte wants a P4.5 billion allocation for his confidential and intelligence funds, an increase of P2-billion from the previously requested P2.5 billion.
The P2.25 billion each for confidential and intelligence expenses is P1 billion higher than the P1.25 billion each for those expenses which the administration sought in 2017, 2018, and 2019.
The total amount requested for 2020, P4.5 billion, is almost double the P2.5 billion requested in the previous three years. The confidential and intelligence funds requested during the last year of the Benigno Aquino III administration: P250 million each.
In using confidential and intelligence funds, the President is not required to produce receipts or publicly disclose expenses. This means he can use such funds for anything.
Thus, President Duterte has no moral authority to urge the congressmen to moderate their greed. The President must set the example.
Better yet, he can use his intelligence funds to finance the disease surveillance operations of RITM, a form of intelligence operation. At least the RITM, staffed by scientists, will use the funds well to protect us against emerging diseases.
Speaker Cayetano's explanation of congressional greed insults the taxpayers. He is plainly buying the congressmen's support to keep the speakership. He is funding his political ambitions with taxpayer money.
Boo Chanco's e-mail address is bchanco@gmail.com. Follow him on Twitter @boochanco