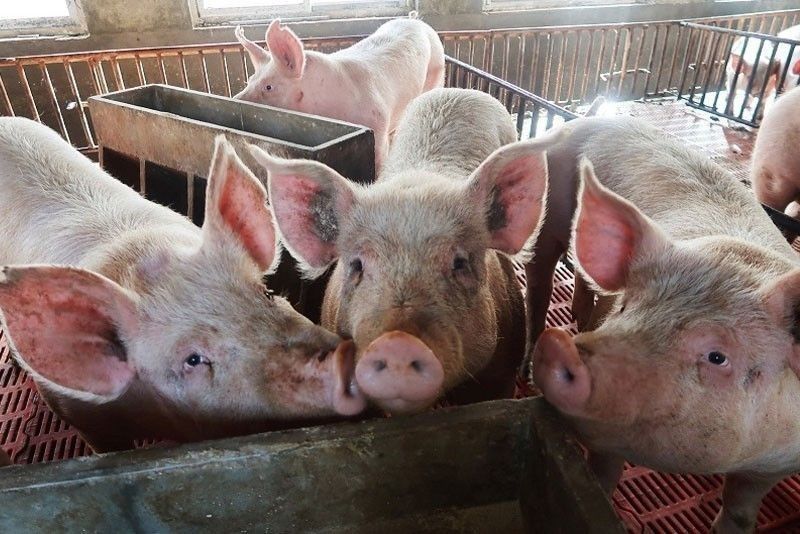 File photo shows hogs in a local piggery.
AFP, file
LGUs' ban on pork products to hurt the Philippine economy, meat processors warn
MANILA, Philippines — Blocking the distribution and sale of local pork meat products amid heightened fears over the African swine fever could hurt the Philippine economy, the country's top meat processors warned.
A day after confirming that the highly contagious disease has reached the Philippines, the Department of Agriculture last week said the ASF virus that killed several pigs in Rizal and Bulacan provinces has been "contained."
But some local government units reportedly imposed a total ban on the entry of pork products in their respective areas to protect their piggeries, disrupting the shipments of pork products and creating uncertain business environment for hog raisers and meat processors.
"LGUs imposed the ban on the movement and sale of processed pork-based products on the mistaken belief that they are carriers of the dreaded ASF," the Philippine Association of Meat Processors Inc. (PAMPI) said in a statement.
"The belief is totally false because processed meats/processed pork-based products are cooked at temperatures ranging from 70 degrees Celsius to 116 degrees Celsius for 40-60 minutes," they explained.
According to PAMPI, the decision of some LGUs to place an "unnecessary" and "unwarranted" hog blockade could seriously damage the national economy, noting that the meat processing industry has an annual production value of more than P300 billion and a workforce of about 150,000.
"PAMPI members use pork raw materials that come only from sources — local or foreign — that are free from ASF," PAMPI President Felix Tiukinhoy Jr. said.
While the disease is usually fatal in pigs but not harmful to humans, the ASF can cause major economic loss to swine industries. The Philippines currently has a surplus in pork.
The Philippine government had culled hogs in several locations and enforced a temporary ban on the importation of pork meat products from countries affected by the deadly virus in a bid to safeguard the nation's P260-billion pork industry.
PAMPI said many meat processors have scaled down their production output amid the limited movements of pork meat products.
"It is best for national or local authorities to look for the cause(s) of the spread and transmission of the ASF virus elsewhere, rather than processed meat products," PAMPI said.
On Thursday, Trade Secretary Ramon Lopez urged LGUs to ease their ban and allow the entry of "certified" pork products, except those that come from Bulacan and Rizal where pigs were badly hit by the virus.
Lopez likewise reminded consumers to buy raw meat that have been certified by the National Meat Inspection Service, or NMIS, and processed pork products manufactured by trusted brands.