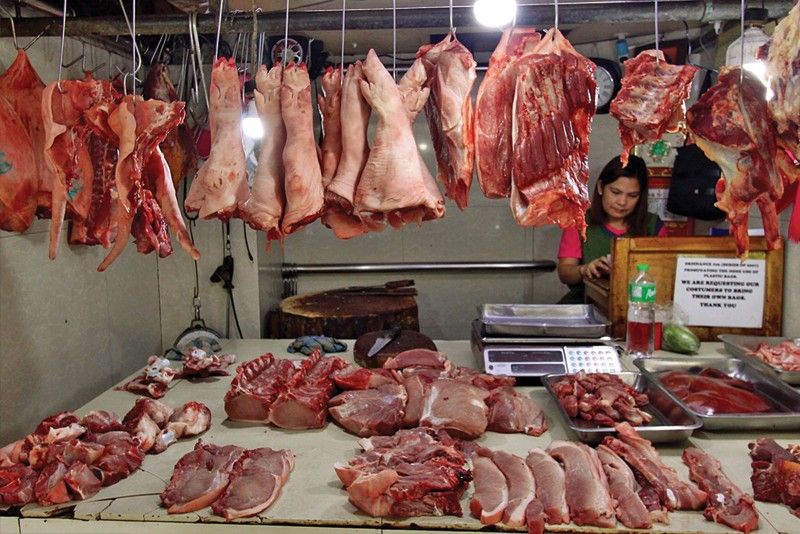 In this file photo, a woman sells pork meat at the Baguio City market.
The STAR/Andy Zapata Jr., file
US trade group cautions against blanket ban on pork products
'If you ban all imports, where are you going to get it?'
WASHINGTON — The Philippines should think twice about imposing a total blanket ban on all pork imports amid African swine fever cases in the country that could affect domestic supply in the near term.
The National Pork Producers Council (NPPC), which represents 42 affiliated state associations in the US, said it is difficult to understand why the Philippines would consider such a move.
"If it is not science-based, it is very hard to understand why a government would move forward with a ban on products that don't have ASF. Something that is just based on gut feeling is bad," NPPC director for International Affairs Maria Zieba said in a meeting here.
"We want it to be rules-based and we want others to treat us fairly and we treat others fairly, especially on the pork side. I think we have a very good trajectory of being good partners and we don't want to jeopardize that in any way," she added.
The Samahang Industriya ng Agrikultura (Sinag) is urging Agriculture Secretary William Dar to suspend the issuance of sanitary and phytosanitary (SPS) permits for pork imports and cancel all SPS currently being processed.
Dar, however, has yet to address the call of the umbrella group of subsectors in the agriculture sector.
"Countries have been allowed to protect their respective local agriculture in times of outbreak. Under WTO rules, there is always that assumption of regularity in any policy of the national government," Sinag chairman Rosendo So said.
"The source of the ASF are these tainted pork imports," he added.
Currently, the Philippines is instituting a ban on imports from China, Mongolia, Vietnam, Cambodia, Hong Kong, North Korea, Laos, Russia, Ukraine, Czech Republic, Moldova, South Africa, Zambia, Hungary, Bulgaria, Belgium, Latvia, Poland, Germany and Romania.
"If you ban all imports, where are you going to get it?" Zieba countered.
Pork supply in Philippines enough?
Local stakeholders are claiming that they can supply all the requirements of the Philippines for pork but this may not be entirely true as the country continues to import every year.
From January to July this year, US exported 21,767 metric tons (MT) of pork to the Philippines, down by 19% from the 27,026 MT from the same period last year.
For the first seven months, the value of US pork exports to Philippines went down by 23% to $50 million from $64.7 million recorded in 2018.
Last year, total US pork exports stood at $64.7 billion.
"The Philippines is really an important market for us. We have been developing it for the last decades. Asia is quite important for as a market as a whole. China is our biggest market," Zieba said.
"Unfortunately, our exports to China and Hong Kong are suffering because we are in the middle of trade dispute," she added.
For this year, US exports to the Philippines will likely remain on the same level.
"It would be very similar to last year. It could trend up a bit for the holiday season," Zieba said.
The US has maintained that it is ready to supply the Philippines its pork requirements amid a potential shortfall due to the ASF.
"Absolutely. Our production is growing two percent annually. There is plenty of room and being out of the Chinese market, it creates a lot of opportunities for us to export to somebody else's market," Zieba said.
Pork industry in the US contributes $40 billion in its economy. Last year, it slaughtered 124 million pigs producing 11.79 billion kilograms of pork.
About 40% of its exports goes to Canada and Mexico while big recipient of products in Asia are Japan, Korea, China and Hong Kong.
San Miguel Foods: Our pork is safe
Meanwhile, San Miguel Foods Inc., a unit of diversified conglomerate San Miguel Corp., has assured the government and the public that its products are safe to eat and are not affected by the ASF.
The company emphasized that it follows the strictest animal health and biosecurity protocols and that its chilled, frozen, and processed pork are produced from company-controlled hog breeding, growing, slaughtering, and manufacturing facilities.
Meanwhile, all hogs are fed with sanitized feeds from its B-MEG plants using raw materials that are checked for contaminants that may affect food safety.
"Our hog growing farms are kept separate from our breeding animals in order to minimize cross contamination and break potential disease cycles. Our animal health programs are preventive in nature and are centered around biosecurity, disinfection and vaccination," the company said.
"Regular surveillance for diseases through laboratory testing of blood and tissue samples are done to detect any incidence of disease and develop prevention and control measures before each instance develops into an outbreak situation," it added.
San Miguel have not detected positive reactors in any of its farms nationwide after it tested for ASF using polymerase chain reaction.
It added that its slaughter plants are constantly monitored by the National Meat Inspection Service and each hog is inspected before slaughter while each carcass is certified as disease-free before delivery to various meat shops and distributors.
"Considering all these, we believe that our properly inspected, certified, and ASF-free pork products, whether fresh, processed, refrigerated, or canned, should be allowed entry throughout the country for our consumers to enjoy," San Miguel said.
The ASF could potentially wipe out the P260-billion hog industry. Overall, including related industries, the sector is worth P416 billion.