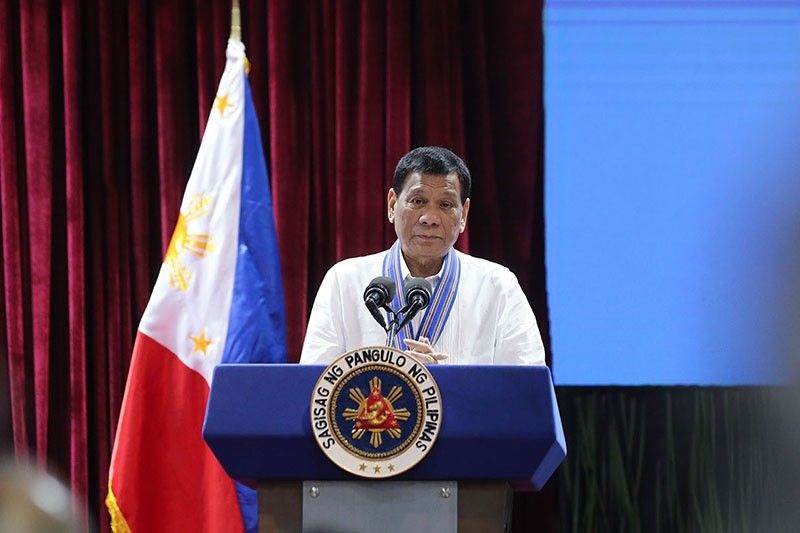 President Rodrigo Duterte delivers his speech during the 72nd Philippine Air Force Anniversary at the Col. Jesus Villamor Air Base in Pasay City on July 2, 2019.
Presidential Photo/Valerie Escalera
Emergency power or political will?
DEMAND AND SUPPLY
-
Boo Chanco
(The Philippine Star) - September 13, 2019 - 12:00am
"Mas mahusay siya kaysa akin, sa totoo lang. Oo, may nakita ako na mas mahusay ang resolve niya kaysa akin. Plus two ako sa kanya," President Duterte said about Manila Mayor Isko Moreno.
Mas mahusay ang resolve. That's the key in addressing Metro Manila's horrendous daily traffic gridlock. Sure, emergency power can help, but even without emergency power Isko showed a big difference can be made in less than a month.
How did the proposal to give President Duterte emergency power start? I confess I had a part in hatching the idea.
Just before the Duterte administration took office, I attended a series of meetings at the Makati Rotary Club office called by Ed Yap, the club president. Ed was also chairman of the transportation committee of the Management Association of the Philippines (MAP).
The meeting was to help Ed craft a position paper on traffic management for the MAP. Among others, former transportation secretary Ping de Jesus was there, as were representatives from MMDA and the HPG. Then incoming Transportation Secretary Art Tugade graciously attended all the meetings.
We were all enthusiastic that change for the better would happen. That Sec. Art was open to all the suggestions was an added reason to be hopeful.
We agreed that things would move faster if President Duterte had emergency power to deal with the problem which he will delegate to Sec. Art. My column published May 27, 2016 is about this.
I wrote in that column that the transport secretary must be allowed to cut through government's red tape to produce noticeable change within the first three months. To make this happen, I wrote that "we need to give the new DOTC secretary extraordinary powers to solve problems that impede solutions like delays in securing right of way for vital transport projects."
The other problem emergency power can fix is related to the chaotic bus system along EDSA. I wrote that, "the DOTC secretary must have the power to revise existing bus and jeepney franchises and routes, organize bus companies into a limited number of consortia, reduce the number of buses on the EDSA route and require bus operators to pay salaries to bus drivers and conductors instead of demanding boundaries. Without extraordinary powers, the DOTC secretary will be delayed by nuisance suits."
Since dealing with EDSA involves multiple government agencies, I wrote that "Congress should also give the DOTC secretary enough leeway to use resources of other government agencies, from manpower and equipment, as needed to make traffic flow smoothly."
Another use for emergency power is to void any local ordinance that grants permits to vendors or other businesses to use roadways for parking, basketball courts, tiangges or car repair shops… the DOTC secretary's decision must trump any LGU preference as it affects traffic flow even in secondary routes.
Here's another use of emergency power: "The DOTC secretary must also be given authority to settle commercial disputes involving all DOTC projects that delay completion to the public's disadvantage… Aggrieved parties may seek damages later on, but vital projects must not be delayed."
Still another use of emergency power is to allow the DOTC secretary to "hire needed professionals to carry out projects outside of the normal government hiring process. The problem at DOTC as former budget secretary Butch Abad once described it, is a technical deficit." DOTC has too many lawyers and too few competent technical professionals.
We also thought the DOTC secretary should be able to do emergency procurement as needed to guarantee uninterrupted service and passenger safety specially for MRT-3 and PNR." He should also be able to fasttrack contracts to put up pontoon floating bridges across Pasig River that can be retracted to allow river traffic to pass during off peak hours. Fixed concrete bridges take too long to construct.
Then the most important part: "In exchange for the emergency powers, the Duterte DOTC secretary must produce a timeline of projects, specifying what he hopes to accomplish in three months, six months, one year, two years, etc…" I think this was what Sen. Grace Poe was asking for.
Three years have passed. If President Duterte really wanted to have emergency power, he would have gotten it since he controls both houses of Congress. More contentious bills like rice tariffication, TRAIN and BBL were passed by Congress because Duterte told them to.
Now he is blaming Sen. Poe for the worsening traffic mess because she supposedly held up granting emergency power. It's unfair to make Sen. Grace a scapegoat for failure that belongs to DOTr.
Sen. Grace cannot do anything, if the President really wanted it passed. The President didn't even certify it. He said several times over the last three years he didn't need it.
The President is right. We were wrong to have thought that without emergency power, nothing can be done. Mayor Isko showed that even without emergency power, he could clear the streets of Manila from sidewalk vendors, motor repair shops, illegal parking and even barangay halls squatting on sidewalks.
Then too, President Duterte showed he could clean up Boracay in six months without emergency power. Protesting hotel owners simply had to clean up their act or suffer the consequences. Sheer focus made Secretaries Cimatu and Año successful.
You think it is tougher to deal with 17 Metro Manila mayors? Who is the Metro Manila mayor who will oppose Duterte orders to fix traffic? Nor will there be a bus operator brave enough to try to stop a determined Duterte even without emergency power? DOTr didn't even try.
Marawi is under martial law, but rehabilitation hasn't started over the last two years because Duterte isn't pushing it. Emergency power is nothing without "resolve" as the President described Mayor Isko's early accomplishments.
Bottomline: If Duterte wants something done, it will be done, emergency powers or not. Traffic isn't top of mind for him and so, it isn't adequately addressed. That's our problem.
Boo Chanco's e-mail address is bchanco@gmail.com. Follow him on Twitter @boochanco