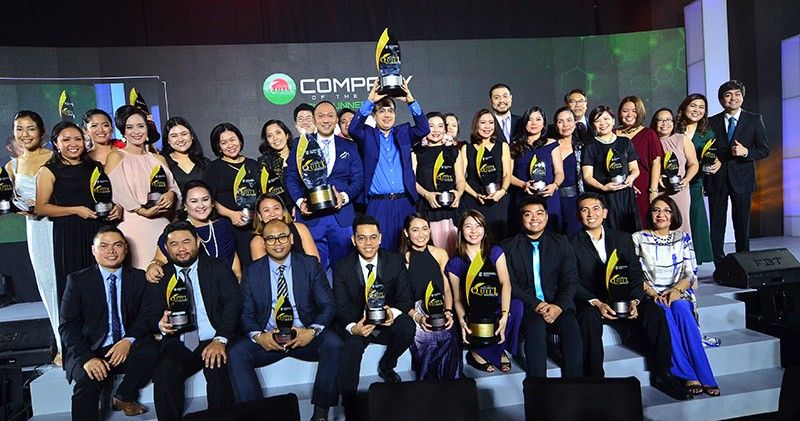 Joe Zaldarriaga (center), head of Public Information Office at Meralco, proudly hoists Meralco's 2nd Runner-Up Company of the Year Quill Award, along with the company's contingent led by Jeffrey Tarayao, president of One Meralco Foundation, and Edeliza Lim, head of marketing.
Photo Release
Meralco shines at 2019 Quill Awards, takes home 22 trophies
(Philstar.com) - September 4, 2019 - 1:00pm
MANILA, Philippines — Meralco, the Philippines' largest electricity distribution utility and company, was once again among the most decorated companies in the recent Philippine Quill Awards.
As the only four-time Quill Company of the Year recipient, the company won two top awards during the formal ceremony held at Marriott Grand Ballroom. It placed second runner-up in the Company of the Year race, a testament to the company's continued strength in business communication excellence.
This year, Meralco hauled a total of 22 campaign awards, bagging nine excellence and 13 merit trophies.
Among Meralco's major highlights of the evening were the Top Award for Communication Skills given to Meralco Typhoon Watch 2018 and the Top Award in the Communication Research category won by the Evaluation of One Meralco Foundation's Household Electrification Program.
Meralco Advisory, the company's monthly information campaign, was also recognized as a finalist for the top award in the Communications Management Category.
Organized by the International Association of Business Communicators Philippines, the Philippine Quill Awards is considered the country's most prestigious awards program in the field of business communication—emphasizing the excellent use of communication in achieving goals and in making a difference in society.