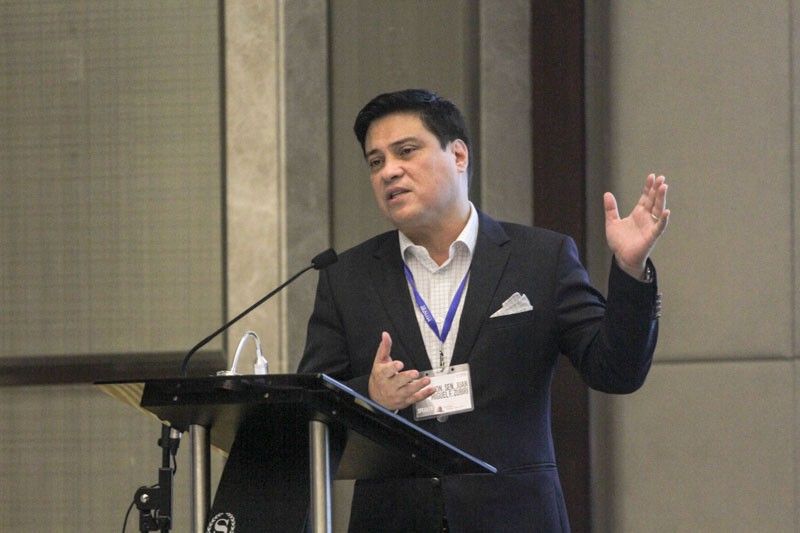 Senator Juan Miguel Zubiri delivers the opening address, discussing the value of malling culture in the Philippines as well as government efforts to push for ease of business.
Philstar.com/EC Toledo
Sustaining shopping malls in Philippines with tourism, ease of business
MANILA, Philippines — For several years, Philippine retail industry players — big and small — have been enjoying a healthy market climate given a steady client base. For Filipinos, the malls, for example, are not just places to flock to for practical and leisurely reasons; they are places of "experience."
In contrast, shopping malls in the US are in decline, with several having shut down and many others threatening to close. This may well serve as a cautionary tale for the mall culture in the Philippines and a wake-up call for mall owners and operators across the country.
This is one of the major premises of the first-ever Philippine Shopping Malls Summit held at Sheraton Hotel Manila last July.
Gathering over 300 attendees, including prominent personalities and executives in the shopping and retail industry, the summit shared pain points and insights, as well as presented possible solutions that can be applied in the fast-paced and ever-evolving retail industry in the country.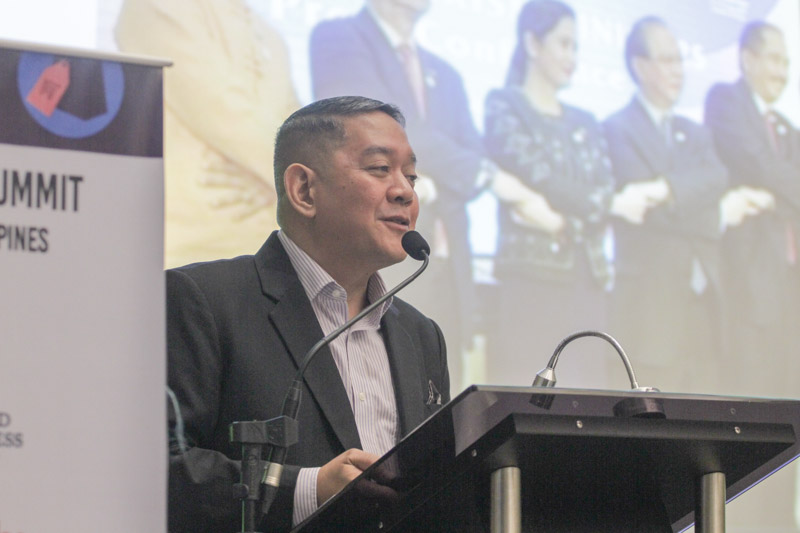 Tourism Undersecretary Arturo Boncato delivers his keynote address on shopping malls' impact on economic growth in the Philippines. Philstar.com/EC Toledo
Retail and tourism
One of the important discussions during the summit is the development of Philippine tourism vis-à-vis retail. The government's aims to: Catch overseas markets that come to the Philippines and enhance the relationships among malling, shopping, and tourism.
"In terms of focusing on bringing in millions, we also now focus on the quality of tourists that we'd like to bring to the Philippines. This is where the retail industry fits in because when you say retail industry, we can bring in the quality markets that can spend a lot of their resources in the Philippines," said Tourism Undersecretary Arturo Boncato in a keynote speech.
In the last few years, the arrival of foreign tourist has been growing significantly.
In 2018 alone, the number was an unprecedented 7.1 million, compared to 6.6 million of the previous year, with Asian markets as top clients. In terms of revenue and tourism receipts, the country has collected around $7.7 billion last year, compared to $6.6 in 2017.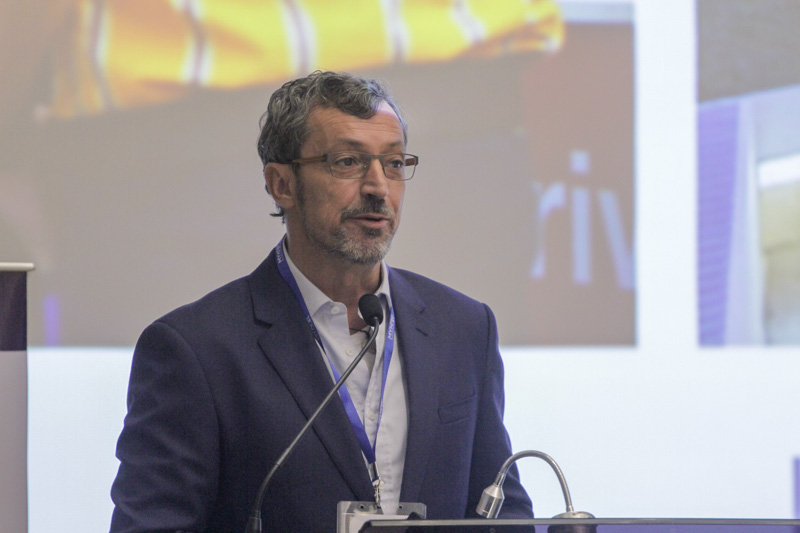 George Platzer, market development manager for Ikano Philippines, Inc. shares his vision for well-designed and affordable furnishing for homes and businesses. Philstar.com/EC Toledo
The National Tourism Development Plan was set in place to operationalize strategies to make the Philippines one of the primary destinations in the world.
With the help of local leaders, provincial governors, LGUs, and the private sector, the DOT has identified 49 Tourism Development Areas (TDAs), defined by the presence of seaports, airports, and tourism activities like hotels and resorts, sights and attractions, and more importantly shopping and retail establishments.
The government is looking to fast track infrastructure developments that can accommodate the influx of tourists, including the expansion 11 priority gateways in the country: Laoag, Clark, Manila, Puerto Princesa, Legaspi, Kalibo, Ilo-Ilo, Bacolod, Cebu, Bohol, Cagayan de Oro and Iligan.
The Department of Public Works and Highways will prioritize road works by coming up with a "convergence program." This aims to construct roads close to popular destinations, as well as access roads along 'tourism circuits' (hotels, restaurants, cultural and natural sights near each other) to give patrons greater experience in every destination.
These tourism circuits are seen to impact many players not only in segments but the industry as a whole.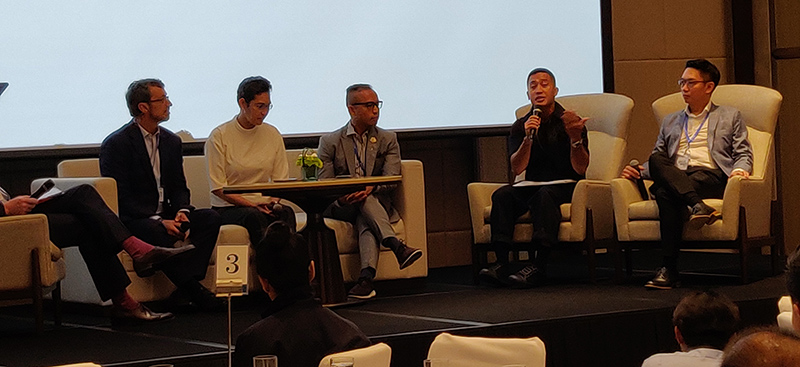 A panel discussion on mall operation and tenant cooperation for eco-friendly and sustainable growth led by (From left): Georg Platzer, market development manager for Ikano Philippines, Inc., Jane Buquid of DMCI Homes, George Calles, officer in charge and deputy general manager for Filinvest Lifemalls, Dan Mejia, head of communication for H&M Philippines, and Patrick Loo, regional director for Asia B2B at Dyson Singapore. Philstar.com/Gerald Dizon
Ease of doing business
Another highlight of the summit came from Sen. Miguel Zubiri. Being a businessman himself, he understands the realities of running a business in the country, including its bottlenecks and hardships.
Zubiri discussed the difficulty of getting permits, certificates and licenses from government agencies that impede businesses for developers and retailers.
To help with this, the Ease of Doing Business or Republic Act Number 11032 — this is the Ease of Doing Business and Efficient Government Service Act, has been signed to fortify the Anti-Red Tape Law.
With the hopes of establishing a culture of trust between the government agencies and the business sector, the recently enacted law will help to put an end to bureaucratic corruption and red tape, so locators, for example, can easily get people and companies into their malls.
A Citizen Charter is set up online or at the place of transaction. This charter is a list containing the requirements for a particular certificate, once compete they can take it to relevant government agencies for immediate processing.
Under the RA 11032, government agencies are required to deliver speedy and efficient services with a maximum of three working days for simple transactions, to seven working days for more complex ones, and twenty working days for national government agencies.
Erring government officials — even those in high places — who request additional requirements, impose additional costs, or delay in processing will face penalties.
"Kung gusto nila ng lagay or whatever, ang gagawin nila, they'll say, 'Oh, you lack one more (document).' Bawal 'yun. This is what we're trying to avoid. Under this new law, that is illegal, you must know your rights, ladies and gentlemen. As soon as you submit all your requirements within the timeline, they're supposed to give you a barcode, stamped it as accepted, that's when the time ticks," Zubiri said.
The implementation of the law falls in the hands of the Anti-Red Tape Authority or ARTA, which will investigate and administer suspension notices and fines.
With this act — real estate developers to multinational brands and especially micro, small, and medium enterprises (MSMEs) are expected to grow and flourish because of the improvement in competitiveness.
It is also hoped that this will attract and encourage more people into business because it is now easier to get the documents.
"With this law, I'm hoping to see top-to-bottom revitalization of our shopping industry," Zubiri said.