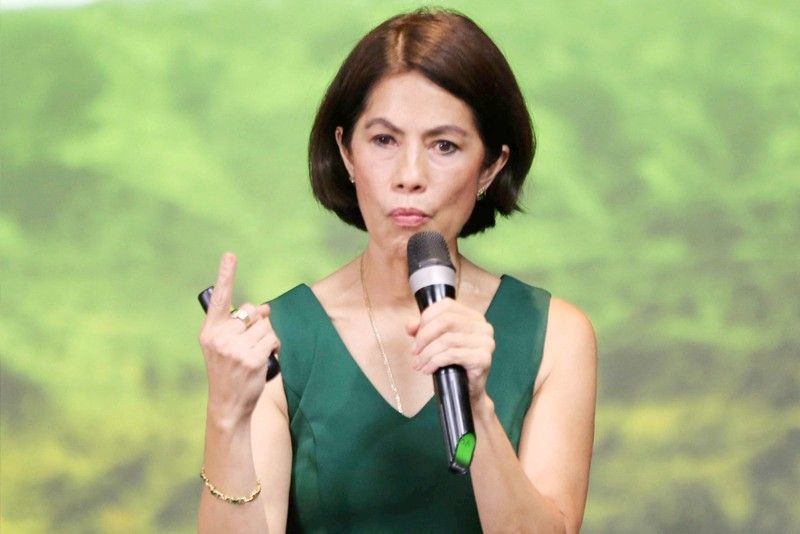 Philanthropist and former Department of Environment and Natural Resources (DENR) secretary Gina Lopez served as a long-time chairperson of the ABS-CBN Foundation Inc. (AFI). Her decades of work gave birth to Bantay Bata 163, Bantay Kalikasan, and several campaigns and projects, including Kapit Bisig para sa Ilog Pasig, No to Mining in Palawan, and the reforestation of La Mesa Watershed.
DEMAND AND SUPPLY
-
Boo Chanco
(The Philippine Star) - August 26, 2019 - 12:00am
It has been a week since Gina Lopez left us. I am still trying very hard to dismiss that reality in my mind and in my heart. Very rarely do I feel a death has truly left this world poorer.
This is because our country can use more Ginas. She gets things done. And that's not all… Gina is the kind of leader with a genuine love for this country and our people. She has no personal hidden agenda. She makes us hopeful good will triumph in the end.
She came from one of the traditional old and rich families. But she threw away all the privileges that went with it by spending 20 years of her youth with the poorest of the poor in Africa.
I was at the ABS-CBN newsroom on the day Gina arrived to assume leadership of the network's foundation. Before long, she made it clear she was not content with just the usual disaster relief activities. She wanted to make an impact where it mattered. She wanted to leverage the network's public clout to serve social needs.
She quickly focused on helping children from poor families. Seeing so much raw human resources being wasted by poverty must have broken Gina's heart.
A number of programs came to life… feeding programs at schools to nourish not just the body, but also the mind. Sineskwela was born to help children learn their school lessons in a fun and painless manner.
Gina's immersion with the poor led her to realize that we have a serious child abuse problem. Parents frustrated with their economic deprivation often took it out on their children, physically abusing them.
Gina's solution was the hotline Bantay Bata. Anyone can report cases of child abuse and with the help of the police and social workers, a team will investigate and if needed, take the abused child into their protection.
Soon there were too many abused children under the wings of Bantay Bata that Gina decided to build a children's village in Bulacan. The sanctuary enabled battered children to recover physically and psychologically.
The other big love of Gina is Mother Nature. Someone mentioned how the La Mesa watershed area had been denuded and it sparked a fire in Gina's mind. She was going to save the watershed area.
One morning Gina asked me to join her in a helicopter ride to inspect the watershed area that must be reclaimed from kaingeros. It was huge. She must have seen the skeptical look in my face, so she said we can do it.
And she did. Some forest rangers were killed in the process, but the La Mesa watershed area was reforested just as Gina said it would be.
Lesson learned: Never tell Gina a project is impossible because it is too big or complicated. That will simply get her juices flowing to prove you wrong.
The next big project she took on was cleaning up the Pasig River. Well… she managed to get the factories discharging their waste water to clean up. But the domestic sewage from informal settlers along the banks was a tough challenge.
There were also the rivers and esteros that flow into the Pasig. Unless they were cleaned, no river clean-up is sustainable.
So, Gina started cleaning up Estero de Paco. That was close to home for me. I first smelled the stench of that estero as a five-year-old kindergarten kid in Paco Catholic School. I thought that was its natural state.
Because much of the garbage in the estero came from the Paco Market, Gina decided to clean up and rehabilitate the market as well with the help of then Mayor Alfredo Lim. Again, the impossible happened and the estero was cleaned and flowers started to bloom along its banks.
To make the clean-up sustainable, some residents were recruited and trained as river warriors to protect the estero.
Her brief stint at the DENR showed her uncompromising commitment to some basic principles. Here is how she summed up her vision for an environmentally sound nation:
"I would like to have a country where our natural resources are conserved. I want to see mangroves everywhere so that we are protected from climate change. I want to see bamboo everywhere because we can (profit from that)...
"I envision a country without poverty. Our people would have enough food to put on the table, enough money to send their kids to school. We can make it happen, and I feel that the way to do it is by creating models on the ground to show that it can be done."
Money, to Gina, was only a means to make life better for everyone. Her only interest in ABS-CBN's bottom line is how much of it she can use for her many projects. We joked that whatever Gabby earned, Gina spends… in the service of the Filipino, of course.
There are many more wonderful things Gina Lopez brought into this world than my thousand-word limit can cover. I have not met a person so absolutely focused on what she wanted to do with her life. And when she bites into a cause, she doesn't let go.
In a sense, Gina's strength is her weakness. Her commitment to natural healing prevented her from considering other avenues. Integrity is everything for her. If she believes in something, there is no compromise.
Gina is one of a kind and we are just grateful that she spent the most productive years of her life fighting causes in our country no one else had the guts and the heart to commit to.
Our challenge now is how to carry on where Gina left off. Surely Bantay Bata, Bantay Kalikasan and her many other causes deserve to be followed through as if Gina was still deep in the fight.
Gina believes she can fly. We must never say impossible, right Gina?
Boo Chanco's e-mail address is bchanco@gmail.com. Follow him on Twitter @boochanco