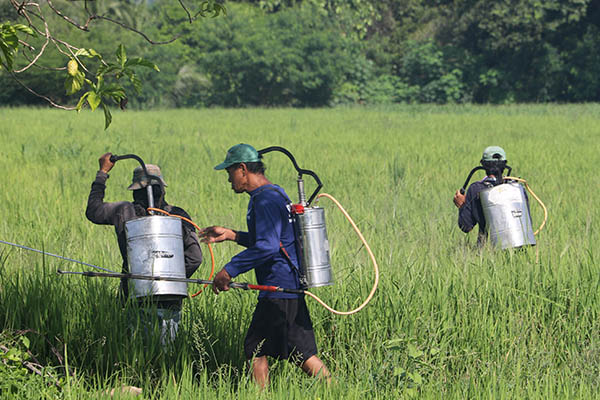 We may have allocated P10 billion from tariff proceeds to help farmers be competitive by modernizing, but the system for getting that support to the rice farmers is still being set-up. What happens to the farmers in the meantime?
John Unson
DEMAND AND SUPPLY
-
Boo Chanco
(The Philippine Star) - August 23, 2019 - 12:00am
By the reckoning of Agriculture Secretary William Dar, it would take six years for the RCEF (Rice Competitiveness Enhancement Fund) to make our rice farmers competitive to imports.
Right now, our cost of producing palay or unmilled rice is P12.72 per kilo compared to Vietnam's P6.22 and Thailand's P8.86. The Rice Tariffication Law that brought in an estimated 1,500,000 metric tons of rice has also brought down the buying price for palay to as low as P8 per kilo or way below a Filipino farmer's production cost.
We may have allocated P10 billion from tariff proceeds to help farmers be competitive by modernizing, but the system for getting that support to the rice farmers is still being set-up. What happens to the farmers in the meantime?
Secretary Dar is talking about Expanded Survival and Recovery Assistance Program for Rice Farmers (SURE Aid) which will start on Sept. 1. Rice farmers who are farming one-hectare land and below, may avail of a one-time, zero-interest loan amounting to P15,000 payable up to eight years.
How fast SURE Aid can be cascaded to rice farmers is a good question to ask. This involves bureaucrats from the agriculture department and Landbank. It is safe to assume money won't get to the farmers fast enough to address their daily needs.
Retired Nueva Ecija Rep. Rene Diaz, a former Ayala executive, is worried because the harvest season is about to start late next month. Farmers want to sell their palay quickly, but given the low offers from rice traders, the farmers will be angry and hungry.
How will the farmers pay debts they incurred when they planted their rice crop? Where will they get money to buy the basic living requirements of their families? How will the Duterte administration help the estimated 2,000,000 Filipino farmers right now, not six years from now?
Diaz, who has kept in touch with his farmer constituents in Nueva Ecija, is worried about a potential powder keg situation. Anger and hunger can lead to some very bad things, Diaz warned as we talked about the situation at the Edsa Shang Tuesday Club.
The former congressman said he offered some ideas to Malacañang in a memo to the President. Among his suggestions is an emergency rice procurement program designed to reach the farmers before they are forced to sell to traders at the ridiculously low prices being offered.
First of all, Diaz is suggesting the issuance of an executive order instructing the NFA to buy the newly harvested palay at prevailing NFA price, plus additional P4 for fertilizers, farming inputs, etc.
Under such a scheme, all government agencies are prohibited from using government funds to buy imported rice. This means all rice for disaster relief operations, military consumption, and other government requirements must be locally sourced.
Because NFA officials are still smarting from the loss of import monopoly, they may give the excuse they don't have offices everywhere to carry out the buying order. Diaz proposes giving LGUs a role in the program.
LGUs will buy the palay produced in their jurisdiction for transfer to the NFA. This effort can be financed by the Landbank through a line of credit to the respective LGUs.
I asked Sec. Dar and he assured me NFA has a P7 billion procurement fund.
"I have directed NFA administrator Judy Dansal to speed up the procurement process from buying, drying, milling, to selling of rice to the retail market so NFA can cash in and buy more palay. This is what I call an accelerated roll over scheme," Dar said.
The DA secretary also said: "No, we are not coming in too late for the harvest season this September… we can roll these out effective Sept. 1."
Diaz has another novel suggestion. He wants the Landbank to take over all NFA storage facilities nationwide via dacion en pago as payment for their outstanding loans. Landbank will then form a subsidiary to handle and manage a grain storage bank for future palay harvests in strategically located silos.
Since the Landbank subsidiary and co-investors will control the storage, they can issue warehousing receipts which can be used as tradeable instruments and may allow corporations and investors to take position in palay stock.
But on the whole, I am getting worried that all the discussions on rice policies seem to have a medium to long term horizon.
The immediate needs of farmers must be addressed. Promising long-term competitiveness for our farmers is fine but as someone puts it so well, in the long term we are all dead. We need a sense of urgency.
While I agree with the suggestion of economists for an immediate cash transfer scheme for farmers, I doubt if government has a reliable census of eligible farmers right now. Working on one will take time. That's why NFA buying the produce of the September harvest season is the most practical for now.
The private sector should help. The large companies who provide rice to their employees should specify locally grown rice to help our farmers.
It is unfortunate that the president of the Federation of Filipino Chinese Chamber of Commerce has publicly expressed doubts about the Rice Tariffication Law. I smell a huge conflict of interest. Filipino Chinese businessmen who control the rice trade should think of national interest for a change.
The FFCCCI president is also courting problems for himself by going head-on against a pet project of Finance Secretary Sonny Dominguez. Sec. Sonny is surely offended and he isn't known as the English-speaking Duterte for nothing.
The political consequences of disregarding the transition needs of farmers will be greater than what we saw last year when consumer rice prices spiked our inflation rate.
In short, let us help the farmers now… not after hunger and anger at the system have delivered our farmers into the loving embrace of the New People's Army. Sec. Dar enjoys no margin for error.
Boo Chanco's e-mail address is bchanco@gmail.com. Follow him on Twitter @boochanco