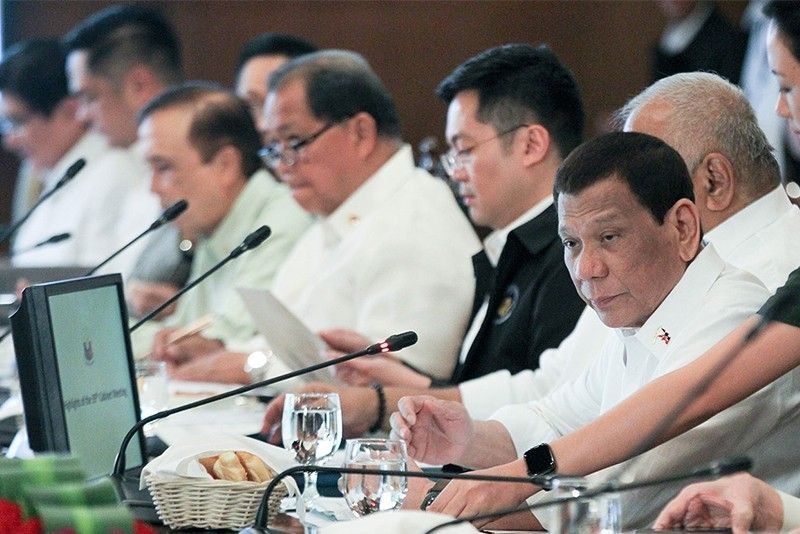 President Rodrigo Duterte presides over the 40th Cabinet Meeting at the Malacañan Palace on August 5, 2019.
ACE MORANDANTE/PRESIDENTIAL PHOTO
House gets P4.1-T proposed national budget for 2020
MANILA, Philippines — The proposed P4.1-trillion national budget for 2020 entered the legislative mill Tuesday, with lawmakers assuring President Rodrigo Duterte of timely passage of the new outlay.
The Department of Budget and Management submitted to the House of Representatives its National Expenditure Program for next year, the basis of what will be filed as the General Appropriatons Bill for 2020.
Section 24 of Article 6 of the 1987 Constitution provides that all appropriation, revenue and tariff bills should originate from the House.
The proposed budget for next year is 12% higher than the 2019 appropriations of P3.662 trillion, the DBM said.
The Department of Education will get the biggest budget share in 2020 with P637 billion, followed by the Department of Public Works and Highways (P534.3 billion) and the Department of Interior and Local Government (P238 billion).
Broken down, 37.2% or P1.525 trillion of the new outlay will go to social services; 28.9% or P1.183 trillion to economic services; 18% or P734.5 billion to general public services; 11% or P451 billion to debt services; and 4.8% or P195 billion to defense.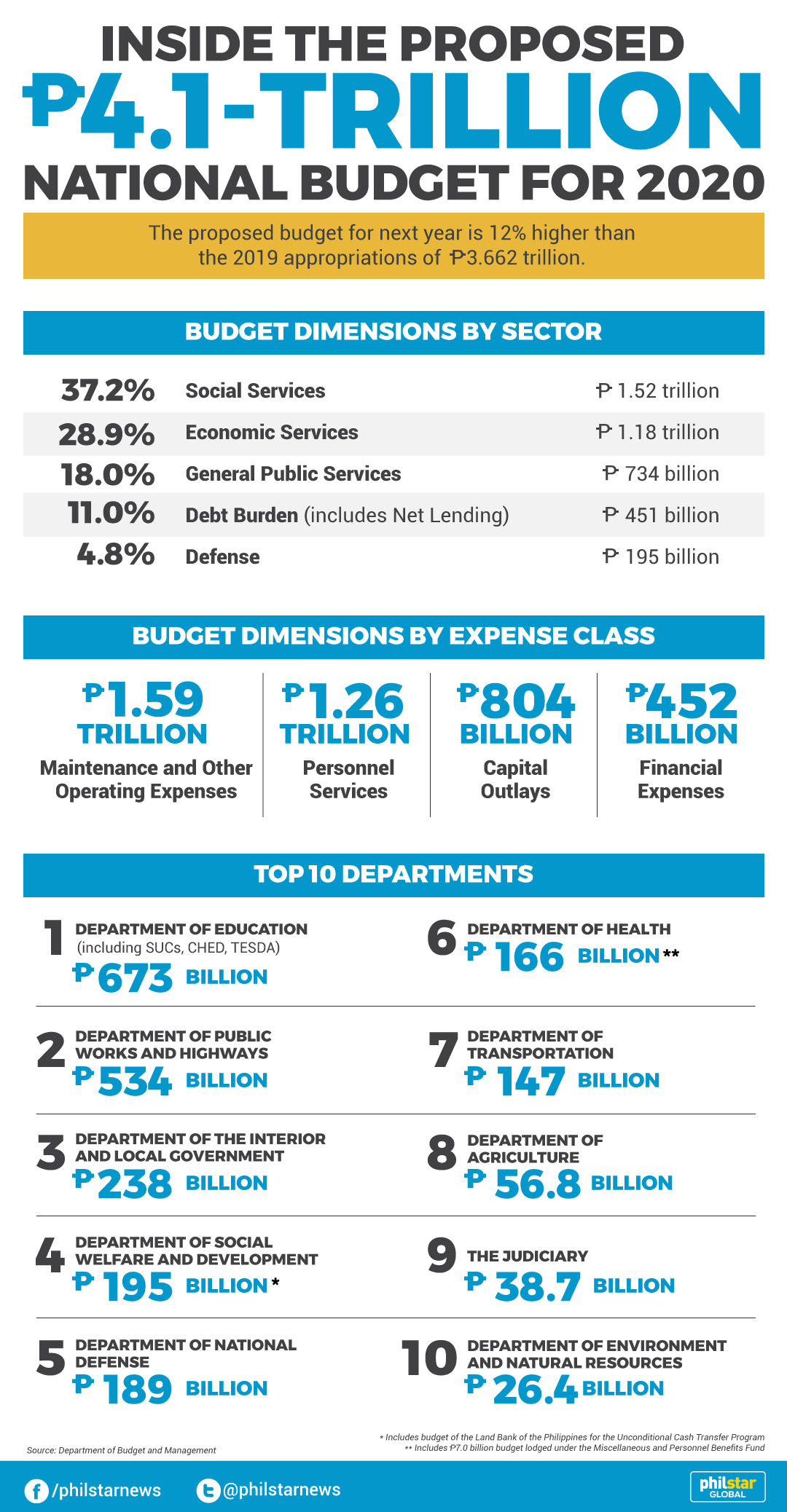 The Constitution requires the state to "assign the highest budgetary priority to education and ensure that teaching will attract and retain its rightful share of the best available talents through adequate remuneration and other means of job satisfaction and fulfillment."
'Cash-based' budget
Last April, then Budget Acting Secretary Janet Abuel said the 2020 expenditure plan would still be cash-based to ensure the faster implementation of project and delivery of services.
A cash-based system seeks to force agencies to finish projects on time by allocating funds only for projects that can be procured within the fiscal year, as opposed to the former "obligation-based" scheme that had provided for a two-year time frame.
Both chambers of Congress reportedly vowed to approve the 2020 budget in time to prevent a repeat of the four-month delay in the passage of the 2019 outlay, which sapped economic growth to a four-year low in the first quarter.
The impact of the budget delay spilled over to the second quarter, with the sluggish recovery in disbursements and weak public construction partly contributing to the slower economic growth in the April-June period.
"We all know that sustaining government expenditures, as well as providing equal opportunities will help accelerate the growth of the country," said Rep. Isidro Ungab (Davao City), chair of the House Committee on Appropriations.
"We also know that a faster and more efficient government spending on all government projects — big and small — will help make a difference in the next three years of the Duterte administration," he added. — with reports from The STAR/Edu Punay