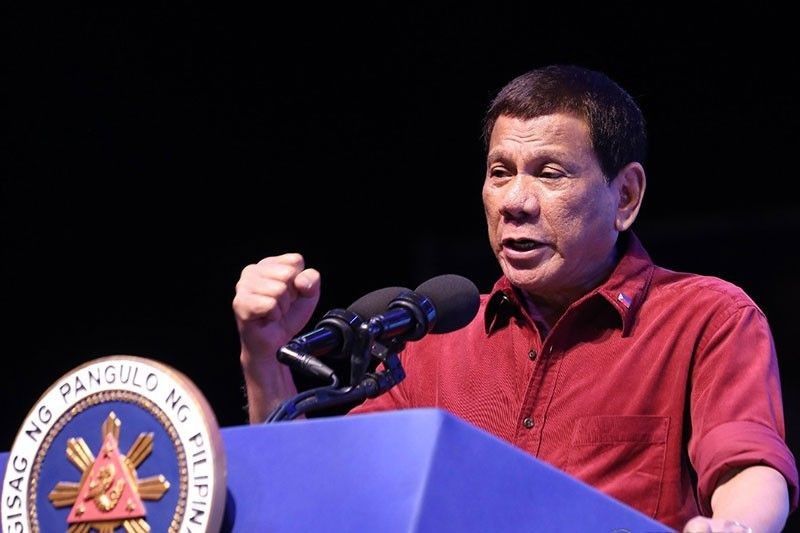 But wait a minute… if corruption so enrages the President, why isn't he angry about corruption in the national police?
Presidential photo/Alfred Frias
DEMAND AND SUPPLY
-
Boo Chanco
(The Philippine Star) - July 31, 2019 - 12:00am
We get it that the President is so angry with corruption at the PCSO that he stopped all its activities. We also get it that he was so angry with the stakeholders in Boracay who had abused its environment that he closed it down for six months.
Corruption at Customs also angered the President, thus he placed some 60 Customs officials on floating status. He would have fired them outright, but they are protected by Civil Service rules.
In the early part of his term, some of his San Beda fraternity brothers got involved in a P50 million bribery scandal involving immigration of illegal Chinese POGO workers at Clark. He had no choice but to fire them and charge them as they were caught by a CCTV camera.
In another instance, the President angrily fired all the officers and the entire board of Nayong Pilipino. Here is how his then spokesman Harry Roque reported it:
"(They) leased government property for a ridiculous long period of time of 70 years. He considered this a contract which was grossly disadvantageous to government," Roque said, adding Duterte was also set to terminate the contract.
As for Boracay, the six months closure delivered the message to resort owners and local officials they cannot go on abusing the environment.
But wait a minute… if corruption so enrages the President, why isn't he angry about corruption in the national police?
And what about those close to him who used their connections with the administration to get projects and other benefits from the government?
For example, a member of a family close to him refuses to return the P60 million from a questionable project with the tourism department. Shouldn't that anger the President too?
Consistency is demanded of a leader. Otherwise he loses the credibility he needs to lead the nation. He cannot be angry about corruption in one instance, and be blind to it in another.
I can understand it is impossible to shut down the police. But still, he should be angry. People are watching carefully what happens next. Merely making a show of one's selective anger isn't good.
Massive corruption prevails at almost every level of government. As we found out in the Napoles case, corruption is also prevalent in both Houses of Congress. Shouldn't this anger the President even if those involved are his political allies?
We have also found out from Manila Mayor Isko Moreno that he was offered bribes ranging from P5 million a day to P1.8 billion a year to drop his promise to get vendors out of the main roads of Manila.
Are we to conclude that other mayors have been paid by syndicates to look the other way as they mess up their city? The President should be angry enough to order the DILG to investigate and suspend.
I want to believe the President's anger was real in all the cases of public anger he has shown so far. Those of us who are frustrated at the failure of the rule of law in curbing corruption are tempted to cheer the President on.
This makes us less a government of law, but the law has failed us and Duterte is doing something about it.
Corruption isn't the only thing the President should get angry about. Incompetence is just as bad in depriving our people the benefits their taxes should be able to buy.
For example, rice. The new law that liberalizes importation of rice has important provisions that does not leave our rice farmers out in the cold as a strong lobby of rice traders would make us and the President believe.
Even if the President strongly supports the law, and he said so during his SONA, the continuing drop in the farmgate price of palay got him worried enough to say he will suspend importation of rice during harvest season.
If he does that, the law becomes a piece of toilet paper. He should instead, express anger that the agriculture department has not done anything to give our farmers the benefits due under the law.
The Department of Finance pointed out in a memo over the weekend that the Rice Liberalization Act provides relief to more than 100 million Filipino rice consumers in the form of lower rice prices. Farmers are rice consumers too who buy in the open market during lean months.
It is the responsibility of the Department of Agriculture to implement the benefits due the farmers. We need a new agriculture secretary pronto.
Tariff revenues from rice imports will go to the Rice Fund, with a minimum budget of P10 billion, that will fund the following programs to boost our local farmers' productivity and make them globally competitive:
Rice farm machineries and equipment; rice seed development, propagation and promotion; expanded rice credit assistance; rice extension services.
Tariff revenues in excess of P10 billion will fund the following programs:
Rice farmer financial assistance; titling of agricultural rice lands; expanded crop insurance program on rice; crop diversification program.
Around two to three million rice farmers will benefit from the Rice Fund programs that will help lower their production cost and increase their income… without sacrificing rice consumers.
Public anger has its uses. As President Duterte has shown time and again, the bureaucracy perks up after a presidential show of anger.
But many of them are also learning how to live with it. They know presidential anger will soon be out of the headlines and happy days will be back.
For example, I had been told some PAGCOR officials are reluctant to outright revoke the franchise of the Nayong Pilipino casino, choosing to wait the President out. To erase all doubts, the President should order TIEZA to immediately use the land to replicate the Nayong Pilipino we once had near NAIA.
Be angry, Mr. President. Be very angry. But be consistent and make the impact of your anger sustainable. You must follow through. Otherwise, an angry President becomes just a game that bureaucrats learn to play.
Boo Chanco's e-mail address is bchanco@gmail.com. Follow him on Twitter @boochanco