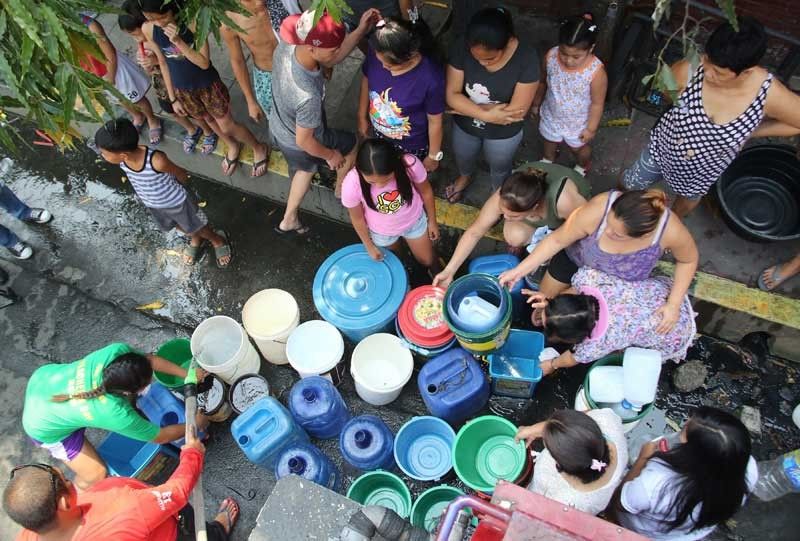 What happens when a major metropolis is in danger of running out of water? What they experienced showed we cannot take water supply for granted.
Michael Varcas
DEMAND AND SUPPLY
-
Boo Chanco
(The Philippine Star) - July 17, 2019 - 12:00am
I visited Cape Town the year before their water crisis hit the headlines worldwide. Nothing there made me suspect they were about to have such a problem. Cape Town is green and beautiful and not as crowded as Metro Manila, but they had been experiencing a serious drought.
What happens when a major metropolis is in danger of running out of water? What they experienced showed we cannot take water supply for granted.
Indeed, we need to take decisive action now specially because we are 98 percent dependent on just one dam - Angat Dam, now at critical level even after the rainy season has started. Many Metro Manila households are now suffering reduced water supply.
The real solutions, like those controversial major dams in the Sierra Madre mountains, are at least five years away. Tapping Laguna de Bay is easier, but its level of pollution is a serious concern.
Some things must also change. Government, through MWSS, has insisted on being responsible for water sourcing, and Maynilad and Manila Water for distribution. Maybe this division of responsibility ought to be revisited. It is stupid, it seems, to depend on government to deliver on its obligation.
The horror of facing Day Zero as Cape Town did should be avoided. It will be uglier and more nightmarish for us simply because our population is 12 million compared to their about four million.
What they have in Cape Town is effective government and civic minded citizens… a dream for us. When officials in Cape Town announced in January 2018 that the city was three months away from running out of municipal water, the community buckled down to work.
They implemented a contingency plan. One year after, Cape Town survived the worst of a historic drought without turning off the taps, even if the water supply is still tenuous.
An article in citylab.com explained how the city managed to evade disaster through a combination of water conservation and efficiency measures, smarter use of data, and a little help from Mother Nature.
Citylab.com recounts what the city did during the critical 90 days before Day Zero.
"Unsurprisingly, it was not a silver bullet but a barrage of efforts that averted disaster. One big boost came in February 2018, when the national government throttled allocation of water in the region earmarked for agriculture, allowing more to flow to urban residents. The same month, farmers also agreed to divert additional water stored for agricultural purposes to the city.
"However, the city's conservation efforts were as important, and more remarkable. Cape Town's government ramped up water tariffs and enforcement of prohibitions on heavy users, prohibiting use of municipal water for swimming pools, lawns, and similar non-essential uses. The city's government also implemented a new water-pressure system in January, saving roughly 10 percent of overall municipal water consumption."
Day Zero didn't happen, probably because "Cape Town implemented drought restrictions, cutting its peak usage by more than half in three years. The January 2018 announcement alone galvanized a 30-percent drop in residential consumption…
"Technical fixes and regulatory controls implemented by the municipality were important to curbing water consumption, but reaching such levels of conservation would not have been possible without large-scale cooperation by a wide swath of residents, businesses, and other stakeholders…
"Starting in 2017, the municipality had begun ratcheting up its drought-awareness campaign, publishing weekly updates on regional dam levels and water consumption and using electronic boards on freeways to notify drivers of how many days of water supply Cape Town had left.
"Then, in January 2018 and with Day Zero looming, the city got more aggressive. In addition to announcing its Day Zero countdown, the city launched a city-wide water map to show water consumption on a household level, allowing people to compare their consumption to their neighbors and the rest of the city.
"Heightened outreach regarding the crisis prompted wide discussion: The municipality's weekly water report became a regular topic at social gatherings and on the radio. Governmental and civic organizations published water-saving techniques, and people traded tips on social media. In an unusual turn of events, techniques used in the poor, water-strapped township areas gained traction in wealthier areas."
Citylab.com reports that "By the end of March 2018, the emergency efforts had provided a small additional buffer in the city's water reserves, allowing city officials to push back Day Zero beyond the upcoming rainy season. In June 2018, the region saw average rainfall for the first time in four years. With the rain, dam levels rose, and officials were able to call off Day Zero indefinitely.
"Cape Town's multi-pronged effort to stave off Day Zero succeeded. Still, the challenges to achieving water security persist. Although dam levels are above the lows experienced during the drought, they remain below pre-drought years and currently stand at 50 percent of capacity."
What can we do to assure our water supply between now and the time they can get Kaliwa and other dams operational?
The Management Association of the Philippines (MAP) thinks we should tap Laguna de Bay. In a recent position paper drafted by Ed Yap, the MAP called for joint efforts of government (national and local) and the private sector to clean, conserve, rejuvenate and preserve Laguna Lake and its watershed.
"Laguna Lake is the largest freshwater lake in our country and among the largest in Southeast Asia. It is an ideal and logical source of potable water…"
The MAP wants the President "to direct the national and local water boards to render and tap Laguna Lake as a dependable, inexhaustible and proximately-located source of raw water for Metro Manila and the lake's surrounding communities…"
A good idea that is doable. Indeed, both water concessionaires are starting to tap Laguna de Bay. They should just scale up the effort because this is the fastest way to assure water security for the metro area.
Boo Chanco's e-mail address is bchanco@gmail.com. Follow him on Twitter @boochanco