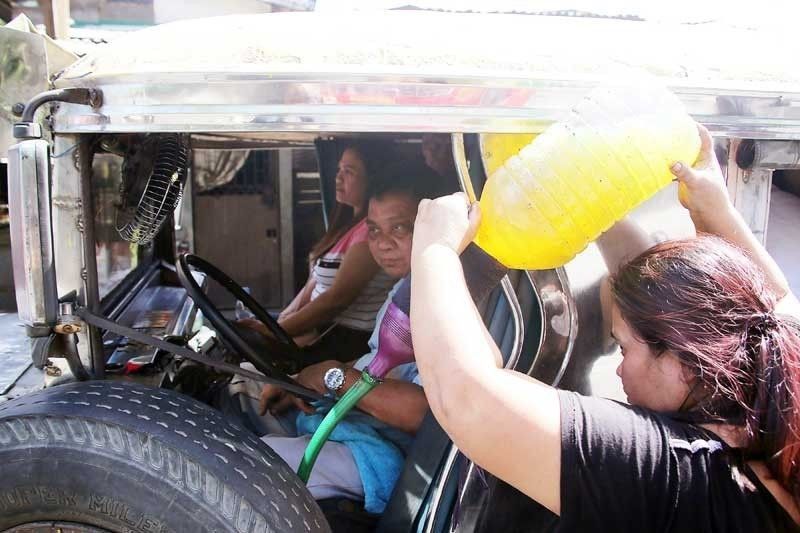 The Taguig City RTC Branch 70 issued a 20-day temporary restraining order (TRO) on the DOE from implementing Department Circular 2019-05-0008 or the "Revised Guidelines for the Monitoring of Prices on the Sale of Petroleum Products by the Downstream Oil Industry in the Philippines."
Michael Varcas/File
Court stops DOE's oil unbundling policy
MANILA, Philippines — The Taguig regional trial court (RTC) has stopped the Department of Energy (DOE) from implementing its oil unbundling policy which requires all oil companies to break down their oil price adjustments.
The Taguig City RTC Branch 70 issued a 20-day temporary restraining order (TRO) on the DOE from implementing Department Circular 2019-05-0008 or the "Revised Guidelines for the Monitoring of Prices on the Sale of Petroleum Products by the Downstream Oil Industry in the Philippines."
"…(T)he Court finds that there is cause for issuance of the temporary restraining order to enjoin the defendant from implementing DC 2019-05-0008 and to maintain the status quo and to preserve the rights of the parties before the matter of the issuance of a writ of preliminary injunction can be heard," the court said.
The oil unbundling policy, which was originally set to be implemented on June 28, is supposed to take effect on July 13 after the DOE re-published the circular together with its annex, DOE assistant secretary Leonido Pulido said earlier.
The TRO stemmed from the petition filed by Pilipinas Shell Petroleum Corp. (PSPC) late last month where the oil firm questioned the legality of the oil unbundling policy.
While the DOE's mandate is to monitor oil price movements, PSPC said this policy runs counter to Republic Act 8479 or the Downstream Oil Industry Deregulation Act of 1998 and "leads the industry back to the path of regulation."
Since the Downstream Oil Industry Deregulation Act was passed, government does not interfere with the pricing, exportation and importation of oil products.
It also requires the DOE to promote fair trade practices in the liquid fuel retailing business, including quality and quantity of petroleum products, and ensuring safety from fire, danger, health and environmental risks, among others.
PSPC further said that the DOE's policy "restricts the timing of price adjustments and requires the submission of critical unaudited information that could be prejudicial to the industry players."
Oil companies implement price adjustments every Tuesday based on price movements in the international market.
Other oil companies and groups have also filed their respective petitions against DOE's unbundling policy, namely Petron Corp. and the Philippine Institute of Petroleum Inc. (PIP).
PIP is an independent body of oil companies and its members include Chevron Philippines Inc., Isla LPG Corp., Petron Corp., PSPC, PTT Philippines Corp. and Total Philippines Corp.
The group filed a petition for declaratory relief with application for TRO and writ of preliminary injunction with the Makati RTC against the DOE and its new policy.
Meanwhile, the Independent Philippine Petroleum Companies Association (IPPCA) asked DOE Secretary Alfonso Cusi to suspend and eventually withdraw the circular that details the oil unbundling policy which are contradictory to the Downstream Oil Industry Deregulation Act.