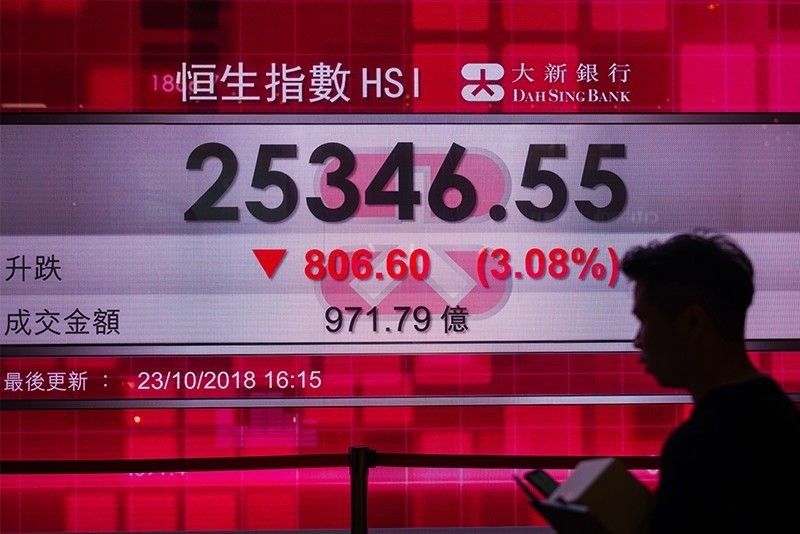 A man walks past a stocks display board that shows a drop in the Hang Seng Index of 3.08 percent, or 806.60 points, closing at 25,346.55, in Hong Kong on October 23, 2018.
Anthony WALLACE / AFP
Asian markets sink, gold extends gains as Iran warns on sanctions
(Agence France-Presse) - June 25, 2019 - 3:58pm
HONG KONG — Increasing concerns about a conflict between the United States and Iran hit equity markets Tuesday and sent gold prices to a fresh six-year high, jolting investor confidence days ahead of crucial trade talks between Donald Trump and Xi Jinping.
The latest round of sanctions against supreme leader Ayatollah Ali Khamenei and military top brass meant the "permanent closure of the path to diplomacy", the Islamic republic's foreign ministry said.
Trump unveiled the new restrictions Monday, days after the downing of a US "spy drone" that Tehran said had entered its airspace.
The tweet, from ministry spokesman Abbas Mousavi, provided a catalyst to sell for Asia stock traders, who had been sitting on their hands ahead of the Trump-Xi meeting at the end of the week.
In afternoon trade Hong Kong fell 1.4 percent, while Shanghai was 1.7 percent off and Tokyo dropped 0.6 percent off, with profit-taking after a recent rally adding to selling pressure.
Sydney was down 0.1 percent, Seoul and Singapore each retreated 0.3 percent and Taipei lost 0.8 percent. Still, Wellington, Manila, Bangkok and Jakarta were slightly higher.
London fell 0.5 at the open, while Frankfurt and Paris each lost 0.4 percent.
Safe haven investments climbed, with gold breaking $1,430 for the first time since September 2013, with a softer dollar adding support, while the yen -- a go-to unit in times of turmoil -- was up against the greenback.
Traders were also keeping tabs on developments in the China-US trade standoff as the leaders prepare for crunch talks on the sidelines of the G20 in Osaka.
World markets have rallied since Trump last week flagged positive phone talks with Xi and said they would discuss their trade spat.
On Tuesday, Chinese state media said top-level negotiators for both sides had held discussions ahead of the meeting, and "exchanged opinions on economic and trade issues". The call took place "at the request of the US side" and they agreed to maintain contact, the Xinhua news agency said.
"The G20 will not get going until midweek, but the anticipation of a meeting between the leaders of China and the US is keeping markets guessing," said OANDA senior market analyst Alfonso Esparza.
"The prolonged trade war between the two largest economies has downgraded global growth as more barriers to trade means higher prices. Optimism remains high, but more details need to emerge before the market can fully price in how far apart the two sides really are from a deal."
Despite the rising fears of conflict between the US and Iran crude prices extended the morning's losses, with David Madden, market analyst at CMC Markets UK, saying "traders began to fear that demand for oil will fall".
Iran and the US have said they do not want a war, with the US content with trying to cripple Iran economically.
Oil traders are also keenly awaiting a meeting of OPEC and other major producers this weekend, hoping for clarity on their output reduction programme, which has supported prices.
The greenback was down against most other currencies, weighed by expectations the Federal Reserve will cut interest rates as soon as July, while bitcoin held above $11,000 after breaking the marker for the first time in 16 months.
As It Happens
LATEST UPDATE: February 3, 2020 - 7:17pm
Monitor updates on US foreign policies that affect the world.
February 3, 2020 - 7:17pm
The Organisation of Islamic Cooperation rejects US President Donald Trump's plan for the Middle East, calling on its 57 member states not to help implement it.
The pan-Islamic body, which represents more than 1.5 billion Muslims worldwide, "rejects this US-Israeli plan, as it does not meet the minimum aspirations and legitimate rights of the Palestinian people, and contradicts the terms of reference of the peace process," it says in a statement.
It calls on "all member states not (to) deal with this plan or cooperate with the US Administration efforts to enforce it in any way or form." — AFP
January 29, 2020 - 7:13pm
President Donald Trump's long-delayed Middle East peace plan wins support in Israel but was bitterly rejected by Palestinians facing possible Israeli annexation of key parts of the West Bank.
Trump, who unveiled the plan on Tuesday at the White House standing alongside Israel's Prime Minister Benjamin Netanyahu with no Palestinian representatives on hand, says his initiative can succeed where others had failed.
Major powers and some regional players responded with caution, saying Trump's project deserves study while stressing that a durable solution to the conflict can only emerge through Israeli-Palestinian negotiations.
But Trump's proposals reportedly included no Palestinian input and grants Israel much of what it has sought in decades of international diplomacy, namely control over Jerusalem as its "undivided" capital, rather than a city to share with the Palestinians. — AFP
December 20, 2019 - 7:06am
US lawmakers in the House of Representatives approve a new continental free trade agreement, advancing a central plank in President Donald Trump's trade agenda even as he faces impeachment.
A law to implement the new US-Mexico-Canada Agreement passed by an overwhelming bipartisan majority — an unusual occurrence in the current political atmosphere — with a vote tally of 385-41.
The bill now must be approved by the Senate, where the Republican majority leader has said it will have to wait until 2020. — AFP
December 6, 2019 - 7:14am
President Donald Trump calls a crackdown on demonstrations in Iran "brutal" and said the United States would react "strongly" to any threat from Iran to its interests in the region.
"They're killing a lot of people and they're arresting thousands of their own citizens in a brutal crackdown," Trump says at a meeting with UN diplomats at the White House.
Calling it a "horrible situation," Trump warns that any new threat from Iran "will be met very strongly." — AFP
November 19, 2019 - 8:03am
Israeli Prime Minister Benjamin Netanyahu says a US policy shift deeming Israeli settlement not to be illegal "rights a historical wrong."
"This policy reflects an historical truth — that the Jewish people are not foreign colonialists in Judea and Samaria. In fact, we are called Jews because we are the people of Judea," he said in a statement, using the biblical term for the West Bank.
His comments came after US Secretary of States Mike Pompeo said the United States no longer considers Israeli settlements to be "inconsistent with international law", in a shift in American foreign policy. — AFP