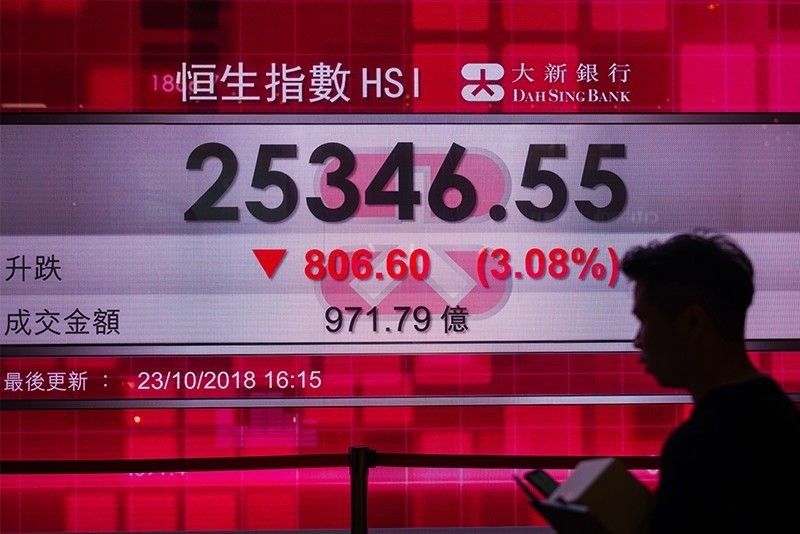 A man walks past a stocks display board that shows a drop in the Hang Seng Index of 3.08 percent, or 806.60 points, closing at 25,346.55, in Hong Kong on October 23, 2018.
Anthony WALLACE / AFP
Asian markets sink, gold extends gains as Iran warns on sanctions
(Agence France-Presse) - June 25, 2019 - 3:58pm
HONG KONG — Increasing concerns about a conflict between the United States and Iran hit equity markets Tuesday and sent gold prices to a fresh six-year high, jolting investor confidence days ahead of crucial trade talks between Donald Trump and Xi Jinping.
The latest round of sanctions against supreme leader Ayatollah Ali Khamenei and military top brass meant the "permanent closure of the path to diplomacy", the Islamic republic's foreign ministry said.
Trump unveiled the new restrictions Monday, days after the downing of a US "spy drone" that Tehran said had entered its airspace.
The tweet, from ministry spokesman Abbas Mousavi, provided a catalyst to sell for Asia stock traders, who had been sitting on their hands ahead of the Trump-Xi meeting at the end of the week.
In afternoon trade Hong Kong fell 1.4 percent, while Shanghai was 1.7 percent off and Tokyo dropped 0.6 percent off, with profit-taking after a recent rally adding to selling pressure.
Sydney was down 0.1 percent, Seoul and Singapore each retreated 0.3 percent and Taipei lost 0.8 percent. Still, Wellington, Manila, Bangkok and Jakarta were slightly higher.
London fell 0.5 at the open, while Frankfurt and Paris each lost 0.4 percent.
Safe haven investments climbed, with gold breaking $1,430 for the first time since September 2013, with a softer dollar adding support, while the yen -- a go-to unit in times of turmoil -- was up against the greenback.
Traders were also keeping tabs on developments in the China-US trade standoff as the leaders prepare for crunch talks on the sidelines of the G20 in Osaka.
World markets have rallied since Trump last week flagged positive phone talks with Xi and said they would discuss their trade spat.
On Tuesday, Chinese state media said top-level negotiators for both sides had held discussions ahead of the meeting, and "exchanged opinions on economic and trade issues". The call took place "at the request of the US side" and they agreed to maintain contact, the Xinhua news agency said.
"The G20 will not get going until midweek, but the anticipation of a meeting between the leaders of China and the US is keeping markets guessing," said OANDA senior market analyst Alfonso Esparza.
"The prolonged trade war between the two largest economies has downgraded global growth as more barriers to trade means higher prices. Optimism remains high, but more details need to emerge before the market can fully price in how far apart the two sides really are from a deal."
Despite the rising fears of conflict between the US and Iran crude prices extended the morning's losses, with David Madden, market analyst at CMC Markets UK, saying "traders began to fear that demand for oil will fall".
Iran and the US have said they do not want a war, with the US content with trying to cripple Iran economically.
Oil traders are also keenly awaiting a meeting of OPEC and other major producers this weekend, hoping for clarity on their output reduction programme, which has supported prices.
The greenback was down against most other currencies, weighed by expectations the Federal Reserve will cut interest rates as soon as July, while bitcoin held above $11,000 after breaking the marker for the first time in 16 months.
As It Happens
LATEST UPDATE: November 19, 2019 - 8:03am
Monitor updates on US foreign policies that affect the world.
November 19, 2019 - 8:03am
Israeli Prime Minister Benjamin Netanyahu says a US policy shift deeming Israeli settlement not to be illegal "rights a historical wrong."
"This policy reflects an historical truth — that the Jewish people are not foreign colonialists in Judea and Samaria. In fact, we are called Jews because we are the people of Judea," he said in a statement, using the biblical term for the West Bank.
His comments came after US Secretary of States Mike Pompeo said the United States no longer considers Israeli settlements to be "inconsistent with international law", in a shift in American foreign policy. — AFP
October 25, 2019 - 7:56am
The governments of the United States, Brazil, Argentina and Colombia propose a second round in the Bolivian elections after incumbent President Evo Morales was controversially declared the winner on Thursday.
The group of countries calls on Bolivia's government "to restore credibility in its electoral system" by calling a second round run-off between socialist Morales and centrist former president Carlos Mesa.
Observers from the Organization of American States have expressed concern over the vote count, which triggered riots, a general strike and opposition accusations of fraud. — AFP
October 15, 2019 - 7:28am
US President Donald Trump urged his Turkish counterpart Recep Tayyip Erdogan to "stop the invasion" of Syria, Vice President Mike Pence says.
Trump pressed the Turkish leader in a telephone call to "stop the invasion, to enact an immediate ceasefire and to begin negotiations with Kurdish forces in Syria," Pence tells reporters, adding that he would be traveling urgently to Turkey at the president's request.
"He's directed me to lead a delegation. I will be leaving as quickly as possible to travel into the region to pursue a ceasefire and negotiated settlement," Pence says.
Trump has given orders to pull all US troops from northern Syria — about 1,000 soldiers — as Turkey presses a military operation against Kurdish forces there. — AFP
October 11, 2019 - 7:55am
President Donald Trump asked US diplomats to broker a ceasefire between Turkey and Kurdish forces in Syria, a US official says.
"We have been tasked by the president to try to see if there are areas of commonality between the two sides (and if) there's a way that we can find our way to a ceasefire," the official says on condition of anonymity. — AFP
October 9, 2019 - 3:41pm
At least 30 civilians were killed when the US bombed several drug-making facilities in western Afghanistan in May, a UN agency says in a report, though the US military immediately disputed the findings.
The United Nations Assistance Mission in Afghanistan says in a statement that it had "verified 39 civilian casualties (30 deaths, five injured and four undetermined), including 14 children and one woman, due to the 5 May air strikes." — AFP