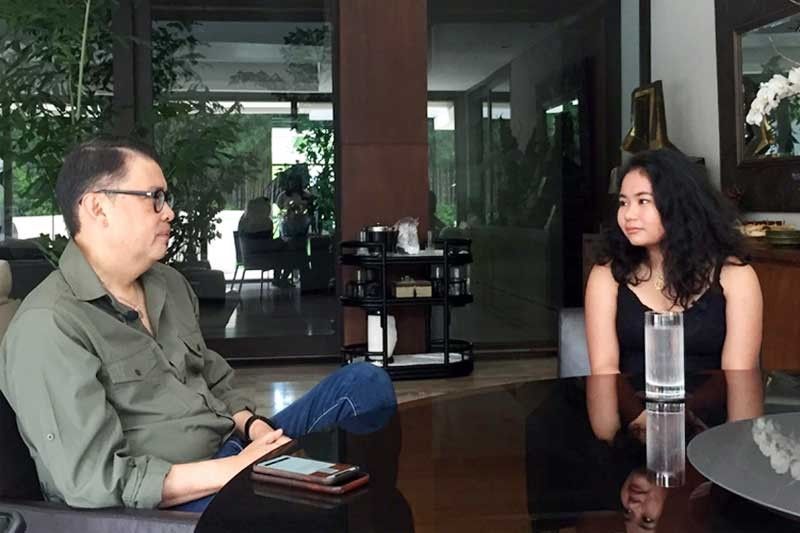 PA Joey Concepcion together with Hyacenth Bendaña during their meeting last week.
Breaking the shackles of poverty
GO NEGOSYO PILIPINAS ANGAT LAHAT!
-
Joey Concepcion
(The Philippine Star) - June 20, 2019 - 12:00am
Aside from being an advocacy that supports the development of micro and small entrepreneurs, I believe that Go Negosyo is a storyteller, a narrator of inspiring and empowering success stories of many entrepreneurs.
For the past 14 years, Go Negosyo has featured countless of entrepreneurship journeys of not just the big entrepreneurs, but also of micro and small entrepreneurs who sought and worked for their own "tagumpay."
Recently, I met one inspiring individual who is at the perfect place to empower other people. Her name is Reycel Hyacenth Bendaña, Ateneo de Manila University's 2019 Class Valedictorian. You may have heard of her as she became a trending topic recently when she delivered her valedictory address.
I invited her to our house last Saturday before I went abroad. A bubbly and bright lady, Hya is a beaming hope for the youth as she advocates for the transportation sector. She shared her story.
Having attended Ateneo de Naga for her high school, Hya was suppose to join the University of the Philippines community to study Industrial Engineering. However, since her sister is an upcoming high school student, she opted to join Ateneo as one of its scholars so her sister could have the allowance for her studies. Her mother is a former saleslady, while her father is a former construction worker turned jeepney driver who has been driving since 2000.
Hya said her mother is, in fact, the entrepreneur in the family. Her mom took the risk of getting a loan for the jeepney, then eventually a truck. This is one of the familiar stories of micro and small entrepreneurs — of mothers who are willing to risk and sacrifice for their family. In fact, many mothers have the entrepreneurial spirit because of their natural instinct to help provide for their children. Microfinance institutions like CARD-MRI of Aristotle Alip have a record of wives and mothers applying for loans for their small businesses.
Hya shared her frustrations. While she was volunteering for a community as a public elementary school teacher in the province during her second year in high school, she met Noynoy, one of her students. Despite being the same age as her, Noynoy is still in grade one. Hya said, "Parehas naman kaming nagsisikap. Parehas naman kaming masipag. Parehas naman kami ng background of having a poor family, pero bakit ako may chances? Bakit ako may opportunities? Bakit siya, wala?"
"We're going to break the shackles of poverty because after all, I am breaking mine, but there are people na hindi sipag yung problema. Hindi pagsisikap yung problema kasi masipag na sila at nagsisikap na sila. It's really the system. Yung barriers of opportunity for people. At yun yung kailangan gawin kaya may call for the economy to be more inclusive."
This is one great example of how poverty changes the ball game. While some turn to drugs and criminality to escape their reality, some use poverty as their biggest motivator to move up in life. There are many successful entrepreneurs, like Dado Banatao who hailed from Cagayan. Now, he is a billionaire after becoming a successful technopreneur.
Hya is also vocal about the modernization program for jeepney drivers. Her father has stopped driving jeepneys because when the modernization program started, their franchise was no longer renewed by the LTFRB. In the Public Utility Vehicle Modernization Program of the government, jeepneys must pass the new standards within three years. Hya said, "I think the majority of the jeepney drivers still do not want to transition and want to oppose the jeep modernization policy, but there are a number of those who want to transition. I think we are at a perfect place to be able to help them to breach that gap. To transition to other sources of income na hindi sila mawawalan ng kabuhayan… I think Go Negosyo is the perfect platform to be able to reach out to them so that we will not have hundreds and thousands of families who will lose their livelihood and income and whose dreams will not be killed in the near future."
This is where we want to help our jeepney drivers, their wives, and their families — to be able to provide opportunities for livelihood. I think their problem now is the lack of support after the modernization program. With their jeepneys phased out, they will no longer have their major source of income. Through our mentorship programs, they can explore unique business ideas that they can pursue.
Additionally, with digitalization, jeepney drivers can continue driving for different platforms such as Grab, Angkas, Lalamove, Ninjavan, etc. We can show them that there are many livelihood opportunities today because of the digital transformation happening. These companies will gladly assist them in their application.
Hya can be the perfect spokesperson for helping jeepney drivers and their families. I told her to take the opportunity to give back to those who helped her by helping others. I am glad that she plans to help other people through different advocacies. I am sure that this lady will be one of the changemakers of this country. May her story inspire more people, from the low-lying communities and even the middle class — to rise from poverty and reach for success!