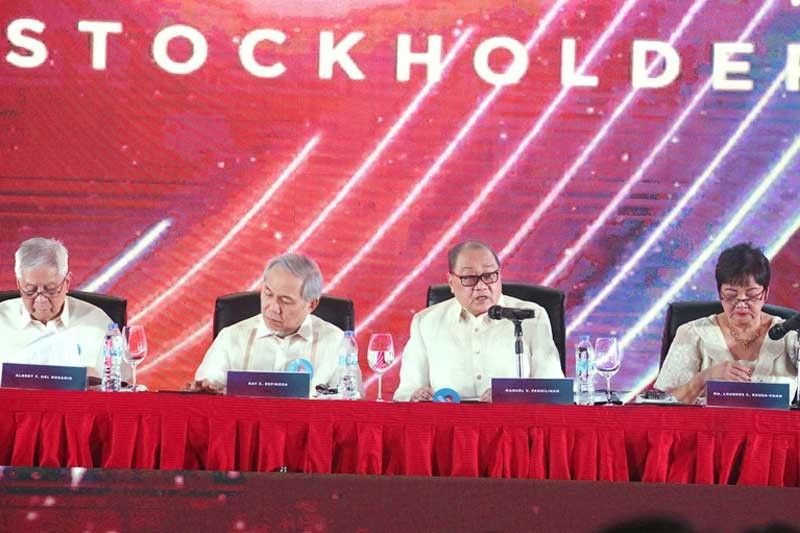 PLDT Inc. chairman and president Manuel V. Pangilinan (2nd from right) entertains queries from investors during the company's annual stockholders meeting Tuesday. Also in photo (from left) are directors Albert Del Rosario, Ray Espinosa and Ma. Lourdes Rausa-Chan.
Ernie Peñaredondo
PLDT bullish on exceeding P26-B core profit guidance
MANILA, Philippines — Telco giant PLDT Inc. expects to exceed its core profit guidance this year on the back of the surging performance of its wireless business.
PLDT is eyeing to grow its telco core income to P26 billion this year, but its chairman Manuel V. Pangilinan said the company could do even better.
"Yes, we are on track (to meet the telco core income target of P26 billion). Numbers are looking good," he said.
"I think 2019 will be better. We can do better than P26 billion," Pangilinan said.
Pangilinan said PLDT's bullish expectations are being fueled mainly by the significant growth of its wireless business.
"The Enterprise group has been rising consistently. It will be growing by low double digits. But wireless is surprisingly on the upside," he said.
Service revenues of PLDT's individual wireless business, which includes the consumer sales of the group's Smart, Sun and TNT mobile brands, jumped 18 percent year-on-year to P16.9 billion in the first quarter.
The surge in revenues was driven by a robust increase in data and broadband revenues which accounted for 65 percent of the total.
PLDT's wireless brands also added 3.4 million customers in the first quarter, expanding a subscriber base that is increasingly becoming more active in using data.
About two-thirds of these subscribers are smartphone owners, of whom about 70 percent are data users. Mobile data traffic jumped by 127 percent year-on-year to 304 petabytes.
To support Filipinos' increasing appetite for data, PLDT and Smart are continuously expanding and modernizing their fixed and mobile networks, backed by a historic-high capital expenditure of P78.4 billion this year.
"Moving forward, we expect revenues from our three major business groups to continue to be on the upswing," Pangilinan said.