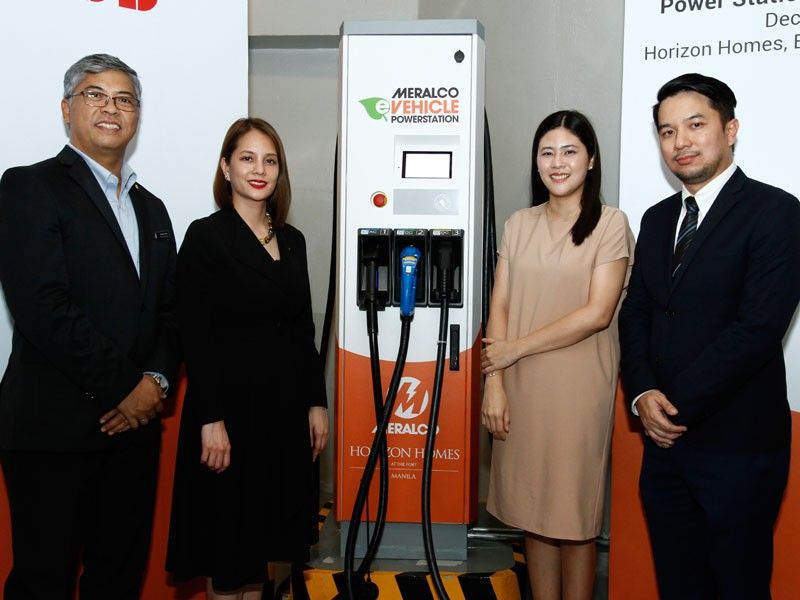 From left to right: Antonio Dizon, Director for Engineering, Shangri-La at the Fort Manila; Gaile Moreno, Property Director, Horizon Homes; Bernice Garcia, Lead Relationship Manager for the Leisure & Entertainment Group, Meralco; and Arnold De Guzman, Relationship Manager for the Leisure & Entertainment Group, Meralco
Horizon Homes fast-charging EV facility is future-ready
Electric vehicles are wonders of automotive technology. They are generally cleaner and cheaper to drive, saving in fuel cost and greatly reducing the amount of carbon emissions that hasten global warming. Here in the Philippines, stakeholders of the fledgling electric vehicle industry are working together in pushing for further investments in clean vehicle technology.
Toward a transportation EVolution
Foreseeing a future where more electric vehicles ply the roads, Meralco — upon the request of Horizon Homes at Shangri-La at the Fort, Manila — has set up an exclusive electric vehicle (EV) charging station at the luxury residential complex's basement parking. Opened on December 14, this EV charging station was built by Meralco with help from ABB and Mitsubishi Motors to help residents in the gradual shift toward using electric cars.
"Because of the profile of our residents, we want to give them the most innovative features," said Horizon Homes property director Gaile Moreno.
The new charging station makes it easier to adopt electric vehicles as an alternative mode of transportation that promotes better urban mobility. In this regard, Meralco continues to collaborate with other EV stakeholders in expanding the network of charging stations nationwide. This will, in turn, foster the faster growth and evolution of the entire EV industry.
Tailor-fit energy solutions and services for your business
There is a growing demand for electric vehicles and charging stations. Charging stations as part of the entire EV ecosystem are needed to enable growth and use of electric vehicles.
Meralco always strives to understand and address the varied and diverse energy requirements of its customers. Its century of experience in the energy industry gave it its unique position to provide corporate customers with end-to-end energy solutions that can enhance a company's competitiveness.
The Power Ideas program was designed to help its corporate customers achieve operational efficiency by offering four key energy solutions on Power Quality, Energy efficiency, Energy Supply and Innovations.
To learn more about Power Ideas, visit http://corporatepartners.meralco.com.ph/powerideas, e-mail corporatepartners@meralco.com.ph or call the business hotline at (02) 16210.