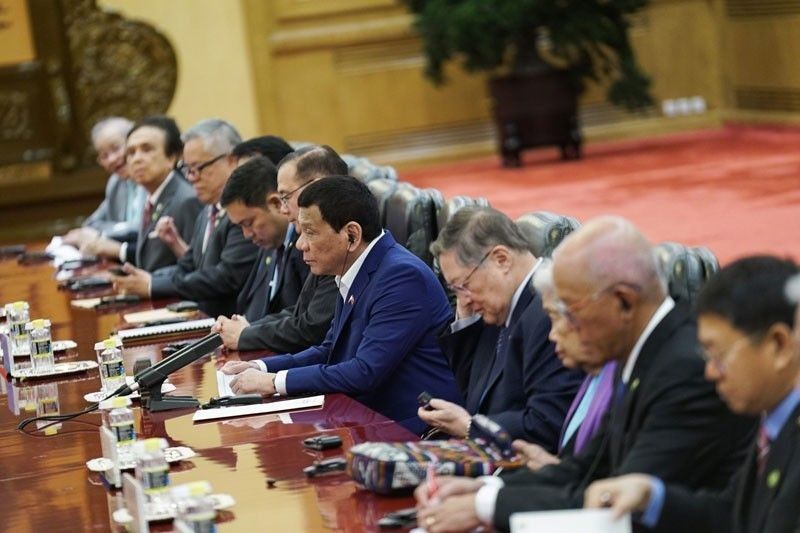 In Beijing, the Philippines' ambassador to China said Manila wants to see Beijing act on its fishermen's harvesting of giant clams in Panatag (Scarborough) Shoal, which Beijing has declared illegal since January 2007.
File
Recent deals with China 'no cause for concern' — Trade chief
(Philstar.com) - April 30, 2019 - 1:10pm
MANILA, Philippines — The 19 deals signed between Manila and Beijing during President Rodrigo Duterte's recent trip to China should not stoke alarm, Trade Secretary Ramon Lopez said Tuesday.
In an interview with CNN Philippines, Lopez clarified that the $12-billion worth of agreements signed by the two countries last week were "business-to-business" deals.
He added that the deals are expected to generate 21,000 jobs for Filipinos.
The signing of 19 new investments and trade agreements took place at the Grand Hyatt Hotel Beijing on the sidelines of the second Belt and Road Forum initiated by Chinese President Xi Jinping.
"No cause for concern sa deals with China... Itong 19 deals, hindi ito government, business-to-business ito. It's a combination of equity, hindi yan all loans," Lopez said.
Despite Duterte's warm relations with China, the Philippines has a long history of mistrust of it as the two countries continue to spar over the resource-rich South China Sea.
Critics have warned that the Philippines could be the next victim of Chinese "debt trap" — where Beijing seizes strategic assets of states that fell into financial distress after borrowing heavily from the Asian power.
Philippine officials have been calming growing fears of a China "debt trap" after critics accused Duterte of agreeing to unfavorable loan conditions for Beijing-funded infrastructure projects.
In the same television interview, Lopez echoed the explanation of Department of Finance amid controversies over Chinese-funded projects, saying the Philippines is unlikely to default on any of its loans. — Ian Nicolas Cigaral