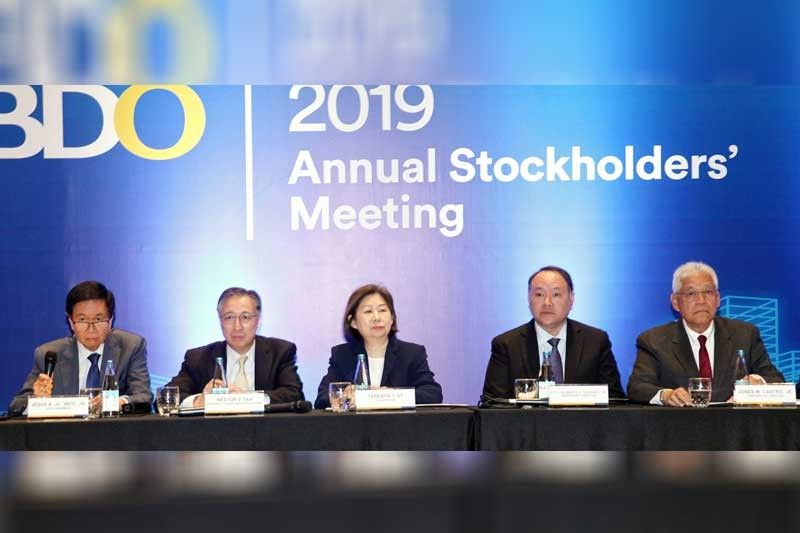 BDO 2019 ANNUAL STOCKHOLDERS MEETING: Top officials of BDO Unibank Inc. entertain questions from investors during the bank's annual shareholders meeting Monday. From left are Jesus Jacinto (vice chairman), Nestor Tan (president and CEO), Teresita Sy Coson (chairperson), and Atty. Gilberto Teodoro and Jones Castro Jr. (both independent directors).
Joey Viduya
BDO sees record P38.5 B profit in 2019
MANILA, Philippines — Listed BDO Unibank Inc. expects to maintain its dominance of the country's banking industry with a record profit of P38.5 billion this year, almost 18 percent higher than last year's P32.7 billion, by leveraging on its strong business franchise and extensive distribution network.
In a press briefing, BDO president and chief executive officer Nestor Tan said the growth would be fuelled by the sustained economic growth and easing inflation which would translate to higher loan disbursements as well as stable net interest margin and recovery in fees and commissions.
Tan said the country's largest lender sees its loan portfolio booking a growth of "low teens."
"We'll see. Right now, we are only at 10 percent, but like I said, the number of the first quarter 2018 was actually high so on a normal base we should be around 12 to 13 percent growth rate," he said.
The BDO president said the bank would continue to execute its strategy to expand across high-growth areas and underserved segments.
With the largest distribution network of more than 1,300 operating branches and over 4,000 ATMs nationwide, Tan said BDO and subsidiary One Network Bank is looking at opening between 50 to 70 branches all over the country this year.
For the first quarter of the year, the earnings of the listed bank owned by the late retail and banking magnate Henry Sy jumped 66.1 percent to P9.8 billion from P5.9 billion in the same quarter last year due to the continued expansion of its core banking operations, recovery of trading gains to normal levels, and strong results from bank fees and life insurance premiums.
Net interest income was a major earnings driver, rising to P27.7 billion on the continued growth in customer loans and current and savings account expansion, resulting in higher net interest margins.
Meanwhile, non-interest income went up to P14.9 billion, led by banking fees and insurance premiums.
Trading and foreign exchange gains normalized to P2.2 billion from just P24 million a year-ago, given adverse market conditions during the first quarter of last year when the market declined by seven percent.
Excluding the increase in trading gains, core net income would have risen by 21 percent.
On the other hand, operating expenses rose by 22 percent to P28.3 billion due to continuing business and branch expansion as well as investments in information technology upgrades implemented early this year.
Tan said BDO is looking at continued consumer confidence amid easing inflation, while the mid-term elections could boost economic activity.
He also cited the Duterte administration's massive infrastructure build up under the Build Build Build program, as well as the dovish sentiment of the US Federal Reserve.
However, Tan said the trade war between the US and China would remain a major concern.
"The risk, however, will continue to be there. Number 1 is the trade war between the US and China and we will be affected in some form or another. It might not affect us directly, but it will impact trade flows. And then there is the uncertainty—the flip side of the election spending. There is an uncertainty as a result of midterm elections," he said.