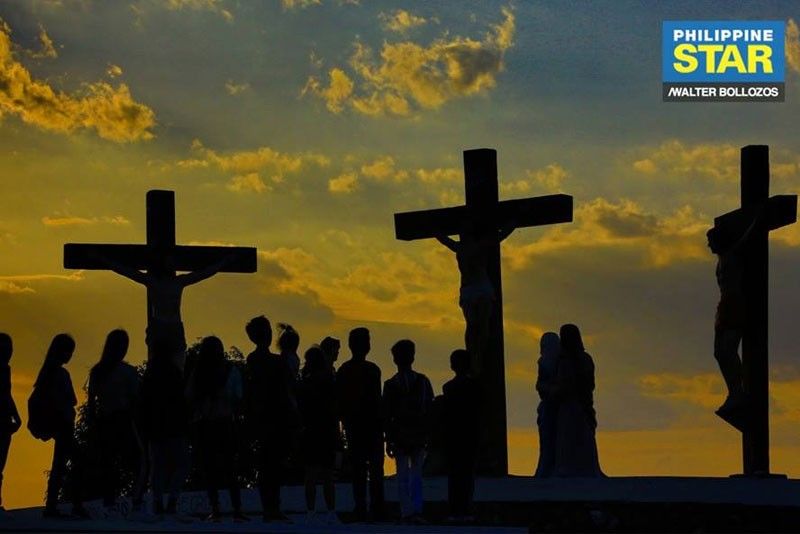 "As part of the preparations, all DOT regional offices have communicated with the government agencies to lay the groundwork for a successful, peaceful and orderly observance of Lent. As the annual protocol during Holy Week, DOT has issued letters to LGUs requesting that safety and security measures are in place in tourist destinations," the DOT said.
DOT gears up for Holy Week tourist influx
MANILA, Philippines — The regional units of the Department of Tourism (DOT) have coordinated with various local government units and other concerned government agencies to ensure that tourist destinations are equipped to handle the influx of tourists and pilgrims this Holy Week, the agency said in a statement.
"As part of the preparations, all DOT regional offices have communicated with the government agencies to lay the groundwork for a successful, peaceful and orderly observance of Lent. As the annual protocol during Holy Week, DOT has issued letters to LGUs requesting that safety and security measures are in place in tourist destinations," the DOT said.
DOT Assistant Secretary Roberto Alabado III told The Star that Tourism Secretary Bernadette Romulo-Puyat has instructed regional offices to provide assistance and different information to tourists on the activities that they can do during the Holy Week.
"That will include providing information, coordinating with the other agencies for their security and safety," he added.
The DOT said it has also collaborated with the airport authorities for Help Desks where tourists can get assistance for various travel concerns including information about their destination, security or to report special issues.
"On security, the DOT has coordinated with LGUs, the Philippine National Police (PNP), and other government security agencies to increase police visibility as well as assure peace and order. In addition, DOT and PNP have a Tourist-Oriented Police for Community Order and Protection (TOP-COP) program where police personnel are trained to handle and assist tourists," the DOT said.
The tourism department said it has also issued a reminder notice to resorts and hotels to deploy life guards in their beach areas or swimming pools.
"The public is urged to choose DOT-accredited establishments that can ensure the availability of first-aid trained staff and first-aid kits," it added.
Meanwhile, DOT urges the public to take precautions during their journeys especially in areas where the Philippine Atmospheric, Geophysical and Astronomical Services Administration (PAGASA) has identified as heat danger zones including Infanta in Quezon, Ambulong in Batangas, Casiguran in Aurora, Pasay City in Metro Manila, Dagupan City in Pangasinan, San Jose City in Occidental Mindoro and Tuguegarao City in Cagayan.
"Pilgrims and tourists are advised to stay in shaded areas or if going on a road trip, take breaks to hydrate in order to avoid heatstroke. DOT also encourages the public toÒ bring extra supplies of water in reusable containers and an emergency kit including personal medications," the DOT said.
DOT has also requested that travelers practice responsible tourism by respecting local traditions and practices.
"This means observing silence in houses of prayer, avoiding the use of flash photography in churches and not taking photos of individuals without permission. Sustainable tourism practices such as properly managing one's personal trash and avoiding single use plastics by bringing personal water tumblers and utensils are also encouraged," the DOT said.
Lent in the Philippines is a solemn period that begins on Ash Wednesday and culminates with the Semana Santa or Holy Week where unique and diverse events happen simultaneously in all corners of the country. Over the six-week period of Lent, Filipinos make extensive preparations for themselves, their communities and their visitors, and stage rituals and customs that create piously meaningful, transformative, and memorable experiences.
"Lent is an integral part of our national identity. It reflects our faith, history and traditions passed on by our forefathers," Puyat said.
Puyat added that pilgrims and tourists are encouraged to take part in this unique Philippine experience but to always be cautious about their personal safety and be respectful of others.
"We want to preserve and keep our Lenten traditions thriving. This is why we would invite everyone to practice sustainable tourism. This means being sensitive to the destinations we visit, respecting people's traditions and practices as well as avoiding destruction of the environment," Puyat added.
Alabado emphasized that the Lenten season, particularly the observance of Holy Week is a chance for Filipinos to appreciate their culture
"When you think about the Lenten season I hope you do not think about holidays or even just vacation because this is actually a week for renewal of our resurrection of our culture, our faith," Alabado said in press conference Monday.
"For this season, we would like to invite our Filipino tourists as well as international tourists to relive and renew their Christian faith by going around and visiting our UNESCO heritage sites like churches," Alabado said.
There are four Philippine Baroque churches included in the United Nations Educational, Scientific and Cultural Organization(UNESCO)'s list of World Heritage Sites. Among these are the San Agustin Church in Intramuros, Manila; Church of Santo Tomas de Villanueva in Miag-ao, Iloilo; Church of Nuestra Senora de la Asuncion in Santa Maria, Ilocos Sur; and Saint Augustine church in Paoay, Ilocos Norte.
"When you go to Bohol and when you to Ilocos, Cebu, Please don't forget before you go to the beach, you have to go also the main purpose of our visit to these provinces is also to renew our faith," Alabado added.
While the DOT encourages tourists to visit churches around the country, it also inviting Filipinos, as well as foreign pilgrims to go to Intramuros in Manila as the walled city has prepared a number of Lenten activities to participate in such as the opening of nine churches for people to visit during the Visita Iglesia on Maundy Thursday.
Among these churches are the Manila Cathedral, San Agustin Parish Church, Fr. Willman Chapel at the Knights of Columbus Building, Pamantasan ng Lungsod ng Maynila Chapel, Mapua University Chapel, Lyceum of the Philippines University Chapel, Colegio de San Juan de Letran Chapel, St Matthew's Chapel at the BIR Building and Guadalupe Shrine at the Fort Santiago.
Other Lenten activities offered by the IA include Penetencia around Plaza Roma and the Manila Cathedral on Holy Thursday (April 18) at 7pm by the Cainta Nazareno Inc and as well as Stations of the Cross installations which will be displayed at the stretch of General Luna Street, from Beaterio Street to Muralla (side of Pamantasan ng Lungsod ng Maynila) from Maundy Thursday to Black Saturday.
"Lent is an important period for Filipinos, whether for reasons of faith, to rest or to bond with one's family, friends and community. Pilgrims and tourists are all welcome during the Holy Week in Intramuros and invited to experience this important Philippine tradition," the DOT earlier said.