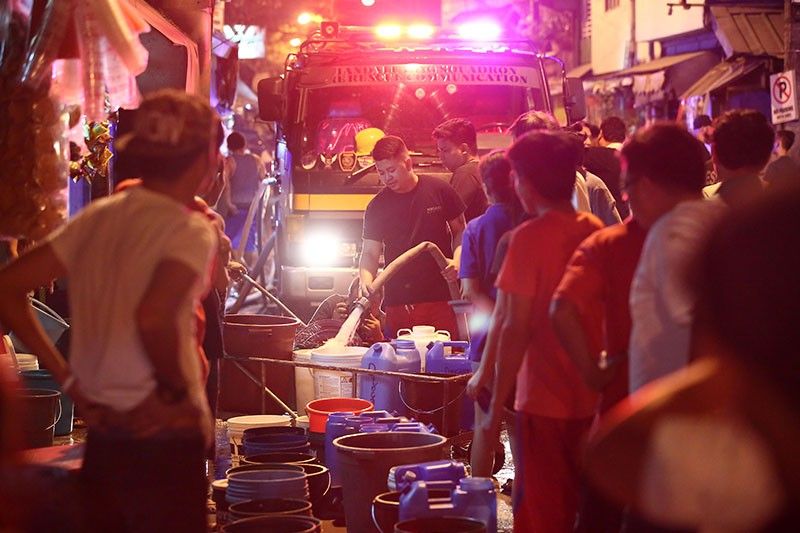 Residents of Mandaluyong City lineup for water rations from firetrucks as Manila Water implements "operational adjustments."
The STAR/Miguel de Guzman
Lessons from the Manila Water crisis
BIZLINKS
-
Rey Gamboa
(The Philippine Star) - April 9, 2019 - 12:00am
In a more relaxed setting, we had the opportunity to exchange ideas with – as well as air some questions to – Metropolitan Waterworks and Sewerage System (MWSS) administrator Reynaldo Velasco on the recent water crisis that Manila Water, its Metro Manila east zone service contractor confronted.
As a short backgrounder, Manila Water had repeatedly warned in the past that unless new sources of water were developed, the fast population growth in the east zone would increase water demand and outstrip supply as early as 2018. Fortunately, this did not happen last year.
But with the onslaught of El Niño this year, Manila Water's usual fallback water source, La Mesa Dam, was not being replenished fast enough to compensate a 150 to 200 million liters per day (mld) shortfall.
The next option for Manila Water was rationing – which turned out to be a catastrophe. In the midst of panic, some areas were left without water for days.
While the crisis can be declared over today with acceptable water supply services resumed in most areas, shortages will likely appear again in the coming years if no new water sources are tapped, especially since the current water supply for Metro Manila will definitely not be enough to compensate for growing demand.
Immediate initiatives
Velasco shared that during the height of the crisis, which started during the second week of March carrying on till the last week of the month, MWSS just had to do what was needed to alleviate calls of distress by consumers.
First step in mid-March was to energize Manila Water's new Cardona Rizal Water Treatment Plant and add an initial 26 mld new water to the east zone. If technical problems that delayed the plant's full operations are resolved, its contribution would increase to 100 mld within the year.
MWSS also transferred 10 mld and 50 mld of Maynilad's raw water allocation and treated water, respectively, to Manila Water. Maynilad is MWSS's west zone concessionaire.
With still a supply shortfall, MWSS reactivated 91 standby deep wells, of which 19 were energized to contribute almost 30 mld. Water tankers and static tanks were also deployed.
Finally, MWSS commenced with the modification of the intake structure of the La Mesa Water Treatment Plant No. 2 with the construction of a diversion pipe. This will increase total flow of raw water to Manila Water's side by 40 mld starting April 12, and by another 40 mld by the end of April.
These immediate remedies would bring full water service by Manila Water to its customers by May. Until then, 14 areas will still need water supply through tankers.
Short-term measures
Within the year until 2023, Velasco enumerated the various measures that are being undertaken to increase water supply to Metro Manila by 1,727 mld. This year, Cardona is expected to contribute a total of 100 mld, while Maynilad's Putatan Water Treatment Plant 2 will bring in an additional 150 mld.
Next year, the resumption of the Sumag River Diversion Project undertaken by both Maynilad and Manila Water should bring in 188 mld. The project had been temporarily stopped in 2016 when an accident claimed the lives of six workers. Already 70 percent completed, the project could be operational early next year if immediately resumed.
In 2021, Maynilad will complete its 80 mld-Calawis Antipolo Source System. In 2022, MWSS will have completed the first phase of the Lower Ipo project that will tap on the unutilized water from Angat-Norzagaray Rivers, and contribute an additional 250 mld. Complementing this will be Maynilad's 100 mld-Poblacion Muntinlupa Water Treatment Plant 4.
In 2023, if plans are carried as intended, the Kaliwa Dam in Quezon, funded by Chinese money, would be completed and operational. This will add another 600 mld.
Non-revenue water (NRW) reduction initiatives by Maynilad should contribute another 210 mld from 2020 to 2022, and bring down acceptable loss levels to within 20 percent as prescribed by world standards. Manila Water has already reduced its NRW to within 12 to 15 percent.
Ongoing too is the construction of two new tunnels from Ipo Dam to Bigte in Norzagaray, Bulacan by MWSS (Tunnel 4) and Maynilad/Manila Water (Tunnel 5), and a new aqueduct linking both tunnels to La Mesa Dam. Combined, these will increase water supply by 4,984 mld by 2022.
Medium- and long-term roadmap
Velasco was proud of the short-term initiatives, calling them the crowning legacy of the current administration with regards putting in place a sustainable water supply for Metro Manila and nearby provinces.
The medium- and long-term roadmap as set by MWSS until 2040, if implemented, will add another 12,120 mld of water from eight identified projects that will be implemented by MWSS and its two concessionaires.
MWSS plans to pursue the second phase of the Lower Ipo project to tap unutilized water from Angat-Norzagaray (550 mld), Bayabas Dam (350 mld), and Kanan River (Phase 1 for 1,800 mld and Phase 2 for 2,000 mld).
Comprehensive water governance structure
Kudos to MWSS administrator Velasco, who despite restrictions on MWSS scope of authority, was able to obtain cooperation of water concessioners to undertake immediate short-term measures to bring remedies and full water service to Manila Water customers by May.
However, the future prospect of a better water situation is still hazy. As I mentioned in previous columns (Fight for Water), the country has enough water sources that can last many generations, if only it were properly managed. This is why a comprehensive water governance structure is needed to define hierarchical needs and institutional relationships to iron out kinks in a civilized manner.
Is the creation of a Dept. of Water at Cabinet level the solution?
Facebook and Twitter
We are actively using two social networking websites to reach out more often and even interact with and engage our readers, friends and colleagues in the various areas of interest that I tackle in my column. Please like us on www.facebook.com/ReyGamboa and follow us on www.twitter.com/ReyGamboa.
Should you wish to share any insights, write me at Link Edge, 25th Floor, 139 Corporate Center, Valero Street, Salcedo Village, 1227 Makati City. Or e-mail me at reydgamboa@yahoo.com. For a compilation of previous articles, visit www.BizlinksPhilippines.net.