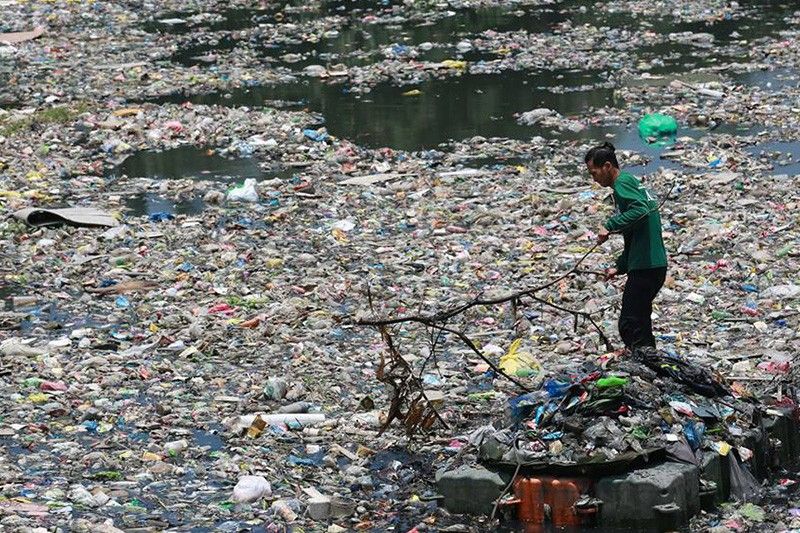 Trash collectors comb through a sea of garbage mindlessly dumped into the lifeless San Juan River in Mandaluyong City on April 19, 2018. Plastic pollution is a major problem in the Philippines, which is listed among the world's worst offenders.
The STAR/Michael Varcas, File
World Bank to support Philippines' fight vs marine plastics
(Philstar.com) - April 5, 2019 - 2:39pm
MANILA, Philippines — The World Bank Group on Thursday said it is ready to help the Philippines turn the tide on marine plastic waste through development and implementation of policies as well as financing critical investments.
Environmental groups have tagged the Philippines as one of the world's biggest ocean polluters due to its reliance on single-use plastic, which kills wildlife like whales and turtles that ingest the waste.
At a forum in Manila, Agata Pawlowska — portfolio and operations manager of the World Bank Office in Manila — said the multilateral lender last year launched PROBLUE, a global multi-donor Trust Fund focusing strongly on marine litter.
"Some of the early commitments will be for East Asia, as one of the first movers," Pawlowska said.
"At the national level, we are already working with several national governments and the private sector in Southeast Asia, including the Philippines," she added. "This is the beginning, and we at the World Bank are committed to do more."
According to an Ellen MacArthur Foundation report launched at the World Economic Forum in 2016, every year "at least 8 million [tons] of plastics leak into the ocean – which is equivalent to dumping the contents of one garbage truck into the ocean every minute. If no action is taken, this is expected to increase to two per minute by 2030 and four per minute by 2050.
"In a business-as-usual scenario, the ocean is expected to contain one ton of plastic for every three tons of fish by 2025, and by 2050, more plastics than fish [by weight]."
Last month, a whale with 40 kilos of plastic trash in its stomach died after being washed ashore in the Philippines — which activists described as one of the worst cases of poisoning they have seen.
A recent report by the Global Alliance for Incinerator Alternative flagged the "shocking" amount of single-use plastic in the Philippines, including nearly 60 billion sachets a year.
"The impacts of marine plastic pollution are manifold, and include food security, economic, water safety, ecosystem to mention a just few," Pawlowska said.
"Another example of devastating impact that plastic has is on fisheries, aquaculture, and tourism, especially in coastal communities where many poor people live. These are of particular importance to the Philippines," she added. — Ian Nicolas Cigaral with AFP