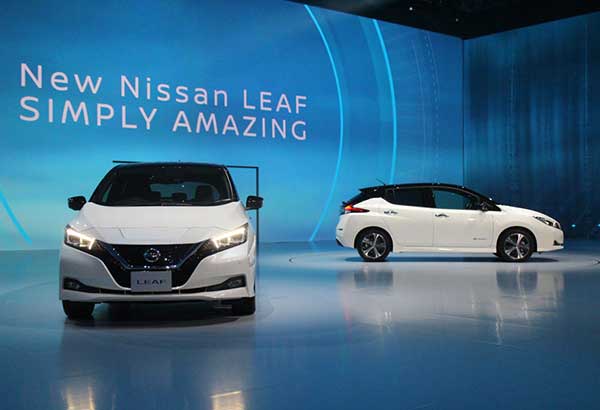 Nissan gears up for sale of e-vehicles in 2020
MANILA, Philippines — Nissan Philippines Inc. (NPI) will start selling electric vehicles (EVs) next year as it plans to promote electrification in Southeast Asia.
In a statement, NPI said the Nissan Leaf would be available in the country by next year as part of the automotive brand's commitment to push for higher EV sales.
Under Nissan's Move to 2022 plan, the company wants EVs to account for 25 percent of its sales volume.
In addition to selling EVs, the plan also includes assembly and localization of electrification components in the Southeast Asian region.
Yutaka Sanada, regional senior vice president and head of Asia and Oceania at Nissan, said the company's move to introduce the Leaf in more markets would enable more individuals to experience safe, smart and sustainable mobility.
"Nissan is taking leadership to drive awareness and embracing of electrified mobility in Asia and Oceania. We are creating excitement by bringing the new Nissan Leaf to more markets in the region and introducing in Indonesia and the Philippines is a key step. This allows customers to get first-hand experience with the benefits of EVs for themselves and for societies," Sanada said.
The Nissan Leaf was first made available in 2010.
Nissan has so far rolled out the EV model to markets such as Australia, New Zealand, Singapore, South Korea, Thailand, Hong Kong and Malaysia.
To date, Nissan has sold more than 400,000 units of the Leaf.
Earlier this year, NPI president and managing director Ramesh Narasimhan said the firm wants sales to grow at a much faster rate than the automotive industry, which is projected to rise by 10 percent this year.
"I am expecting certainly, about 10 percent growth if not higher for 2019. And of course, our objective is to grow higher than that," he said.
NPI's sales growth projection is based on its expectation of favorable economic conditions and election-related expenditures this year.
NPI's sales went up 40 percent to 34,952 units last year from 24,995 units in 2017.
As of end-February, NPI sold 6,623 units, 73.9 percent higher than the 3,809 units sold in the same period last year.