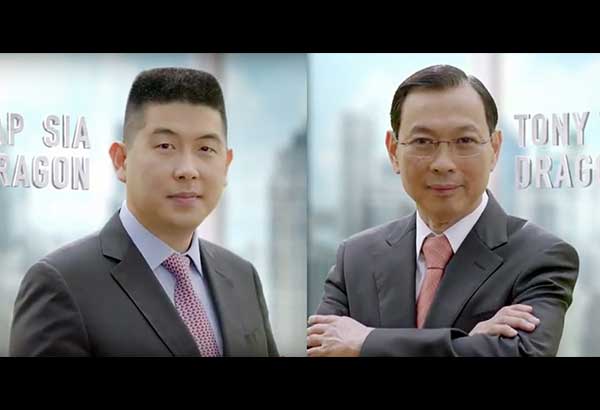 DoubleDragon bringing Hotel 101 to Southeast Asia
MANILA, Philippines — DoubleDragon Properties Corp., led by Mang Inasal founder Edgar "Injap" Sia II and Jollibee's Tony Tan Caktiong, will start bringing its Hotel 101 brand to the Southeast Asian region as part of its global expansion.
In an interview, Sia said the company is initially targeting Phuket in Thailand, Bali in Indonesia and Da Nang in Vietnam as sites for future expansion.
"Those tourist areas are our priority areas," Sia told The STAR.
"There's no reason why we can't have our own global brand," Sia said.
The company is targeting the middle income market which appreciates a no-frills hotel with quality service.
"It's an opportunity for future growth," he said.
He is optimistic the Hotel 101 brand will succeed in other countries especially because Filipinos are known to be very hospitable.
DoubleDragon's hotel subsidiary Hotel of Asia Inc. (HOA), introduced the Hotel 101 brand in the Philippines. It plans to build 20 hotels in Southeast Asia by 2020.
In the Philippines, HOA is growing the brand as well.
It recently secured its license to sell units at its Hotel 101-Davao, which is located in Ecoland, Matina.
The hotel has 519 rooms and is touted as the biggest hotel in Mindanao occupying a sprawling 5,300 square meter prime corner commercial lot along Eco West Drive at the side of SM City Davao.
The amenities of Hotel101-Davao include a convention center, business meeting facilities, infinity pool, fitness gym, an all day dining restaurant and a commercial strip.
HOA is targeting to complete the project by the end of 2020 with construction already in full swing.
The company plans to launch Hotel 101 projects in Davao, Boracay, Bohol and Palawan with total new inventory valued at P12.21 billion.
"Hotel 101 Davao is the third Hotel 101 project to launch in the Philippines, following the success of Hotel 101-Manila which was sold out prior to its opening and Hotel 101 Fort which has achieved record sales of P1.86 billion since its launch just barely a year ago. The brand itself is widely received with average occupancy well above industry average," said DoubleDragon chief investment officer Hannah Yulo.
DoubleDragon has a target to complete a leasable portfolio of 1.2 million square meters by 2020 comprising of 700,000 sqm from 100 CityMalls, 300,000 sqm from its Metro Manila office projects DD Meridian Park and Jollibee Tower, 100,000 sqm from the planned 5,000 hotel rooms of Hotel 101 and Jinjiang Inn Philippines, and another 100,000 sqm of industrial space from various CentralHub sites across Luzon, Visayas and Mindanao.