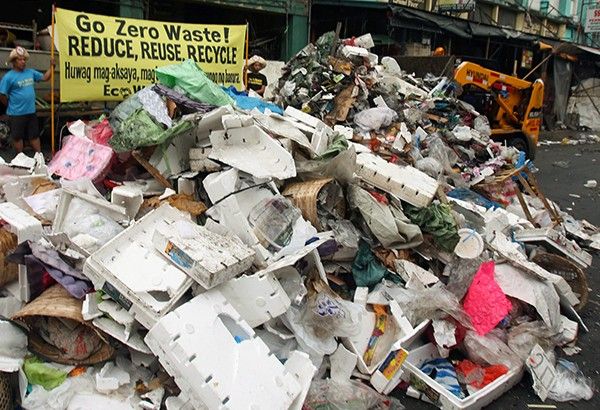 Easing into a zero waste lifestyle
BIZLINKS
-
Rey Gamboa
(The Philippine Star) - March 19, 2019 - 12:00am
Zero waste lifestyle has jumped from a concept to reality, even if it is still just a tiny fraction of the world's population – mostly women – that have embraced it. Yet, the fact that some of the world's biggest companies are adopting it shows promise.
In Great Britain, all 950 Starbucks locations are now charging customers an additional five cents if they get their drinks in disposable cups. On the other hand, they get a discount of 25 cents if they bring reusable cups. This helps reduce garbage that gets compacted in landfills.
Some big hotels have stopped providing shampoo, conditioner, and lotion in small disposable plastic containers. Rather, there are bulk dispensers aimed at reducing one of the world's biggest environment nemeses: one-time-use plastic containers.
Consumer goods giant Unilever has initiated partnerships with other companies to launch a home delivery service using refillable jars of its more popular products, again in response to bringing down the amount of consumer products in plastic packaging.
Other companies jumping onto bandwagon of late are Unilever, Nestlé, and PepsiCo, all announcing their plans to use reusable packaging for certain products to reduce single-use disposables.
There's also a rising growth in zero waste stores that sell unpacked goods, where buyers bring their own containers and bags to avoid creating more waste that would have to end up in the garbage bins, and ultimately, landfills.
Quixotic dream
Some may scoff at the idea of zero waste as Quixotic, and even the renowned initiator of zero waste lifestyle today, Bea Johnson, admits that even with meticulous planning, she and her family of four still ended with a jar of garbage after a year.
But for Johnson, and the many other people inspired to embrace zero waste lifestyles, what is more important is the awareness and willingness to adopt measures to reduce waste that comes with daily life, usually in upwardly mobile city dwelling.
For most, it starts with bringing your own carry-bags when going to the market or grocery, and doing away with plastic shopping bags. A deepening commitment could mean staying away from single-use plastics for bottled water, one that has been a major source of sea pollution.
A more radical response would be to avoid buying goods packaged in plastics in supermarkets, refraining from food deliveries that come in disposable wares, and patronizing online shopping sites that deliver goods wrapped in plastic.
Many consumers have been able to demonstrate the do-ability of aiming for a zero waste lifestyle, and it just takes a firmer resolve to avoid plastics and disposables that would end up in the garbage bin. End users have the easier task; manufacturers face a tougher decision.
Fast fashion
One aspect of adopting a zero waste lifestyle is having only the most basic essentials needed to live. For many of those who have converted, part of the de-cluttering is keeping one's wardrobe as Spartan as possible, and if needed, to buy second-hand clothing.
This is because the world's fashion industry is regarded as the world's second biggest industrial polluter, next only to oil. It has created a cult that prods people to buy more clothes than they actually need, and to discard these when new fashion styles are created.
Fast fashion, or the desire for cheap on-trend clothes, has lamentably replaced darning and mending as clothing manufacturers ship out millions in metric tons of cheap, wearable items, from T-shirts, coats, shoes, hats, and accessories on an annual basis.
A study by the Ellen Macarthur Foundation has noted that more that $500 billion is lost each year by consumers who buy clothing but under-utilize them, or worse, are not even able to remove the tags as new fashion styles dictate them out of trend.
Total greenhouse gas emission from textiles production is pegged now at 1.2 billion metric tons a year, and that by 2050, the global fashion industry would be accountable for the global carbon budget associated with a two percent Celsius rise in the Earth's temperature.
The amount of clothes that go through the commercial mill is also draining the world's water resources, with an estimated 79 billion cubic meters of fresh water used in growing and producing fibers, to dyeing, finishing, and washing of clothes.
Government's role
The fashion industry, however, is just one of the major causes of wastes. As new landfills open up to accommodate more trash, the pools of plastics in our oceans become bigger and more difficult to corral and clean.
Many governments are already introducing measures that encourage people to rely less on pollutants such as plastics, but because these are more regulatory than outright bans, there is limited success.
In the Philippines, for example, some local governments encourage plastic bag reduction, but still allow consumers to pay for a plastic bag if they opt to. Ordinances are also not strictly enforced at all times, and the practice of using plastic bags creeps back into the system every so often.
Clearly, too, environment laws on plastics – starting from production to its use – are urgently needed given the gravity of the problem. This could seriously threaten the business of manufacturing plastics, and could be challenged in the courts.
In the end, the success of an effective environment protection drive will have to rely on more enlightened people, those who are able to demonstrate that a lifestyle aiming for zero waste is what the world needs, and one that makes sense.
Ultimately, such consumers will dictate the moderation that is needed to curb many of the modern world's excesses and unnecessary wastes.
Facebook and Twitter
We are actively using two social networking websites to reach out more often and even interact with and engage our readers, friends and colleagues in the various areas of interest that I tackle in my column. Please like us on www.facebook.com/ReyGamboa and follow us on www.twitter.com/ReyGamboa.
Should you wish to share any insights, write me at Link Edge, 25th Floor, 139 Corporate Center, Valero Street, Salcedo Village, 1227 Makati City. Or e-mail me at reydgamboa@yahoo.com. For a compilation of previous articles, visit www.BizlinksPhilippines.net.