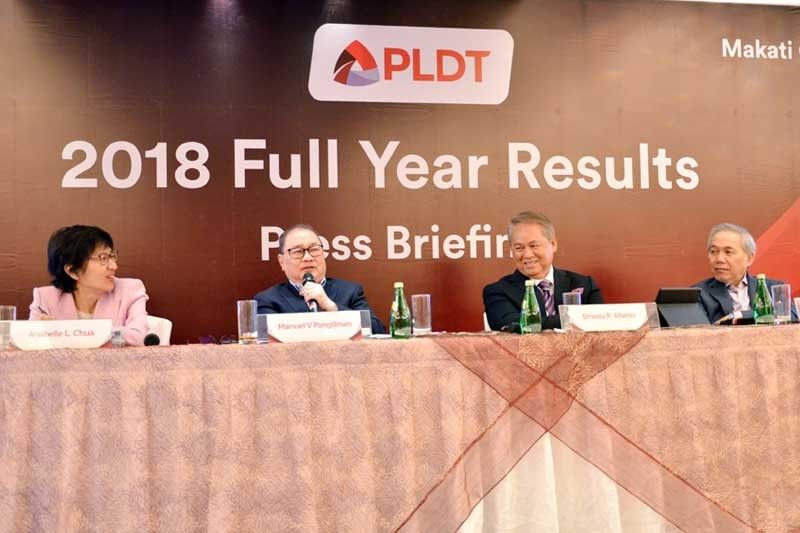 In photo (from left) are PLDT chief financial officer Anabelle Chua, chairman and CEO Manuel V. Pangilinan, chief revenue officer Eric Alberto, and head of regulatory affairs Atty. Ray Espinosa.
PLDT allots record capex as 2018 earnings jump 44%
MANILA, Philippines — Telco giant PLDT is appropriating a record P78.4-billion budget for its capital expenditures this year, riding on the gains of the robust 44 percent income hike last year.
In a briefing yesterday, PLDT officials said they hope to continue the profit gains last year by boosting the company's capex by P20 billion this year.
PLDT reported a 44 percent rise in net earnings to P19.22 billion for 2018. This year, it is setting aside a much higher capex in a bid to further enhance its network advantage, particularly as a new major player is set to enter the fray.
"This aggressive rollout is intended to further push the already significant network advantage of PLDT and Smart, and, to support our active campaign for more revenues," the company said.
PLDT chief financial officer Annabelle Chua said bulk of the capex, or P48 billion, will be used for technology expansion initiatives, particularly with network and IT platforms.
Another P16 billion will be used for business or customers capex intended for the purchase of last-mile and customer-premises equipment such as modems, and also the acquisition of vehicles, equipment and office space for the new corps of technicians.
This in line with taking advantage of opportunities brought by the firm's fixed broadband infrastructure.
By end-2018, the coverage ofPLDT's fiber-powered network passed 6.3 million homes, 57 percent higher than the 2017 level. Total capacity reached 2.6 million ports with about one million ports available for sale.
In addition, P2 billion will be used for the expansion of its data centers.
PLDT reported a nine percent increase in combined revenues of its main business – Home, Enterprise and Consumer Individual – in 2018 amounting to P137.4 billion.
Both Enterprise and Home Groups boosted revenues by 10 percent in 2018 to P38.4 billion and P36.4 billion, respectively.
"The big upswing came from the Wireless Consumer Group: after several years of decline and then stabilizing in 2017, the wireless business registered a seven percent rise in revenues to P62.5 billion in 2018," PLDT said.
PLDT said that across all business groups, revenue increases were powered by the robust growth in data and broadband.
Revenues from data and broadband amounted to P90.2 billion, up 37 percent year on year and accounting for 60 percent of the total.
"Home and Enterprise continued to show robust growth and that growth onwards 2019 and the coming years would underpin the growth prospects of the PLDT Group which we aim for," PLDT chairman Manuel V. Pangilinan said.
"After persistent efforts over the past three years to execute our digital pivot, we have returned our Wireless Consumer Business firmly on the growth path in 2018, alongside our Home and Enterprise businesses which have been consistently posting healthy growth rates," he said.
Consolidated core income, however, dropped five percent to P26.2 billion in 2018,which included gains from PLDT's loss of control of Voyager Innovations and from the sale of Rocket Internet shares, offset by accelerated depreciation arising from its aggressive network transformation programs.
Excluding Voyager operations, core income rose by three percent to P24.4 billion.
For this year, Pangilinan said the company targets its income to rise to P26 billion.
"In 2019, we aim to attain a higher level of growth by leveraging even more the power of the combined PLDT and Smart, working as one team, focused on delivering the customer experience - not as a traditional telco as we have been - but as a data-driven, digital services company," he said.