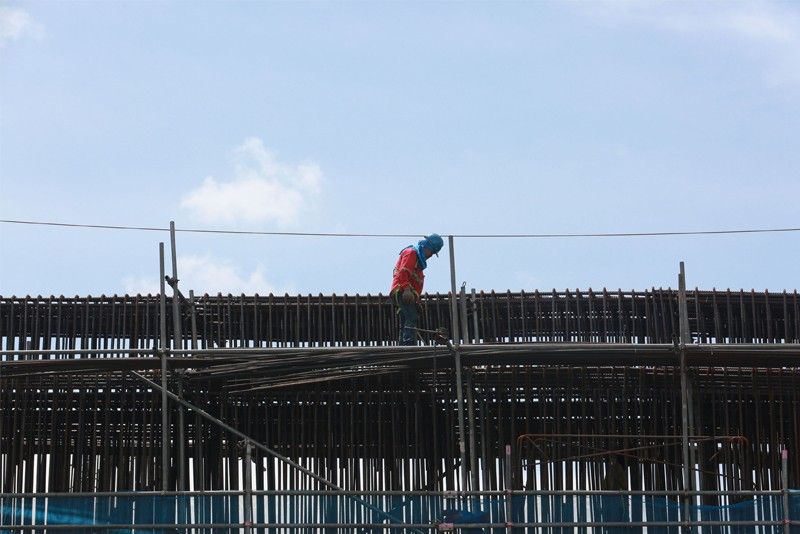 A worker pictured at construction site of Skyway in G. Araneta in Quezon City on July 3, 2018. Widely known as the "Build, Build, Build" program, the government plans to ramp up infrastructure spending to 7.3 percent of the country's gross domestic product by the end of President Rodrigo Duterte's term in 2022.
Michael Varcas
Duterte: Labor gap delaying 'Build, Build, Build'
(Philstar.com) - February 15, 2019 - 2:33pm
MANILA, Philippines — President Rodrigo Duterte on Thursday said a shortage of manpower is delaying the implementation of his administration's ambitious infrastructure plan, and urged Filipinos builders working abroad to return home.
Duterte has vowed to upgrade the country's dilapidated infrastructure and supercharge economic growth through his government's P8-9 trillion "Build, Build, Build" program. The government has lined up 75 flagship projects under the aggressive infrastructure plan.
In a speech during the kick-off rally of his PDP-Laban political party, Duterte said the government is having a hard time finding skilled laborers that will build the roads, bridges, airports and railways for his plan.
'Most skilled Filipinos in Middle East'
Duterte also said even private companies at home are encouraging Filipino workers abroad to come back by offering higher pay.
"Ang karamihan nang may alam niyan wala na dito sa Pilipinas at doon na sa Middle East," the president said.
(Most Filipinos who are skilled are working in the Middle East.)
"Kaya 'yang Build, Build, Build medyo atrasado nang konti. Walang trabahante. Eh marami tayong Pilipino. Kung wala naman --- hindi naman tayo magtulungan, eh 'di wala," he added.
(That's why the Build, Build, Build program has been slightly delayed. There's a labor gap. There are many Filipinos. If we don't help each other, nothing will happen.)
Some observers had questioned the Duterte administration's ability to take on the big-ticket projects and finish them on time, citing among others lack of technical expertise amid a labor crunch.
FROM BUSINESSWORLD: Infrastructure spending target doubted
Few developments had also been reported on the 75 big-ticket infrastructure projects, some of which are funded by China and Japan.
Better wages
More than a million Filipinos leave every year to work as maids, nurses and construction workers in other countries, where wages are much higher.
To fill the vacancies, Duterte said he ordered the Technical Education and Skills Development Authority to train more builders for free.
The Department of Finance earlier said the government would hold job fairs abroad to encourage Filipino expats to come home and take part in the construction boom.
The DOF added that local construction firms need to compete with companies overseas and provide better compensation packages to address the high demand for skilled workers.
The Duterte administration's ambitious undertaking is crucial to the Philippines, which has been infamous for its poor infrastructure that resulted in heavy traffic and logistical difficulties.
From January to November 2018, government spending on infrastructure and other capital outlays stood at P728.1 billion, up 49.7 percent from P486.5 billion in 2017's comparable 11 months.
That was equivalent to 93.9 percent of the P775.369-billion programmed for 2018. — Ian Nicolas Cigaral