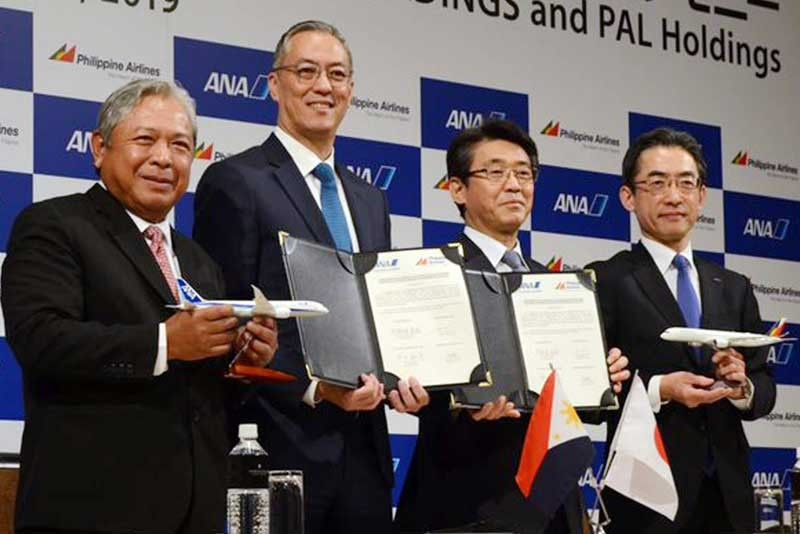 Present at the special event were PAL/PAL Holdings Inc. president and COO Jaime Bautista, PAL director and PAL Holdings Inc. director/treasurer Michael Tan, ANA Holdings Inc. president and CEO Shinya Katanozaka and ANA president and CEO Yuji Hirako.
Philippine Airlines and All Nippon Airways celebrate milestone partnership
(The Philippine Star) - February 9, 2019 - 12:00am
MANILA, Philippines — Philippine Airlines and All Nippon Airways are celebrating their new partnership which will pave the way for a new era of further growth for both flag carriers.
At a special ceremony held at the ANA Headquarters in Tokyo yesterday, both PAL and ANA expressed the belief that the new deal is a "milestone agreement and a step forward" in their expanding and mutually respectful business relationship.
The new partnership between PAL and ANA resulted from a shareholders' agreement between ANA Holdings Inc. and Trustmark Holdings Corp., the majority shareholder of PAL Holdings Inc. Both carriers commemorated this event and pledge their commitment to jointly collaborate and cooperate for the mutual benefit of both sides.
In his speech on behalf of his father, Lucio Tan, Michael Tan said, "it is indeed a distinction of our respective cultures that our two airlines draw from their rich traditions of generous and caring hospitality, the same hospitality we extend to all the passengers who fly with us. It has been the privilege of Philippine Airlines to serve the Philippines-Japan air travel market for seven full decades."
The younger Tan added, "We can learn much from the admirable Japanese discipline and work ethic, combined with creative verve, that surely brought ANA into the league of the world's very best airlines. As Asia's first airline, we bring our valuable experience in projecting the best of the Philippines and the Filipino people to all the people we serve on the ground and in the sky.
"As partner airlines, ANA and PAL share a commitment to excellence and passion that is deep and traditional, but also young and modern and very much focused on a future of innovation and opportunities. This is why I look forward with great confidence to a long and mutually beneficial relationship that will bring more progress to both Japan and the Philippines," he said.
PAL and ANA will start working together and mutually cooperate to build on the rich legacies of each company.