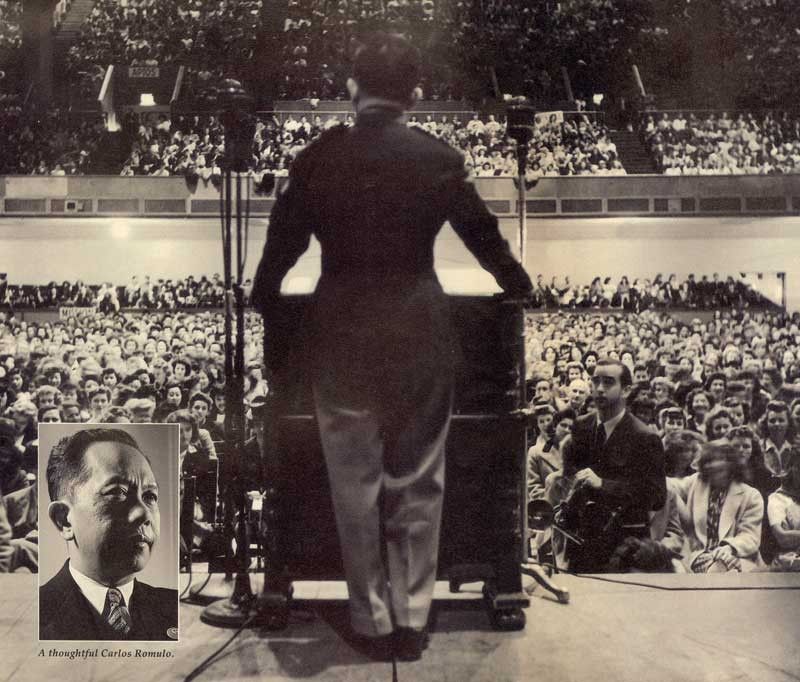 CPR before the San Francisco YMCA, 1944
Carlos P. Romulo: 1942-1944
FILIPINO WORLDVIEW
-
Roberto R. Romulo
(The Philippine Star) - January 18, 2019 - 12:00am
My daughter, Liana Elena Romulo described my father's activities during this period. She has consented to publish her story in my column. Last Monday, Jan. 14, was his 121st birth anniversary.
If you were between the ages 15 and 65 anytime from July 1942 to July 1944, pretty much anywhere within the United States, then there's a good chance you've witnessed my grandfather at the podium. These were the years he passionately campaigned for the liberation of our homeland, then occupied by the Japanese military, rallying the sympathy of scores of Americans along the way.
His backbreaking, voice-obliterating speaking tour took him across more than 143,000 kilometers, mostly by train, and to 466 cities. With faultless elocution and dramatic flair, he quickly became, as The New Yorker described him, "the hottest thing to hit the American lecture platforms." He spoke everywhere, often accepting multiple engagements in a single day—from factories to college graduations and school assemblies; from medical societies to Rotary clubs and women's clubs. He addressed Latin American students in Spanish, warmed up audiences with jokes, helped raise war bonds in several rallies—whatever it took to prick people's ears and make them listen.
For two years Colonel Romulo tirelessly served as the voice of the Philippines, bringing the plight of his war-torn nation to the attention of regular Americans, the majority of who had barely heard about Bataan until two years after its fall.
By the time I went to school in the United States, 40 years had gone by, but people still remembered him. "You're a Romulo," they'd say upon meeting me. "Romulo from the Philippines?" I'd nod yes, and they'd go on, "A Colonel Romulo came to my school... Are you related?"
He spoke on behalf of the tens of thousands of soldiers—both Filipino and American—who fought for the American flag and now languished in internment camps as prisoners of war. His standard lectures "I Saw Bataan Fall" and "Last Man Off Bataan" vividly depicted wartime Philippines: the carnage, the months of pitch battles, and the dire lack of supplies.
Remember that during the battle for Bataan, water, food, medicine, and artillery had dwindled to nearly nothing, and outside reinforcements never came. Recall that President Roosevelt had decided to concentrate US power against Hitler, and that it was not until 1944 that the general public found out about Bataan, Corregidor, and the Death March, when the first reports were released by the US government. Recall that MacArthur had retreated, leaving behind his troops in the Philippines on Roosevelt's orders, but had promised to return. It was, therefore, my grandfather's mission to beat the drum, raise awareness, shake Americans out of complacency, and ensure that the Philippines would not be forgotten.
"Under General MacArthur's instructions," he wrote in his autobiography, "I was officially assigned by President Quezon and Secretary Stimson to give the Philippine side of the story."
In March 1944 he addressed the University of Notre Dame: "In these dark nights of danger, more men wait for help to come. And this help must come from the strength of people who believe in liberty. These young men, with many things for which to live, are waiting for our strength to be felt. I who come from the holes of Bataan, holes of sweat and tears, holes of death—I who have seen my fellow buddies torn apart and butchered, who stand on this spot by a miracle of God who spared me, plead with you brothers to ask our compatriots not to abandon us in this terrible fight."
He spoke from the heart, urgently and with mounting fervor, as his mission went far beyond official duty; it was personal. His days were filled with constant dread as he remembered the loved ones he had abandoned back home, in particular his wife of 20 years. Virginia Llamas, my grandmother, had been living in terror since Japan's surprise attack. She and their four sons had been running from the Japanese, hiding in the hills, since MacArthur had called my grandfather to active duty in mid-December 1941. Lolo had managed a short visit with them only once, on New Year's Eve, at their home on Vermont Street, Malate (Manila), and—having no idea where they were and if they were still alive—he worried about them endlessly.
As he donned his US army uniform every morning, a Philippine army fourragère on his shoulder, he wondered perhaps if one's duty to country should come before one's duty to family. One might imagine that he felt regret in some of his darkest hours, especially given that the country requiring his duty belonged not to him, but to a colonial master. Even though he'd been appointed as MacArthur's personal aide just before coming to the US, a tremendous honor that entitled him (and only four other full-general's aides in the world) to wear a special insignia on both lapels, were the honors enough to compensate for the personal sacrifices?
Open Question
In 1945, MacArthur landed in Leyte. He had kept his promise and the United States has been highly regarded by Filipinos as a reliable friend ever since. But in diplomacy: "there are no permanent friends only permanent interests". One wonders if the current Trump administration will consider us core to American interests in the region and act accordingly should there ever be a conflict in the West Philippine Sea.