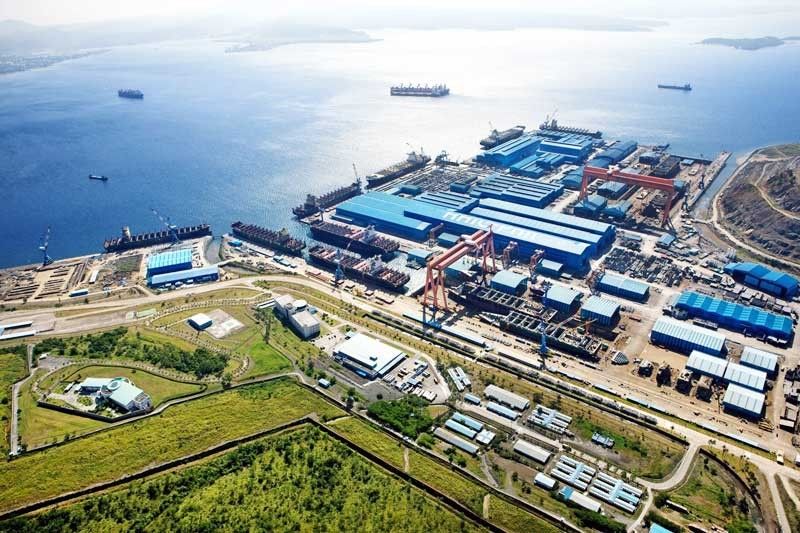 BSP officer-in-charge Diwa Guinigundo said the country's banking industry remains strong as the P21-billion exposure of big banks to the ailing Korean shipbuilder is 'very negligible.'
Hanjin's P21-billion bank exposure 'very negligible' — BSP
MANILA, Philippines — The Bangko Sentral ng Pilipinas (BSP) has allayed fears of a possible banking crisis spawned by the debt default of Hanjin Heavy Industries and Construction Philippines (HHIC), the biggest foreign investor and top employer at the Subic Bay Freeport.
BSP officer-in-charge Diwa Guinigundo said the country's banking industry remains strong as the P21-billion exposure of big banks to the ailing Korean shipbuilder is 'very negligible.'
He said the exposure of Philippine banks to HHIC only represents 0.24 percent of the total loans and 2.48 percent of the total foreign currency deposit unit (FCDU) loans of the banking industry.
"Based on our initial assessment, some banks are exposed to Hanjin, but relative to both total loans of the banking system and total FCDU loans of the banking system, their exposure is very negligible," he said in a text message.
HHIC on Tuesday filed a petition for rehabilitation at the Olongapo City Regional Trial Court after defaulting on over $400 million loans owed from local banks, on top of another $900 million in debts with lenders in South Korea.
HHIC was established in 2006 as a subsidiary of South Korean shipbuilder Hanjin Heavy Industries and Construction Co. Ltd. With $2.3 billion in direct investments, HHIC started rolling out some of the biggest ships in the world at its 300-hectare Subic shipyard – from cargo to container ships, bulk carriers, LPG carriers, very large crude oil carriers and very large ore carriers.
HHIC has since delivered since 2008 a total of 123 vessels to clients across the globe, putting the Philippines on the map as the world's fifth largest shipbuilder.
In filing for debt cover, the company said its six pending multi-million-dollar projects at its shipyard may have to be cancelled if its rehabilitation plan does not materialize.
"The bottom line is that the company said it does not have enough cash to repay its loans, and that it cannot continue with its operations under these circumstances," Subic Bay Metropolitan Authority (SBMA) said in a statement.
Employing around 30,000 employees at peak season, HHIC has since laid off over 7,000 workers last December, and plans to terminate another 3,000 early this year, keeping just about 300 local workers and as few as seven Korean supervisors would remain in March for facility maintenance.
Guinigundo said there is also a need to determine the exposure of Philippine banks to suppliers affected by HHIC's financial difficulties.
"We need to first determine the extent of the exposure. This is the exposure only to the banks but there could be other exposures. So I think what we need to do is stay on the ground and determine the actual extent of the exposure," he added.
Furthermore, he said Philippines banks are well capitalized with a capital adequacy ratio (CAR) of between 15 and 16 percent, while their non-performing loan (NPL) ratios remain below two percent.
In compliance with the BSP's regulations, Guinigundo said banks have risk management systems in place and remain very liquid and profitable.
"They can very well handle and manage this specific case. So a P21- billion exposure I think is very, very negligible from the perspective of the total banking system," he said.
Latest data from the central bank showed the banking industry's total assets booked a 10 percent growth to P16.45 trillion as of end-September last year from P14.96 trillion as of end-September 2017.
The country's largest banks BDO Unibank, Metropolitan Bank & Trust Co., state-run Land Bank of the Philippines,Bank of the Philippine Islands and Rizal Commercial Banking Corp. have a combined exposure of a little over P21 billion in HHIC.
"We have an exposure to Hanjin and we are more than adequately provided for potential losses," BDO president and CEO Nestor Tan said in a statement.
For his part, BPI president and CEO Cezar Consing said in a television interview the bank's exposure to Hanjin is the smallest among the five big banks.
Fortunately, Consing said the five banks have decided to work together to resolve the issue.
"Based on my initial assessment, the assets of Hanjin are in excess of the liabilities. So if we can work on a rehabilitation program, I think we'll be alright," Consing added.
The official said the 167-year old bank have provisions for loan losses currently amounting to P20 billion compared to its exposure of about P2.7 billion.
"We take provisions for rainy days like this," Consing added.
As this developed, two Chinese shipbuilders have expressed interest to invest in the operations of HHIC, the Department of Trade and Industry (DTI) said.
In a press conference yesterday, Trade Undersecretary and Board of Investments managing head Ceferino Rodolfo said over the past two days, the agency was in touch with two Chinese companies that have expressed interest in opportunities in shipbuilding in the country in the past and informed them of HHIC's situation.
He said both companies, which are operating big shipyards in China, have strong interest in investing in the operations of HHIC.
Given HHIC's situation, Trade Secretary Ramon Lopez said the DTI is providing support by linking possible strategic investors with Hanjin.
"Our first objective is to replace with another shipbuilder that will take over," he said. – Louella Desiderio, Bebot Sison