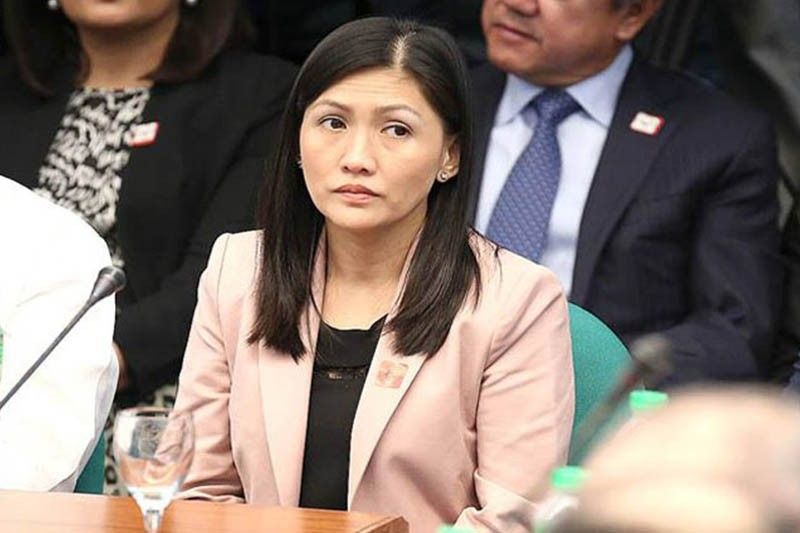 In this file photo from the Senate Public Relations and Information Bureau, Deguito attends a hearing by the Senate blue ribbon committee.
Senate PRIB via InterAksyon
Court finds ex-RCBC branch manager guilty over Bangladesh bank heist
(Philstar.com) - January 10, 2019 - 9:50am
MANILA, Philippines (Updated 11:20 a'm.) — A Makati court has found former Rizal Commerical Banking Corp. branch manager Maia Santos Deguito guilty of money laundering over the $81-million Bangladesh bank heist.
Makati Regional Trial court Branch 149 Presiding Judge Cesar Untalan found Maia Santos-Deguito guilty beyond reasonable doubt of violating the Anti-Money Laundering Act.
The court sentenced Deguito to four to seven years in prison and fined her of $109 million for the eight counts of AMLA violations she was facing.
Deguito served as the branch manager of RCBC Jupiter Street, Makati City branch. She was accused of facilitating the transfer of the $81 million that suspiciously went through the country's financial system and into accounts at her branch.
"She implemented, executed and transacted all these deposits and withdrawals involving huge and big amounts in United States dollars within a timeframe of less than two hours," the court said.
The court pointed out that the time between she first received the remittance to when she received the email for stop payment was "good enough and sufficient" for Deguito to "inquire the legality" of the $81-million remittance.
The court also noted that Deguito has 16 years of experience in banking yet she "proceeded deliberately and transacted with haste of these remittances, which are crystal clear big amounts above the 'covered transactions' by the AMLA Law!"
Deguito's lawyer, Demetrio Custodio, told ANC that their camp has repeatedly told the court that his client was a marketing officer who had no hand in transactions.
"We were pointing out to the court that [Deguito] could not have acted on these" since she was in customer care and "had no function on baking transaction," she added in the interview.
Lawyer: No fines
The lawyer also said that the fines are not going to be imposed to Deguito.
The dispositive portion of Untalan read: "Wherefore, premises considered, this court hereby finds Maia Santos-Deguito, guilty, beyond reasonable doubt, hence this court hereby imposes penalty of imprisonment and fines."
Deguito has found guilty on eight counts, where the court imposed the following fines for each charge: $5,985,833.47, $9,760,124.15, $19,951,502.13, $14,312,185.54, $7,236,154.62, $22,735,000.00, $15,215,977.26 and $14,323,269,46.
Custodio told ANC: "The court had clearly stated that because the amounts that were the subject of the laundering had found their way to the accounts of Mr. Go, Ms. Deguito would to be made accountable for those amounts."
"No fine that Ms Deguito would be forced to pay," the lawyer added.