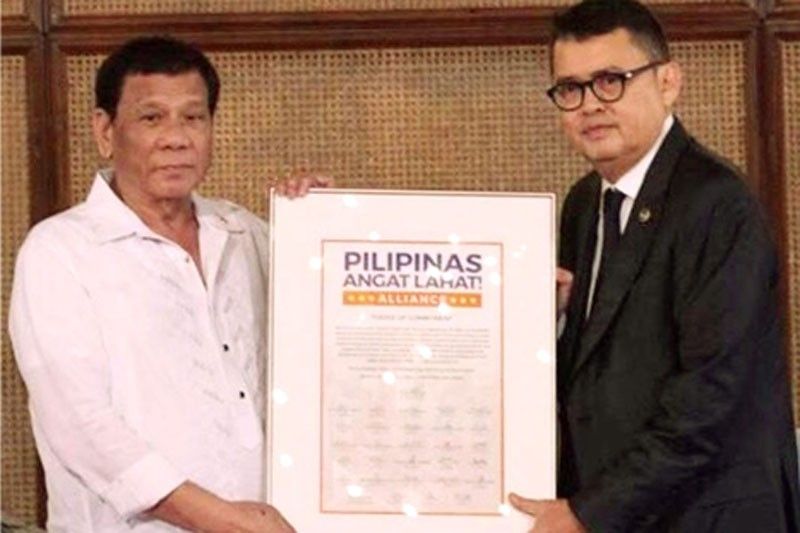 Presidential adviser for entrepreneurship Joey Concepcion presents the pledge of commitment of the Pilipinas Angat Lahat Alliance to President Duterte last Aug. 14, at Malacañang Palace.
Digitalization brings prosperity for all
GO NEGOSYO PILIPINAS ANGAT LAHAT!
-
Joey Concepcion
(The Philippine Star) - December 27, 2018 - 12:00am
For Filipinos, Christmas will always be a very special day. We prepare for it weeks and months ahead. But now, it's done and we're looking towards celebrating the new year. Hello 2019!
I've always believed that values are universal and secular. Whatever faith and belief we practice, it should bring out the best in us. We could be well–read in our beliefs – be it from the Bible, the Koran or other religious doctrines – but if we do not do our best to achieve our potential and help others through our gifts, we have failed to live according to God's teachings.
I guess some of you are wondering what this is leading to? My point is, regardless of spiritual background and beliefs, it's our goal and duty to work towards the greater good, where all would benefit. We are divinely ordered to use our God–given gifts to help others. Our talents were bestowed on us not just for our personal use and consumption, but so that we can use them to serve Him and uplift our brothers.
Thus, people in power – state leaders, people in government, and large corporations, among others – should be reminded that the end goal is to not simply forward their agendas, but work towards the greater good of society and to empower others. It is a must to give everyone a chance for a better life!
In our cause and advocacy, I've come to see how my work fits into the bigger picture. The most urgent task I see now is helping MSMEs (that make up 99.6 percent of the economy) to adapt to the 4th Industrial Revolution, which is marked by digital, technological innovation. We have to teach our entrepreneurs and businessmen how to adapt to the dynamic landscape and adopt technology and innovation to further their businesses. It's moving their enterprises from simply operating on "survival" mode to sustainability and success.
In this era of digitalization, we rely on technology for most of our everyday tasks. We look to Waze to guide us through traffic, Google for answers to all our questions, Facebook to keep in touch with family members and friends, and Viber or Whatsapp for easier, faster communication. Isn't it amazing how these simple apps have helped us in such a big way and have changed how we do things in daily life? These are all the product of human creativity; our gifts and talents put to good use!
We were once dubbed the "text capital of the world" – and now even, the "social media capital" – so adapting to technology is not something new to us.
That's why I always tell our entrepreneurs: Don't fear digitalization, embrace it! I encourage them to develop their own innovations because their ideas can open up a whole new world that makes life easier and more convenient for others.
On a larger scale, how can MSMEs benefit from digitalization? Under the leadership of BSP Governor Nestor Espenilla, the country has adopted an open approach to help foster and speed up the entry of financial technology (fintech) companies, which provide our entrepreneurs the means to scale up. Borrowing money using smartphones is now possible because of fintech. This gives micro and small entrepreneurs greater access to money as they are now able to borrow at lower rates, which can be done through fintech companies and the Bangko Sentral ng Pilipinas.
Greater access to market is another benefit, with digitalization paving the way for online platforms that allow even the smallest business players to become more competitive. In the US, they have Amazon; here we have Lazada and Shopee, among others. These platforms provide entrepreneurs the ability and opportunity to sell directly to consumers, and helps them penetrate a wider market without having to place their products in malls and department stores.
With digitalization, the launch of new "marketplaces" such as Grab and Angkas have also been possible. Motorcycle owners can now offer their services on a private basis through Angkas, which can be considered as a marketplace, too, as this does not employ the driver.
This model of Angkas and Grab is similar to how brick–and–mortar businesses put classified ads in the newspaper. The seller advertises his products and the buyer will just call if interested; it is a private transaction. In today's digital world, Lazada and Shopee does that for products; Zennya does the same for massage services; Airbnb for private homes and apartments; Honestbee and Foodpanda for food delivery; and Gawin.ph for services like plumbing and electrical, etc.
These new emerging "marketplaces" are game–changers, empowering even the smallest players to become successful entrepreneurs. I understand why others feel threatened by such innovation, and so I am glad that we have partners standing up for the rights of MSMEs, Transportation Secretary Art Tugade, for me, has formed a committee to see how platforms like Angkas could be allowed to continue.
I believe that more platforms like the aforementioned will launch in the future, allowing micro and small entrepreneurs to offer their services and products to a wider audience. I believe the 4th Industrial Revolution is going to be pro–poor and pro–innovation, and will help our micro–entrepreneurs achieve real prosperity.
I was given the mandate by President Duterte to build an inclusive economy where all Filipinos – not just a few – can prosper. As adviser for entrepreneurship, I will use all my resources and connections to empower entrepreneurs and provide them the opportunity and skills to navigate this new, exciting, and dynamic landscape. Let us all use our gifts and develop them to help each other and achieve prosperity for all!