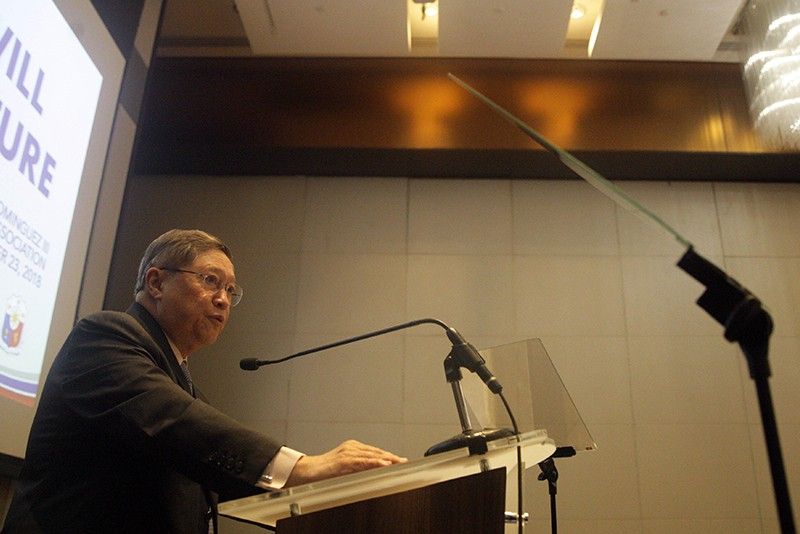 In this Oct. 23, 2018 file photo, Finance Secretary Carlos Dominguez III delivers a speech during the Philippine Hotel Owners Association General Membership Meeting at the New World Hotel in Makati City. Responding to what he called "uninformed criticism" of the Duterte administration's acceptance of Chinese loans for infrastructure projects, Dominguez on Thursday, December 6, said the Duterte government borrows "with great prudence."
The STAR/Krisjohn Rosales
Dominguez on dealings with Chinese loans: We learned from past 'mismanagement'
(Philstar.com) - December 6, 2018 - 5:25pm
MANILA, Philippines — Finance Secretary Carlos Dominguez III on Tuesday said the Duterte government would be careful in dealing with Chinese loans, adding that the country has learned from "a previous administration's" mismanagement of Chinese financing.
Responding to what he called "uninformed criticism" of the Duterte administration's acceptance of Chinese loans for infrastructure projects, Dominguez said the current government borrows "with great prudence."
READ: 'Philippines would be better off shunning Chinese investment altogether' | For friendship's sake: Philippines falling into China's debt-trap?
Without dropping names, the Finance chief said the Philippines had learned its lessons from a past administration's "scandalous mismanagement of Chinese financing."
"During that time, the previous leadership allowed Chinese state-owned enterprises to dictate what projects will be undertaken here," Dominguez recalled during a speech at a business forum in Makati City.
"I don't have to mention the names, I'll just mention some initials. ZTE, for instance," he added.
"In our own dealings, we have made it very clear to the Chinese side that the Duterte administration will protect the country from unnecessary projects driven by agencies outside the Philippines. This does not please some people who intend to profit from wasteful projects they are pushing," Dominguez continued.
ZTE
Former President Gloria Macapagal-Arroyo's government was plagued by allegations of huge kickbacks in a deal with Chinese telecommunications giant ZTE Corp. to set up a nationwide broadband network.
Based on Senate testimonies in 2008, ZTE consultant Dante Madriaga said the deal was originally priced at $130 million, but that the cost ballooned to accommodate the kickbacks.
Former Economic Planning Secretary Romulo Neri had testified that former Elections Commissioner Benjamin Abalos offered him a bribe to approve the contract.
Another witness, Jose de Venecia III, said the ex-president's husband, Jose Miguel "Mike" Arroyo, was promised a $70 million commission.
READ: Arroyo faces rap over botched NBN-ZTE deal
In 2016, the Sandiganbayan dismissed graft cases against now Pampanga Rep. and House Speaker Arroyo over the allegedly anomalous national broadband network deal signed while she was president.
Arroyo — an old friend of President Rodrigo Duterte — said last November that speculations that she's eyeing to take the helm of the Department of Finance and replace Dominguez were "so hypothetical." — Ian Nicolas Cigaral