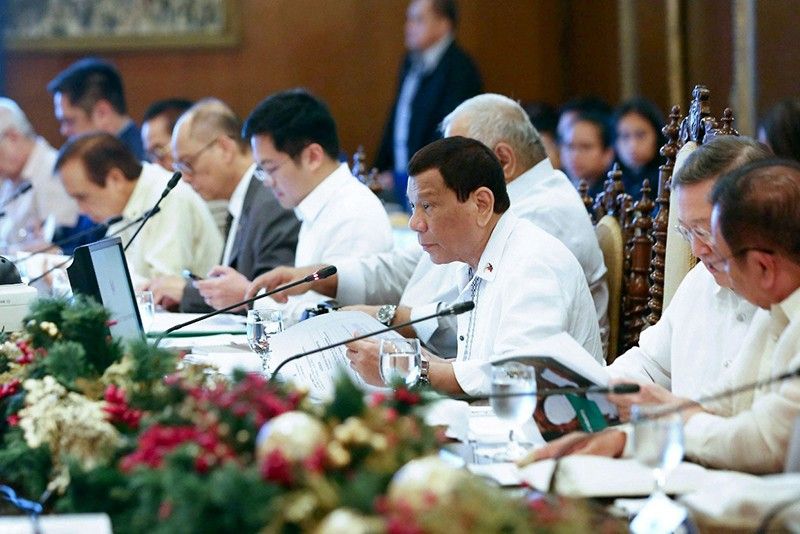 President Rodrigo Duterte presides over the 32nd Cabinet Meeting at the Malacañan Palace on December 04, 2018.
Presidential photo/Rolando Mailo
Duterte: Do not be so sad about being taxed
(Philstar.com) - December 6, 2018 - 12:08pm
MANILA, Philippines — President Rodrigo Duterte on Wednesday told Filipinos not to be "sad" when paying their taxes, saying state coffers are "safe" under his watch.
"Do not be so sad about being taxed because your money here during my term is safe," Duterte said in a speech at the presidential palace.
Critics have blamed red-hot inflation on the Duterte administration's Tax Reform for Acceleration and Inclusion law, which lowers personal income taxes while raising excise levies on fuel and "sin" products, among others.
Aside from revamping the country's outdated tax system, the TRAIN law also aims to partly fund the Duterte administration's "Dutertenomics" economic agenda, which is anchored on stronger law enforcement and massive infrastructure spending, as captured by the slogan, "Build, Build, Build."
The TRAIN law took effect last January.
Duterte's economic managers last week reversed their previous plan to defer the new round of oil tax increase scheduled next year, citing the recent drop in world crude prices and the suspension's impact on the government's balance sheet.
During a Cabinet meeting Tuesday night, Duterte gave the go signal to proceed with the fuel tax hike.
However, several lawmakers urged the Duterte administration to postpone the second tranche of oil tax hike, saying Philippine consumers reeling from soaring prices since the start of the year need a reprieve.
READ: House panel tackles scrapping of fuel tax hike
In the same speech on Wednesday, Duterte repeated his vow to battle corruption.
"I have fired so many Cabinet members for just an infraction," the president said.
Duterte, however, is also being slammed for his practice of reappointing people accused of anomalies in government, which his critics said sends mixed signals on his fight against corruption. — Ian Nicolas Cigaral