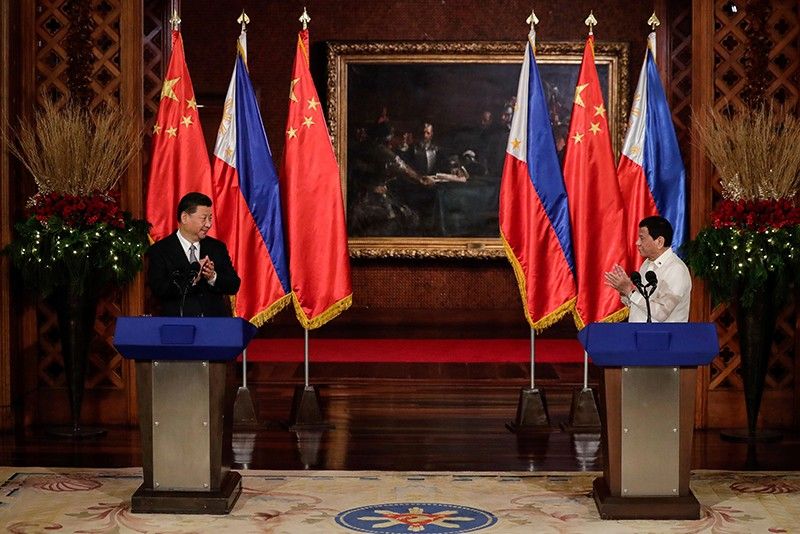 Chinese President Xi Jinping, left, and Philippine President Rodrigo Duterte applaud following their joint statement at Malacanang Palace in Manila, Philippines, Tuesday, Nov. 20, 2018. President Xi Jinping is on a two-day state visit, the first by a Chinese leader in 13 years.
Mark R. Cristino, Pool Photo via AP
DOF formalizes 3 eco, infra accords with China, eyes return to Chinese debt market
(Philstar.com) - November 21, 2018 - 12:33pm
MANILA, Philippines — The Philippines and China on Tuesday exchanged documents on three economic and infrastructure agreements, as well as a deal covering Manila's planned return to the Chinese debt capital market.
In a statement released Wednesday, the Department of Finance said the accords were among the 29 agreements sealed by China and the Philippines to cap the first day of Chinese President Xi Jinping's two-day Manila visit.
The deals inked by the DOF with Chinese officials are:
Memorandum of Understanding on Jointly Promoting the Cooperation in Key Infrastructure Projects in Davao Region - The MOU outlines the cooperation arrangements between the Philippines and China in implementing big-ticket infrastructure projects in Davao, which initially includes the Davao City Expressway Project, the Davao-Samal Bridge, and the Bucana-Davao River Coastal Bypass Road of the Department of Public Works and Highways; and the Mindanao Railway Project of the Department of Transportation.
Memorandum of Understanding with China International Development Cooperation Agency (CIDCA) - The MOU provides the framework for China's support for the feasibility study of the Duterte administration's major projects as agreed upon between the two countries.
RMB500 million accord with CIDCA providing financing for new projects covered by the Philippines-China Agreement on Economic and Technical Cooperation - This includes financing for the Davao River Bridge (Bucana) Project and the donation of x-ray machines and scanning technologies to the Bureau of Customs, as well as other projects to be mutually agreed upon by the two governments.
Memorandum of Understanding with Bank of China providing a general framework to facilitate cooperation on future issuances by the Philippines of renminbi-denominated "Panda" bonds - The MOU covers the Philippines' plan to return to the China Interbank Bond market in 2019, with a possible application for a multi-tranche RMB 6 billion bond issuance.
— Ian Nicolas Cigaral