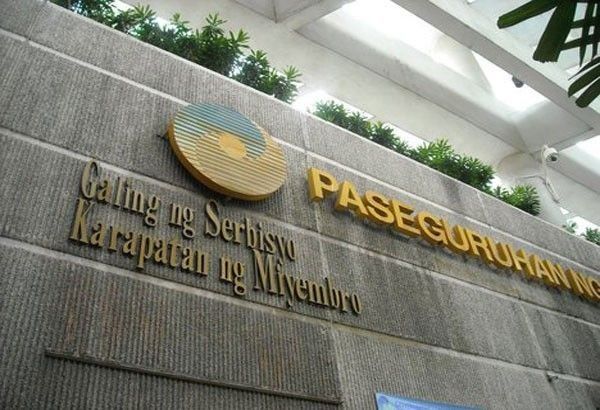 The program is open to former GSIS members with unsettled loans.
File
GSIS offers relief to inactive members with overdue loans
MANILA, Philippines — State-run Government Service Insurance System (GSIS) will soon offer a one-time condonation and restructuring program to inactive members with overdue loans.
The program is open to former GSIS members with unsettled loans.
"GSIS intends to give its former members a relief in the payment of penalties, as well as a chance to restructure their loans and pay the remaining balance through installment," GSIS president and general manager Jesus Clint Aranas said in a statement.
Under the program, Aranas said all unpaid penalties on the outstanding loan balance of a member would be condoned. The remaining balance will be restructured with an interest rate of 10 percent per annum, he added.
Covered under the program are salary loans, emergency loan assistance, member's cash advance, conso-loan, home emergency loan program, Study Now, Pay Later and Fly Pal, education assistance loan, policy loans and GSIS financial assistance loan to Department of Education personnel.
Those with balances under the stock purchase loan and Pay Later loans who did not avail of the condonation program for these respective services are also covered.
Not included in the program are loans granted to pensioners and housing loans, Aranas said.
The GSIS is implementing a loan condonation program for its borrowers with unpaid housing loans. The deadline for this program is Dec. 31, 2018.
GSIS will offer a 100 percent waiver on unpaid penalties and surcharges to housing borrowers with past due accounts and are willing to settle their housing loans.
The state pension fund has also extended the deadline for its enhanced consolidated loan program until Oct. 31. This program allows public school teachers to settle their past due loans without penalties and surcharges.
The GSIS is a social insurance institution that provides insurance and loan products to government workers.Last year, GSIS reported a net income of P94.7 billion, 69 percent higher than the P56.1 billion booked the previous year. Total assets stood at P1.1 trillion as of the end of the year.