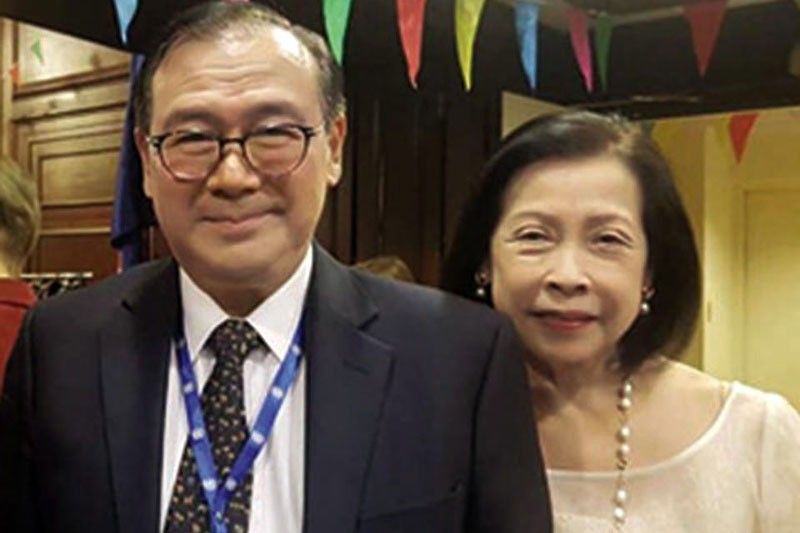 Teddy Locsin and his wife Louie
FILIPINO WORLDVIEW
-
Roberto R. Romulo
(The Philippine Star) - October 19, 2018 - 12:00am
President Duterte has made the right choice in appointing Ateneo law graduate, but former San Beda law professor Teddy Locsin as his new foreign secretary, a view echoed by retired diplomats in DFA.
Locsin is replacing Alan Cayetano who has made known his desire to be the Speaker of the 18th Congress.
I am told many in DFA wished him well on his next career move, some adding that it could not have come too soon.
Locsin comes from a more diverse background than his predecessors having been a journalist, a legislator, speech writer to presidents and a devil's advocate. Having been a victim of his ire, when I was foreign secretary, I look forward to reciprocating, if warranted, now that he is on the other side of the table. And my first advice to Locsin is to drop the puerile "Boy" from his name and just be plain Teddy (as in Roosevelt) or even manlier, Ted. That way he can avoid any misunderstanding that his counterpart is talking down to him, particularly if there is a long pause between "Teddy" and "Boy".
I think Teddy will do well because he will not be distracted by political ambitions. He knows he will never be elected president judging by the response he gets from his often controversial, but provocative tweets. He does not suffer fools gladly, so he will ruffle many feathers along the way. His saving grace is his wife, Louie Barcelon, who by contrast is always charming and gracious.
Locsin described his work at the UN as "sharpening a blade every day." I think he meant it as "honing his skills," but I guess it also meant he wanted to be well prepared for the backstabbing that takes place there as a matter of course. He will need to keep that blade sharpened when he assumes his post to parry those thrusts that will be aimed his way from all quarters. He said he enjoyed the intellectual discourse at the UN. He won't get much of that here at home, so he better get used to it. And given his paternal and political pedigree, it will be interesting to see how he will carry out the administration's "independent" foreign policy line in general, and more specifically on issues like human rights and the South China Sea.
The digital future
I was in the technology business for 25 years until I retired in 1989. Today, almost three decades later, I am in absolute awe of technological advances. At the time of my retirement, digital technology was nice to have, but something more in the realm of fantasy for the majority. Now, people's lives are becoming increasingly digital as information and communication technologies become increasingly pervasive in all aspects of human existence. Advances in areas such as AI, robotics, Big Data, Cloud computing have led to quantum leaps in productivity, to efficiency and accuracy for a whole host of applications and to democratizing opportunities and consumption by making them more affordable and accessible. Such areas that will benefit include public governance, disaster management, healthcare, urban living, manufacturing, finance and retail. The digital economy offers the promise of inclusive growth and leapfrogging traditional limitations to economic growth.
As I contemplate the transformative impact of the digital future for my children and grandchildren, I realize that they risk getting left behind if our country is not able to provide the requisites of a digital economy. The divide between the haves and the have nots will now be driven by those who have the greater digital resource – ubiquitous connectivity, tech-savvy workers and data driven computing power.
Sadly, the Philippines lags behind most of its ASEAN neighbors in all of these requisites. Our government and the private sector will need to address these issues if we are to catch up and take full advantage of its benefits. Our ASEAN neighbors, Singapore, Malaysia, Indonesia and Thailand have already launched their digital readiness blueprint. They contain the steps that will be taken to create the necessary ecosystem for a digital economy - investments in digital infrastructure, digital literacy, encouraging innovation and entrepreneurship. They were the product of a collaborative effort by the government, business, academe and civil society. All these countries demonstrate the need for a whole-of-government approach to create this ecosystem.
DICT
Here in the Philippines, we have been clamoring for years for the creation of a focal agency to promote and develop the country's information and communications technology. That clamor was finally answered with the creation of the Department of Information and Communications Technology (DICT). But now we find its mandate to be limited and it appears to be preoccupied at the moment with the selection of a third telco provider neglecting other elements of the ecosystem.
Towards a digital future conference
It is with this in mind that I have orchestrated a conference to be held in November in an effort to move forward ongoing conversations on a blue print for a digital future for the Philippines. The Carlos P. Romulo Foundation will be the host in cooperation with PLDT Enterprise and with the support of Huawei, PAL, and Dell EMC Philippines. It will be a multi-sectoral conversation. Representing government will be DOST Secretary Fortunato de la Pena, NEDA Secretary Ernesto Pernia, as well as Undersecretary Renato Solidum of DOST and PHIVOLCS. Secretary Pernia will appropriately lead the closing session with Manuel V. Pangilinan, chair of PLDT/SMART to discuss the ecosystem for a digital Philippines. There will be 30 speakers from here and abroad. Huawei, Singapore Government IMDA, Facebook, OECD-ECIPE, and TPRC will be among the speakers from abroad.