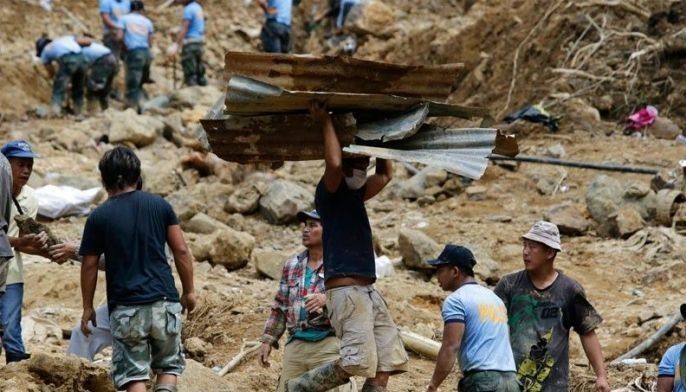 A miner helps clear the site where victims are believed to be buried in a landslide set off by Typhoon Mangkhut as it lashed across Itogon, Benguet province, northern Philippines, Tuesday, Sept. 18, 2018. Dozens of people believed buried in the landslide probably did not survive, the mayor of Itogon said Monday, although rescuers kept digging through mud and debris covering a chapel where they had taken shelter.
AP/Aaron Favila
Philippines plans to tap World Bank loan to assist recovery from 'Ompong'
MANILA, Philippines — The Philippine government is looking into tapping a $500-million credit line from the World Bank to fund recovery and reconstruction efforts after typhoon Ompong (international name: Mangkhut) lashed northern Luzon over the weekend.
The monster storm's torrential rain has triggered landslides, with dozens feared dead in typhoon-battered areas.
Ompong's powerful winds also caused heavy damage on an airport terminal, knocked out power and communication lines and blew off roofs.
At a press conference, Finance Secretary Carlos Dominguez said he has asked the country's disaster-monitoring agency to recommend to President Rodrigo Duterte that a "state of calamity" be declared so the government can access immediate funds from the World Bank.
"Should the president declare a state of calamity, we will be able to access $500 million loan from the World Bank at very, very favourable terms and interest rates," Dominguez said.
In the wake of tropical storm Washi, locally known as "Sendong," former President Benigno Aquino III declared a state of national calamity in 2011 and requested access to the World Bank's $500 million liquidity facility.
Such a form of contingent financing from the Washington-based multilateral lender is disbursed upon request when a country suffers a natural disaster and declares a state of emergency.
Latest government data show "Ompong" damaged 1,254 houses and destroyed an estimated P14.34 billion worth of agricultural products.
"Ompong" already is confirmed to have killed 66 people in the Philippines, with that number expected to rise.