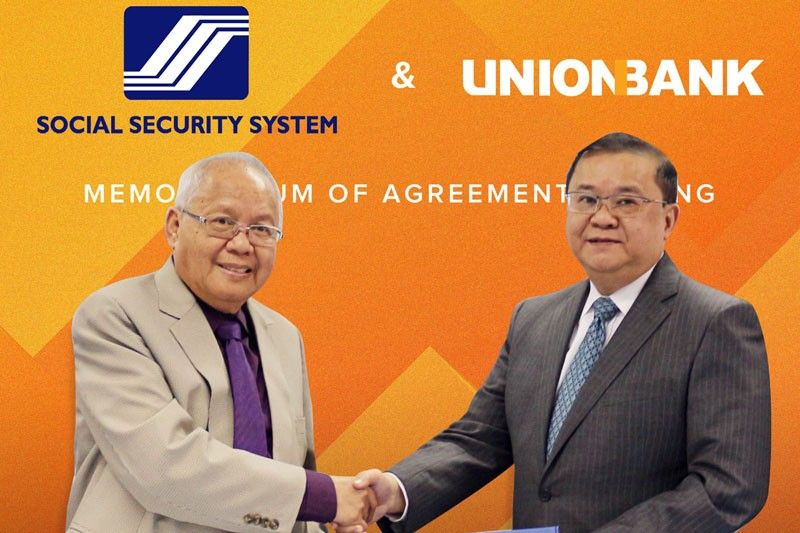 Social Security System president and CEO Emmanuel Dooc (left) shakes hands with Union Bank of the Philippines president and CEO Edwin Bautista after entering into an agreement for the SSS Pension Loan Program, a financial assistance program for qualified SSS retiree-pensioners offering loans of up to P32,000 at low interest.
SSS partners with UnionBank for pension loans
MANILA, Philippines — State-run Social Security System (SSS) has partnered with Aboitiz-led Union Bank of the Philippines for the implementation of its Pension Loan Program, the state fund said.
With the partnership in place, eligible retiree-members will be allowed to withdraw their pension loan proceeds with the UnionBank's Quick Card.
The memorandum of agreement was signed by SSS president and chief executive officer Emmanuel Dooc, and UnionBank president and chief executive officer Edwin Bautista.
The SSS launched last Sept. 3 its Pension Loan Program, which aims to provide loan assistance to some 1.3 million member-pensioners in the country.
Dooc earlier said the SSS has initially set aside P10 billion for the implementation of the program. He said the state fund is ready to raise this to as much as P30 billion if needed.
For its pilot launch, Dooc said the Pension Loan Program will initially be rolled out in 20 SSS branches in Luzon, Visayas and Mindanao.
Under the program, retiree pensioners may avail for a minimum loan amounting to twice their basic monthly pension and an additional P1,000 benefit. The maximum loan amount is equivalent to six times their basic monthly pension plus the P1,000 benefit, but should not exceed P32,000.
The loan will incur an interest rate of 10 percent per annum until fully paid. The pensioner may opt to pay the loan in three, six, or 12 months depending on the multiple of the loan amount. The first monthly amortization will be due on the second month after the loan was granted.
Dooc said the state fund will also waive the collection of the one-percent service fee. However, he said the borrower must apply for a credit life insurance, the premium of which will be deducted from the proceeds of the loan.
To qualify for the loan, retiree pensioners must be 80 years of age or below at the end of the loan term. Applicants must also have no deductions from their monthly — such as outstanding loan balance, benefit overpayment payable to SSS — and no existing advance pension under the SSS Calamity Package.
They must be receiving their regular monthly pension for at least six months, with an active pension status.
Pensioners will be allowed to renew their pension loan after full payment of the current loan.