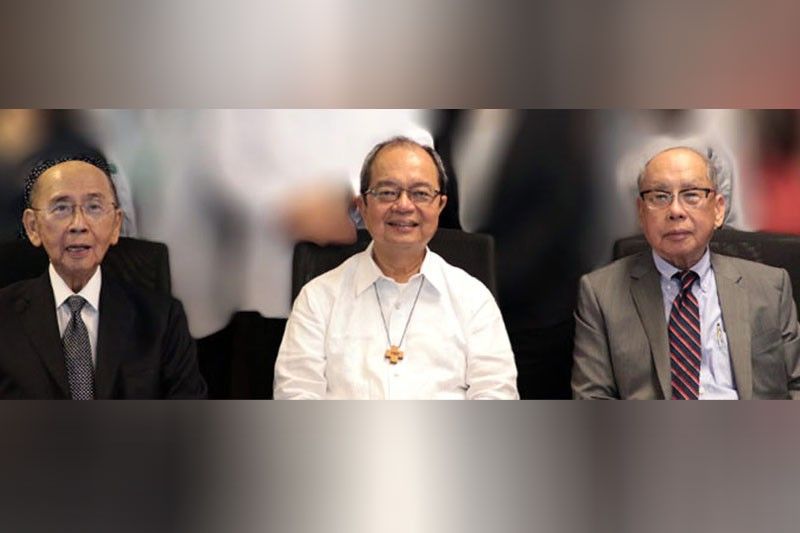 The columnist with Bro. Ray Suplido (middle) and Ricardo 'Dick' J. Romulo.
CPR donation to De La Salle University
FILIPINO WORLDVIEW
-
Roberto R. Romulo
(The Philippine Star) - September 14, 2018 - 12:00am
Last Sept. 6, a deed of donation was signed between lawyer Ricardo J. Romulo, on behalf of the Carlos P. Romulo (CPR) family and Bro. Ray Suplido, president of the university. The family donated a collection of my father's memorabilia and digitized records which will be housed in the Romulo section of the Learning Commons on the 10th floor of the Henry Sy Sr. Hall, a modern high rise designed by Leandro V. Locsin.
Ricardo Romulo said in his brief remarks:
"My father's legacy is a unique one, given the span of his career. His life followed an extraordinary pattern of starting out in a career, topping it, and then moving on to the next. The English professor became the university president; the soldier became a general; the cub reporter became a Pulitzer Prize–winning journalist; and the diplomat became an ambassador, a foreign secretary, even "Mr. United Nations.
Born almost precisely when the Americans took over from Spain as our colonizers, my father grew up with the Philippines, coming into his own hand in hand with a fledgling nation. He had a pivotal role in key events, from the independence missions of the 1920s to the Second World War and the formation of the United Nations. All told, he served nine presidents in various government positions, most notably as foreign minister for a total of 17 years."
We are grateful to have found a home within the De La Salle University campus; to be a part of the Learning Commons, a place where students can go to feel connected to their past and to learn from those, like CPR, who so tirelessly pursued independence, the promotion and protection of human rights, and fought for a democratic way of life.
I would like to acknowledge and thank my niece, Liana for all the work she has devoted "gratis et amore" to the collection and collation of CPR's memorabilia.
On behalf of the Romulo family, I entrust to De La Salle University my father's most valuable treasures, which spans 101 years — from my grandparents' wedding photo in 1894 to his burial in 1995."
In response, Bro. Ray stated:
"I would like to express to the Romulo family, on behalf of the university, our deep appreciation for your significant donation. Just a short time ago, we were talking about the many significant accomplishments your father achieved over the course of his lifetime. By this donation, what you are really entrusting to De La Salle University is a treasure and legacy: his writings, his speeches, his thoughts his dreams and his experiences. We assure you that we will take very, very good care of this treasure. And we will also share it with others - because I think that's really the purpose of the collection. It contains so much, much that can be discovered or maybe rediscovered, by our faculty, our students, and by the visitors who come to the Learning Commons, not only about CPR, but about life, about values, about nationhood, about being not only about CPR, but about life, about values, about nationhood, about being Filipino.
"And for our students, we offer them a Filipino who can inspire them. As you said, Atty. Dick, whatever CPR engaged in, he excelled, and then he moved on to another endeavor, pursued and reached even higher goals. And that's the challenge we pose to our students: to discover their talents, make these bear fruit, and then be entrepreneurs who will discover new resources, because the country needs new discoveries and new areas to move us further. Indeed, it is providential that we are being gifted with these treasures.