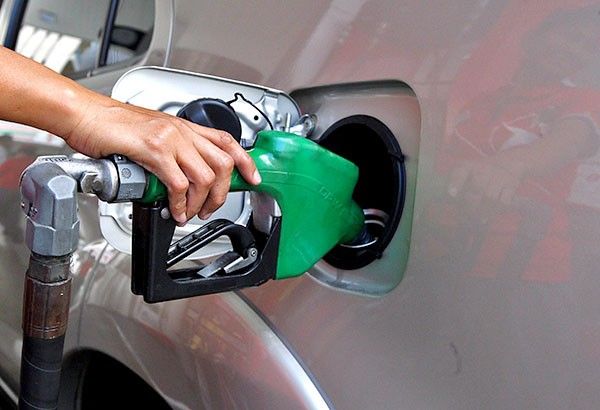 Energy Undersecretary Felix William Fuentebella described the meeting as "productive" as they were able to discuss matters on the implementation of the sale of Euro 2 diesel.
Ernie Penaredondo/File
Sale of Euro 2 diesel optional — Department of Energy
MANILA, Philippines — The Department of Energy (DOE) said its directive to oil companies to sell Euro 2 diesel is optional, following a meeting with industry players on Monday to clarify the issue.
Energy Undersecretary Felix William Fuentebella described the meeting as "productive" as they were able to discuss matters on the implementation of the sale of Euro 2 diesel.
"It was a very productive meeting in the sense that we were able to clarify that we have a common goal in addressing inflation in having a stronger, robust economy," Fuentebella said.
"How do we provide the Euro 2 option, by that very word option, it's optional because what we want in that aspect is enhance competition and to have more choices for consumers," Fuentebella said.
In a statement, Independent Philippine Petroleum Companies Association (IPPCA) president Bong Suntay said Energy Secretary Alfonso Cusi has agreed that the sale of Euro 2 diesel would be optional for oil companies.
"We met with Secretary Cusi, IPPCA gave our side and explained to him why they should consider other means of lowering the cost of diesel other than by re-introducing Euro 2 diesel back to the market," Suntay said.
"Secretary Cusi agreed that the re-introduction of Euro 2 diesel will only be optional to those who would want to sell it," he added.
Cusi earlier issued Department Circular 2018-08-0012 that mandates local oil players to world make available Euro 2 diesel in their retail stations to cushion the impact of increasing oil prices.
Suntay said the directive to sell Euro 2 diesel is merely a temporary measure to address the current high inflation as it would take time and cannot be done immediately even if the oil players would want to do so
IPPCA also emphasized that fuel stations would require retrofitting and that would take time and money.
Suntay said oil importers are already finished with their fuel requirement procurement based on their actual volume, and adding a new product at this point was not considered in that volume requirement.
Fuentebella said oil players also sought clarification on the parameters of the importation of Euro 2 diesel as it may give birth to other issues that may concern other government agencies such as the Bureau of Customs (BOC), among others.
In order to address concerns of the oil players, Fuentebella said the DOE-Oil Industry Management Bureau (OIMB) is requiring all oil companies to submit their respective implementation programs by Aug. 24.
Under their respective implementation plans, the oil companies are expected to indicate the participating retail outlets, the date of intended implementation and other related information for the provision of an additional diesel fuel alternative.
The DOE continued to emphasize that the offering of Euro 2 diesel is a bid to drive competition in the market. It assured consumers that it would continue the stringent monitoring of the quality of fuels being sold in the country.
"We empower our consumers when we give them the ability to choose. We are enhancing competition among the suppliers. This is what the Euro 2 diesel option is all about," Cusi said.
IPPCA earlier suggested the relaxation of the implementing rules and regulations stipulated under Republic Act 9637 or the Biofuels Act of 2006, which require oil companies to buy biofuels from local manufacturers notwithstanding the huge difference between local and imported biofuels, particularly ethanol.
"With the relaxation of the prescribed biofuels blend, motorists could expect a P2 per liter and P0.30 per liter reduction on the pump price of gasoline and diesel, respectively," IPPCA said.
IPPCA added that suspending the prescribed biofuel blend on fuel products would be more effective in bringing down local fuel prices, instead of reintroducing Euro 2 diesel that might not be feasible due to logistical concerns and minimal price reductions.
With Euro 4 in effect and 10 times cleaner than Euro 2, IPPCA said blending of ethanol and biodiesel is no longer needed in achieving cleaner emissions from both gasoline and diesel products.