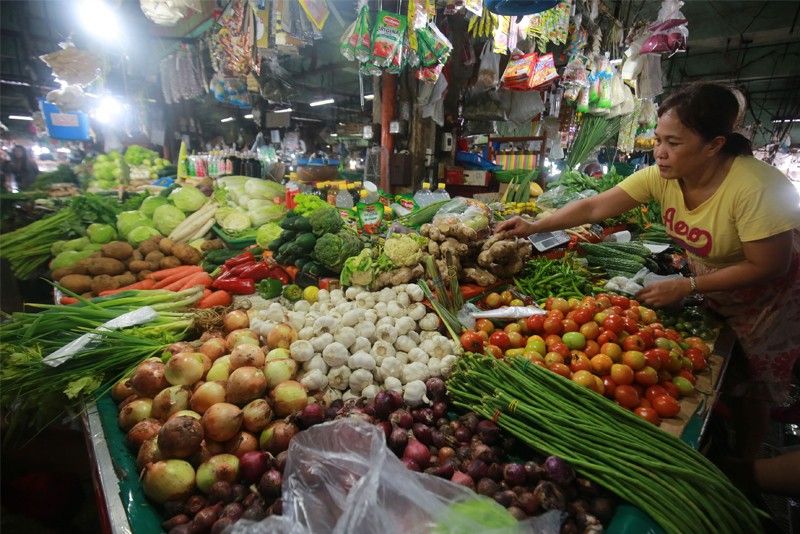 A worker sleeps at his vegetable stall in Commonwealth Public Market. Bangko Sentral ng Pilipinas again sees July inflation still past 5 percent as prices of widely used goods, vegetables and poultry products.
The STAR/Michael Varcas
Fitch unit revises down growth outlook on Philippine economy
MANILA, Philippines — Fitch Solutions Macro Research, a Fitch Group unit, revised down on Friday its outlook on the Philippine economy following a slower-than-expected growth in the second quarter that has threatened the government's full-year target.
Gross domestic product—or the value of all finished goods and services produced in the country—sharply eased to 6.0 percent in the April-June period, its lowest level in three years.
The latest GDP figure was lower than the downwardly revised 6.6 percent in the first quarter and the 6.7 percent clocked in the comparable period last year. In the first half of the year, the economy grew at 6.3 percent, below the government's 7-8 percent target range.
In a report, Fitch Solutions downwardly revised its 2018 real GDP growth forecast for the Philippines to 6.3 percent from its previous estimate of 6.5 percent considering the "sub-par" economic performance in the first semester of the year.
"Over the coming quarters, we expect the economy to face mounting growth headwinds stemming from tighter monetary conditions both domestically and globally, deepening trade tensions between the US and its trade partners, as well as a sub-par business environment which will keep a lid on private investment," the Fitch unit said.
Socioeconomic Planning Secretary Ernesto Pernia said the economy would have to expand by at least 7.7 percent in the second half to achieve the low-end of its goal for the year.
According to Pernia, inflation, which surged to a fresh five-year high of 5.7 percent in July, dented the economy's performance last quarter. He added that the Duterte administration's "prudent and judicious" policy decisions contributed to the country's sluggish growth.
Following the release of second quarter economic data, the Bangko Sentral ng Pilipinas hiked its policy rate for a third consecutive month, this time by 50 basis points instead of the traditional 25 bps adjustment to contain inflation.
"Certainly we are concerned about the country's growth prospects and let me also say that 6 percent GDP growth in the second quarter, while below our own estimates and market expectations, is not a low number," BSP Governor Nestor Espenilla said.
"Our primary mandate is really to keep inflation low and stable... Focusing on inflation right now is not necessarily anti-growth. In fact, one can argue it will sustain growth over the medium term," he added.