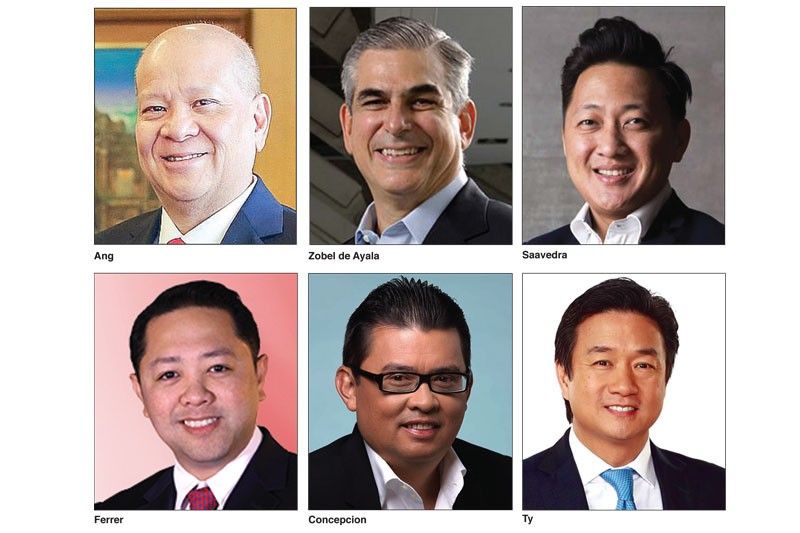 Resiliency, adaptability to bring Philippines to better state
MANILA, Philippines — The Philippines is in a better place now and the Filipino today is resilient and adaptable, and one who continuously hopes to see his country become a better place.
This, in essence, is how some of the country's most influential tycoons see the Filipino now and where the country is today. They also believe that in their own unique ways and as their different businesses make their respective marks in the economy, they are helping shape a better Philippines.
"There's a lot for us to be grateful for in life and even more to be excited and optimistic about as Filipinos. Our economy is doing well. We expect growth to be even much better in the coming years as landmark infrastructure projects are completed," San Miguel Corp. president and COO Ramon Ang told The STAR.
Economic growth, he said, "is crucial because it translates to more jobs, better opportunities, improved services and an overall better outlook in life for our people."
It's the same goals that SMC — the mammoth conglomerate of food and beverage, infrastructure, power, oil and beer — strives to achieve.
"These are the same goals that we work very hard to achieve at San Miguel. We put our scale and resources to work to deliver on our nation's goals, improve the lives of Filipinos and create a positive impact on issues that matter," he said.
The Philippines, Ang said, has so much potential.
"And while there is still much to be done, we should always stay positive and see what each of us can do to help fulfil our dream of a better Philippines," he said.
Ayala Corp. chairman Jaime Augusto Zobel de Ayala also shared this view and highlighted the Filipino's unique traits, including resiliency and adaptability.
"The profile of a Filipino today includes distinct attributes like youth, global adaptability, flexibility, resiliency, adventurous, creative, cosmopolitan, digitally savvy and with a rare ability to find humor even under the most adverse of circumstances," Zobel told The STAR.
Such quality of finding humor even in the most difficult of situations is also why resiliency is such a big part of the Filipino culture, he said.
"All of these are traits of human success in the modern world and are the reasons why we are able to adjust to changing circumstances, both at a personal and professional level," Zobel said.
The chairman of the country's oldest conglomerate also underscores the distinct Filipino spirit of bayanihan and a sense of community and cooperation.
"These make us wonderful neighbors and partners both here and abroad. Polite, cheerful, respectful and caring; we are all a part of a nation that has all the human attributes needed for future success, happiness and progress," Zobel said.
"We would do well to always build on these strengths in our culture, habits and behavior," he added.
Ayala is into various businesses such as banking, telecommunications, property, water, infrastructure, healthcare and education.
As a conglomerate, Ayala would continuously share the government and the public's dedication to public service and nation building, Zobel said in a recent speech when he was awarded by the Ateneo Professional Schools and Metrobank Foundation Inc. (MBFI) the 2018 Metrobank Professorial Chair for Public Service and Governance.
Young tycoons Edgar Saavedra and Louie Ferrer of Megawide are also excited for what they believe they can contribute in making the Philippines a better country — engineering a first-world Philippines, one project at a time.
"Right now, Southeast Asia is one of the most progressive regions in the world and the Philippines is one of the countries with the highest growth rates. This is a time with so many opportunities for our fellow Filipinos in all industries, including infrastructure, which currently has support from both government and private sectors. Megawide, in particular, is bullish about participating in infrastructure projects because these are the kinds of projects that we need to support our growing economy," said Saavedra, chairman of Megawide.
Megawide, a listed infrastructure and engineering conglomerate, is known for using the most advanced systems and technologies in Philippine construction.
"Now, we have started applying these systems to projects in transport infrastructure like the Mactan-Cebu International Airport. We want to apply only the best and most efficient technologies for every infrastructure project that we will be part of so that we can ensure seamless and on-time delivery. This is part of our commitment to engineering a first-world Philippines, and we can make this happen one project at a time," Saavedra said.
Ferrer, president of the Megawide-GMR Mactan Cebu International Airport and a director of Megawide, has the same view.
The Philippines, he said is in the midst of an important journey.
"That old saying, 'It's not the destination, it's the journey' is relevant right now. I think the Philippines is currently on a journey. All these infrastructure projects that are currently happening, all the preparations that we are making, is to ensure that we reach our destination: an economically inclusive, first-world country," Ferrer said.
It's an exciting time for Filipinos, he said because it's opening a lot of opportunities, a lot of growth.
Against this backdrop, Megawide is in the thick of it.
"We're actively helping to build the Philippines. It's even part of our corporate vision, which is 'Engineering A First World Philippines.' The projects we choose, or the methodologies we apply, all lead toward this vision. We're able to learn and do so much in this journey," Ferrer said.
The indefatigable Joey Concepcion, who wears many hats – chairman of listed RFM Corp., presidential adviser on entrepreneurship and big brother to entrepreneurs – said it is indeed an exciting time for Filipinos.
"This is the most exciting time to be a Filipino, especially for me as I play a role as the President's adviser on entrepreneurship. He stated in his State of the Nation Address that he is a president serving the poor. For this to happen, we need to create jobs and jobs are created by the private sector, the entrepreneurs," Concepcion said.
He said 99.6 percent of businesses in the country are micro and small entrepreneurs.
"This is the sector that I, together with people in the Cabinet are focusing on and persuading the large businesses to help," Concepcion said.
He is likewise excited for what lies ahead.
"With former president Gloria Macapagal-Arroyo as (House) Speaker now, I believe a strong team will be forged as she is an economist. This next one year is critical as we decide on federalism," he said.
At the same time, he said the shift to federalism must be done well or else it can make things worst.
"Arroyo works very well with the President. They both respect each other and I am sure this chemistry will deliver the best results," he said.
Alfred Ty, vice chairman of listed conglomerate GT Capital, also said in a recent interview that it is truly a good time for the Philippines and businesses are doing well and are able to help contribute to the growth of the economy.
Indeed, as some of the country's tycoons said, it's a good time for the Philippines and for Filipinos now. The growth momentum is strong. Filipinos can only hope that such momentum will finally lead to a stronger and inclusive growth for all. And when that happens, the journey to a better Philippines becomes all the more meaningful.