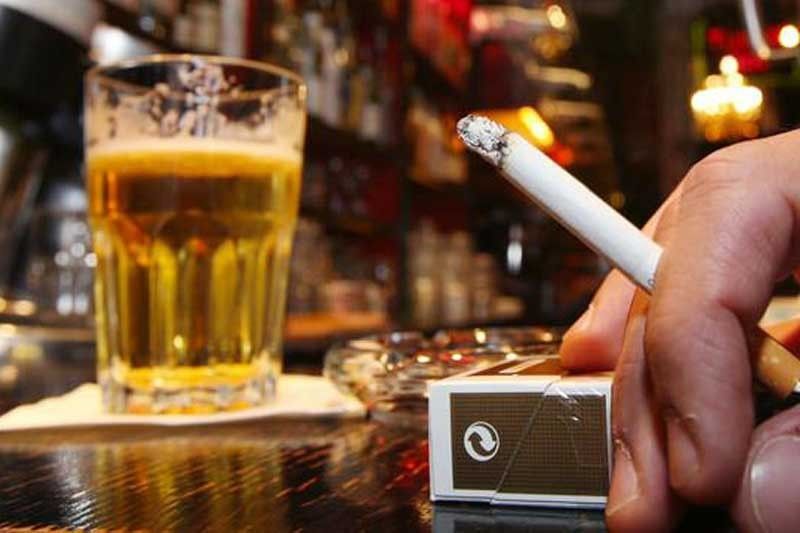 Based on DOF data, the amount was also 71.43 percent higher than the P89.09 billion generated in the same period last year.
Philippe Huguen/AFP
Excise tax collection exceeds target in first half
MANILA, Philippines — The government collected P152.72 billion in excise taxes in the first half, exceeding the P136.82 billion target by 11.61 percent mainly due to higher "sin tax" collections, according to the Department of Finance.
Based on DOF data, the amount was also 71.43 percent higher than the P89.09 billion generated in the same period last year.
Of the total amount, P112.46 billion came in the form of "sin taxes" or excise taxes imposed on tobacco products and alcoholic beverages.
Finance Undersecretary Mark Joven said excise taxes from tobacco alone, amounted to P78.95 billion, 53.53 percent higher than the target of P51.42 billion. This was also 53.5 percent higher than last year's collection of P51.43 billion.
Joven said collections have increased as tobacco companies frontloaded some of their stocks prior to the second tranche of increase in tobacco excise tax. Effective July 1, excise tax on tobacco increased to P35 per pack from the previous P32.50 under the Tax Reform for Acceleration and Inclusion (TRAIN) Act.
"This is the most aggressive. So analysis show that there is some frontloading, thus the collection slightly increased for the first half," he said.
Meanwhile, excise tax from alcohol rose by more than 19 percent to P33.51 billion in the first half, P7.39 billion or 28.3 percent higher than the P26.12 billion target for the period.
Joven attributed the increase to higher disposable income of Filipino consumers as a result of the reduction in personal income tax.
On the other hand, other forms of excise taxes went below target in the first half despite being higher than last year's level.
These include excise tax collections on petroleum which reached P18.03 billion, 31.37 percent short of the target of P26.27 billion. This was, however, 181 percent higher than the collection of P6.42 billion in the same period in 2017.
Excise taxes from automobile fell short of the target, amounting only to P2.92 billion against the P3.4 billion goal. Despite this, it was 40.62 percent higher than the P2.08 billion generated a year ago.
Mineral excise tax reached P1.56 billion, 29.39 percent below target, but 67.16 percent up from last year's level.
Excise tax on sugar-sweetened beverages reached P17.65 billion during the period, 35.27 percent below the goal. This is the first year the government is collecting this type of tax under TRAIN.
The DOF also reported zero earnings from excise tax on cosmetic procedures during the period, which was also imposed under the tax reform law.