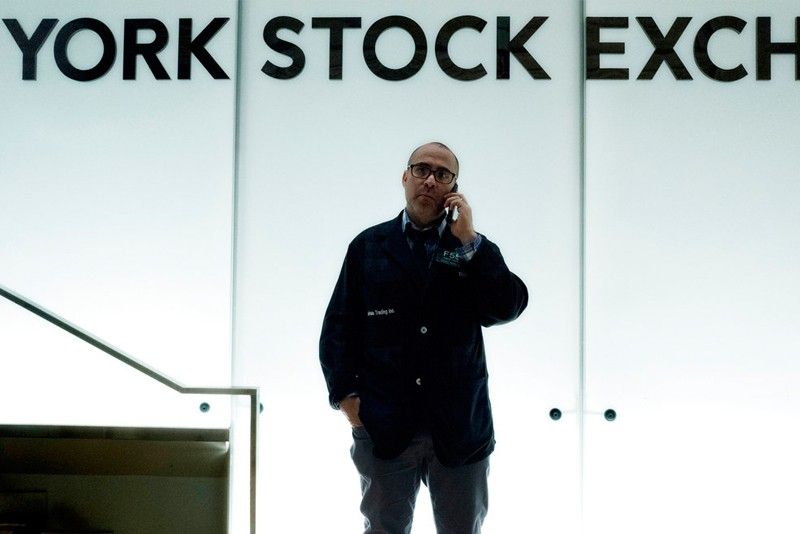 In this Jan. 2, 2018, file photo, a trader talks on his phone before the start of trading at the New York Stock Exchange. The U.S. stock market opens at 9:30 a.m. EDT on Monday, June 18.
AP Photo/Mark Lennihan, File
Asian stocks tumble after new Trump tariff threat
BEIJING — Asian stocks tumbled Tuesday after U.S. President Donald Trump escalated a dispute with Beijing over technology policy by threatening a tariff hike on additional Chinese goods.
KEEPING SCORE: The Shanghai Composite Index fell 2.3 percent to 2,953.54 points and Hong Kong's Hang Seng lost 2 percent to 29,685.28. Tokyo's Nikkei 225 retreated 0.9 percent to 22,482.89 and Seoul's Kospi lost 0.8 percent to 2,356.57. Markets in Taiwan, New Zealand and Southeast Asia also declined. Sydney's S&P-ASX 200 gained 0.3 percent to 6,123.00.
TRADE TENSIONS: Trump directed the U.S. Trade Representative to prepare new tariffs on $200 billion in Chinese imports, stepping up a dispute companies and investors worry could drag down global trade and economic growth. Trump accused Beijing of being unwilling to resolve the dispute over complaints it steals or pressures foreign companies to hand over technology. China's Commerce Ministry criticized the White House action as blackmail and said Beijing was ready to retaliate.
ANALYST'S TAKE: "President Donald Trump's unwillingness to back down became apparent this morning, once again sinking markets into a risk-off atmosphere," said Jingyi Pan of IG in a report. "Attention now turns to China for the country's response towards the latest accusations from the White House, but mostly signs of further retaliation."
WALL STREET: U.S. stocks finished mixed in trading that ended before Trump issued his latest tariff threat. Household goods companies took some of the worst losses as the Standard & Poor's 500 index fell for the third time in four days. The S&P 500 fell 0.2 percent to 2,773.75. The Dow Jones industrial average dropped 0.4 percent to 24,987.47. The Nasdaq composite edged up 0.65 points to 7,747.03. The Russell 2000 index of small-cap stocks rose 0.5 percent to a record 1,692.46. Many investors feel smaller and more U.S.-focused companies are less vulnerable in the event of a major trade dispute.
ENERGY: Benchmark U.S. crude lost 26 cents to $65.59 per barrel in electronic trading on the New York Mercantile Exchange. The contract rose 79 cents on Monday to $65.85. Brent crude, used to price international oils, fell 41 cents to $74.93 per barrel in London. The contract rose $1.90 the previous session to $75.34.
CURRENCY: The dollar declined to 109.98 yen from Monday's 110.54 yen. The euro edged up to $1.1633 from $1.1623.
As It Happens
LATEST UPDATE: July 17, 2018 - 11:19am
U.S. and European trade chiefs are meeting hours before the U.S. is expected to impose tariffs on European steel and aluminum that could unleash a trade war.
U.S. Commerce Secretary Wilbur Ross told Le Figaro newspaper that a decision on tariffs would likely come after markets close Thursday. The U.S. decision is likely to be to impose tariffs, though there is slim hope that the two sides could reach a last-minute agreement.
Ross met Thursday morning in Paris with French Finance Minister Bruno Le Maire, whose government has vigorously objected to tariffs.
And U.S. Trade Representative Robert Lighthizer is meeting in Paris on Thursday with EU Trade Commissioner Cecilia Malmstrom among other international trade chiefs.
In his Le Figaro interview, Ross said the Americans are still open to discussion, and the EU would be to blame for any trade war if it imposes retaliatory tariffs as expected. — AP
July 17, 2018 - 11:19am
The European Union and Japan are signing a widespread trade deal that will eliminate nearly all tariffs, seemingly defying the worries about trade tensions set off by President Donald Trump's policies.
The signing in Tokyo for the deal, largely reached late last year, is ceremonial. It was delayed from earlier this month because Japanese Prime Minister Shinzo Abe canceled going to Brussels over a disaster in southwestern Japan, caused by extremely heavy rainfall. More than 200 people died from flooding and landslides. — AP
July 4, 2018 - 5:09pm
German Chancellor Angela Merkel says the European Union will make every effort to avoid a trade war with the United States, but Washington needs to join in that effort.
President Donald Trump's administration has imposed tariffs on EU steel and aluminum imports and is mulling whether to add tariffs on cars, trucks and auto parts. — AP
July 2, 2018 - 6:06pm
Global markets fell Monday as weaker-than-expected Asian economic surveys ratcheted up worries over the potential impact of higher tariffs due to be imposed by China and the U.S. in a festering trade dispute. Over in Europe, a prolonged German government crisis weighed on sentiment, the Associated Press reports.
June 19, 2018 - 8:19am
President Donald Trump unveils plans to impose 10 percent tariffs on $200 billion worth of Chinese goods on top of previous punitive measures over Beijing's "unacceptable" move to raise its own tariffs.
"Further action must be taken to encourage China to change its unfair practices, open its market to United States goods and accept a more balanced trade relationship with the United States," Trump says in a statement.
The US leader warns that after the new measures are in place—on top of existing tariffs on $50 billion in Chinese imports—punitive measures on another $200 billion of Chinese goods would go forward "if China increases its tariffs yet again." — Agence France-Presse
June 6, 2018 - 6:26pm
The European Union says it will start imposing duties from July on a list of U.S. products in response to President Donald Trump's decision to slap tariffs on steel and aluminum imports from Europe.
European Commission Vice-President Maros Sefcovic said Wednesday that formalities in finalizing the list should be completed this month and that "the new duties start applying from July."
The EU says it will introduce "rebalancing" tariffs on about 2.8 billion euros' ($3.4 billion) worth of U.S. steel, agricultural and other products, including bourbon, peanut butter, cranberries and orange juice.
The European Union exported some 5.5 million tons of steel to the U.S. last year. European steel producers are concerned about a loss of market access but also that steel from elsewhere will flood in. — AP