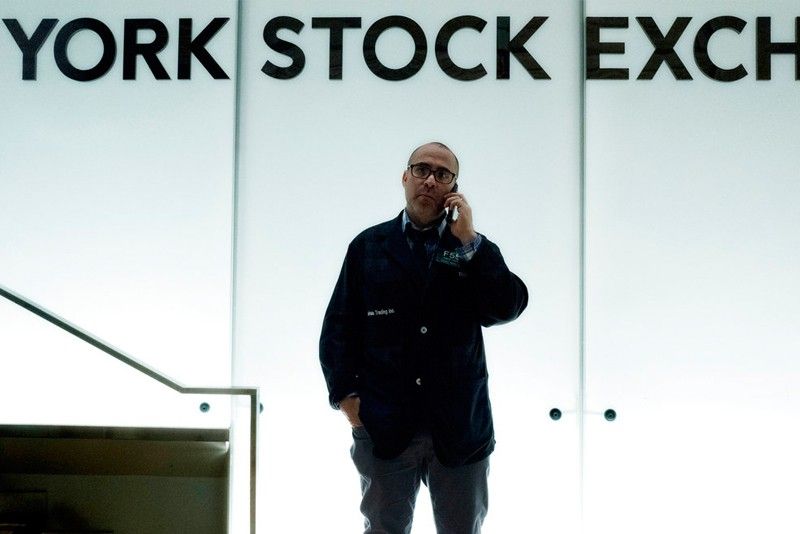 In this Jan. 2, 2018, file photo, a trader talks on his phone before the start of trading at the New York Stock Exchange. The U.S. stock market opens at 9:30 a.m. EDT on Monday, June 18.
AP Photo/Mark Lennihan, File
Asian stocks tumble after new Trump tariff threat
BEIJING — Asian stocks tumbled Tuesday after U.S. President Donald Trump escalated a dispute with Beijing over technology policy by threatening a tariff hike on additional Chinese goods.
KEEPING SCORE: The Shanghai Composite Index fell 2.3 percent to 2,953.54 points and Hong Kong's Hang Seng lost 2 percent to 29,685.28. Tokyo's Nikkei 225 retreated 0.9 percent to 22,482.89 and Seoul's Kospi lost 0.8 percent to 2,356.57. Markets in Taiwan, New Zealand and Southeast Asia also declined. Sydney's S&P-ASX 200 gained 0.3 percent to 6,123.00.
TRADE TENSIONS: Trump directed the U.S. Trade Representative to prepare new tariffs on $200 billion in Chinese imports, stepping up a dispute companies and investors worry could drag down global trade and economic growth. Trump accused Beijing of being unwilling to resolve the dispute over complaints it steals or pressures foreign companies to hand over technology. China's Commerce Ministry criticized the White House action as blackmail and said Beijing was ready to retaliate.
ANALYST'S TAKE: "President Donald Trump's unwillingness to back down became apparent this morning, once again sinking markets into a risk-off atmosphere," said Jingyi Pan of IG in a report. "Attention now turns to China for the country's response towards the latest accusations from the White House, but mostly signs of further retaliation."
WALL STREET: U.S. stocks finished mixed in trading that ended before Trump issued his latest tariff threat. Household goods companies took some of the worst losses as the Standard & Poor's 500 index fell for the third time in four days. The S&P 500 fell 0.2 percent to 2,773.75. The Dow Jones industrial average dropped 0.4 percent to 24,987.47. The Nasdaq composite edged up 0.65 points to 7,747.03. The Russell 2000 index of small-cap stocks rose 0.5 percent to a record 1,692.46. Many investors feel smaller and more U.S.-focused companies are less vulnerable in the event of a major trade dispute.
ENERGY: Benchmark U.S. crude lost 26 cents to $65.59 per barrel in electronic trading on the New York Mercantile Exchange. The contract rose 79 cents on Monday to $65.85. Brent crude, used to price international oils, fell 41 cents to $74.93 per barrel in London. The contract rose $1.90 the previous session to $75.34.
CURRENCY: The dollar declined to 109.98 yen from Monday's 110.54 yen. The euro edged up to $1.1633 from $1.1623.
As It Happens
LATEST UPDATE: September 27, 2018 - 1:56pm
U.S. and European trade chiefs are meeting hours before the U.S. is expected to impose tariffs on European steel and aluminum that could unleash a trade war.
U.S. Commerce Secretary Wilbur Ross told Le Figaro newspaper that a decision on tariffs would likely come after markets close Thursday. The U.S. decision is likely to be to impose tariffs, though there is slim hope that the two sides could reach a last-minute agreement.
Ross met Thursday morning in Paris with French Finance Minister Bruno Le Maire, whose government has vigorously objected to tariffs.
And U.S. Trade Representative Robert Lighthizer is meeting in Paris on Thursday with EU Trade Commissioner Cecilia Malmstrom among other international trade chiefs.
In his Le Figaro interview, Ross said the Americans are still open to discussion, and the EU would be to blame for any trade war if it imposes retaliatory tariffs as expected. — AP
September 27, 2018 - 1:56pm
From Ford to Walmart to Procter & Gamble, a growing number of iconic American companies are warning that President Donald Trump's tariffs on U.S. imports are raising their costs and prices. — AP
August 31, 2018 - 4:45pm
European Commission chief Jean-Claude Juncker warns the EU would hit back with tariffs of its own if Donald Trump made good on threats to slap duties on foreign cars, as an EU-US trade truce wobbled. — AFP
August 23, 2018 - 6:51pm
Japan's trade minister says that President Donald Trump's tariff policies reflect a serious misunderstanding of the importance of free trade and Japanese companies' contributions to the U.S. economy.
Hiroshige Seko warns that Tokyo might take action if the U.S. fulfills threats to levy a 25 percent tariff on Japanese auto imports. — AP
August 15, 2018 - 1:13pm
Turkey announces it is increasing tariffs on imports of certain U.S. products, escalating a feud with the United States that has helped trigger a currency crisis. — AP
August 8, 2018 - 7:55am
The Trump administration has announced that it will go ahead with imposing 25 percent tariffs on an additional $16 billion in Chinese imports.
Customs officials will begin collecting the border tax Aug. 23, the Office of the U.S. Trade Representative said. The list is heavy on industrial products such as steam turbines and iron girders.
Tuesday's announcement was not a surprise. In April, the administration had announced plans to slap tariffs on 1,333 Chinese product lines worth $50 billion a year. After receiving public feedback, it cut 515 products from the list in June and added 284. On July 6, the U.S. began taxing the 818 goods, worth $34 billion, remaining from the April list. — AP