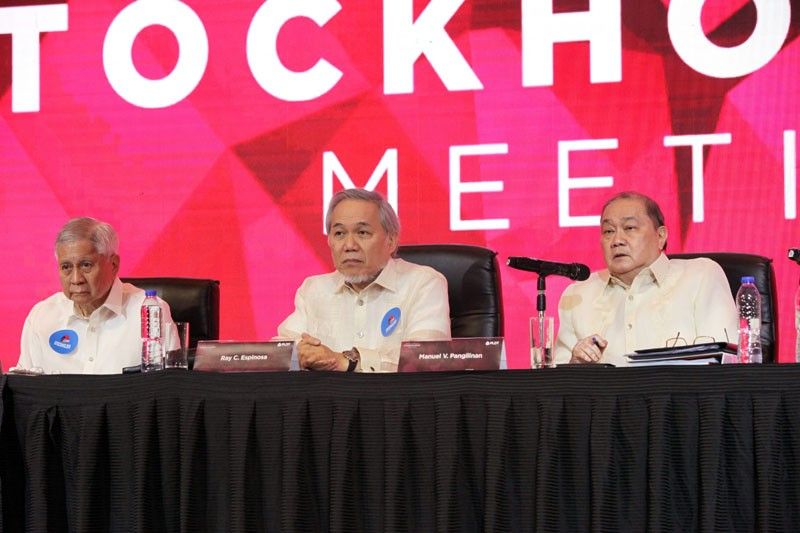 PLDT ANNUAL STOCKHOLDERS MEETING: Top officials of PLDT Inc. briefed investors on the company's achievements and plans during the telecommunication giant's annual shareholders meeting yesterday. In photo are (from left) PLDT director Albert del Rosario, chief corporate services officer Ray Espinosa and chairman and chief executive officer Manuel V. Pangilinan.
Joey Viduya
PLDT sees return to profit growth
MANILA, Philippines — Telco giant PLDT Inc. is keeping its optimistic outlook for the year as it expects growth in revenue and profit.
"2016 was an extremely tough year for PLDT. 2017 was a year to stabilize the business and 2018 is when we should see a return to growth in revenues and to profitability," PLDT chairman and chief executive officer Manuel V. Pangilinan said during the company's annual stockholders' meeting yesterday.
He said PLDT is sticking to its recurring core income guidance of P24 billion this year, eight percent higher than last year's P22.3 billion.
Service revenues, meanwhile, are expected to rise four percent this year from P143.5 billion last year.
To achieve the growth in revenue and profit, Pangilinan said PLDT would focus on four critical areas this year.
First, he said PLDT would work on raising the momentum of the wireless business.
"We must get our customers to use our data services through compelling content, such as the NBA League Pass, our YouTube promo, and our thrust into e-sports," he said.
He said PLDT would also focus on the home and enterprise businesses which are expected to continue to drive the company's overall growth.
In particular, PLDT will continue to provide extensive fiber-speed connectivity and offer higher value services to PLDT Home subscribers and information technology solutions to enterprise customers.
Third on PLDT's list is to continue expansion and improvement of networks to make the company the preferred service provider.
Pangilinan said PLDT would convert DSL subscribers to fiber-like broadband.
"We've completed our 3G rollout and should substantially finish our 4G network with competitive speed and coverage," he said.
He also said PLDT would focus on the customer through delivery and improving their digital experience.
"Defining that digital experience is probably our toughest challenge," he said.
PLDT's core income increased 13 percent to P6 billion in the first quarter from P5.3 billion in the same period a year ago.
Consolidated service revenues amounted to P35.9 billion in the January to March period, up one percent from the same period in 2017.