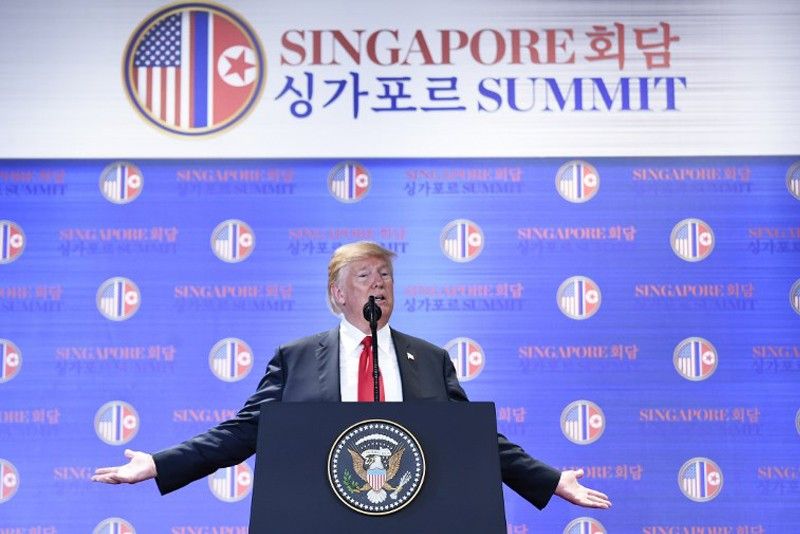 US President Donald Trump speaks at a press conference following the historic US-North Korea summit in Singapore on June 12, 2018. Trump and North Korean leader Kim Jong Un hailed their historic summit on June 12 as a breakthrough in relations between Cold War foes, but the agreement they produced was short on details about the key issue of Pyongyang's nuclear weapons.
SAUL LOEB / AFP
Asian, European stocks up after historic North Korea summit
(Agence France-Presse) - June 12, 2018 - 4:44pm
HONG KONG — Major markets in Asia and Europe rose Tuesday after Donald Trump and Kim Jong Un held a historic summit, while investors look ahead to key policy meetings at the Federal Reserve and European Central Bank this week.
Trump said he had formed a "special bond" with the North Korean leader, who reaffirmed his commitment to "complete denuclearisation of Korean Peninsula" in a joint agreement signed by the two.
While the meeting was not expected to see any immediate results, it has provided hope for peace on the Korean peninsula.
However, investors remain concerned about a possible global trade war after the weekend's Group of Seven summit in Canada ended with Trump withdrawing support for a joint communique and accusing host Prime Minister Justin Trudeau of being dishonest.
That came just after he had hit Canada, Mexico and the European Union with steel and aluminium tariffs, sparking threats of retaliation that some fear could escalate.
For most of the day eyes were on Singapore, where Trump and Kim became the first sitting leaders of their countries to meet.
The pair signed what Trump called a "pretty comprehensive" and "very important" document, which spoke of "new US-DPRK relations" and committed Washington to "security guarantees".
Kim said the two Cold War foes had vowed to "leave the past behind" and promised "the world will see a major change".
'Air of optimism'
Stocks fluctuated through the day but by the end of trade Tokyo was up 0.3 percent and Shanghai closed 0.9 percent higher. Hong Kong was 0.1 percent higher.
However, Seoul dipped 0.1 percent, while the Korean won eased 0.2 percent.
Singapore was slightly lower, as were Wellington, Kuala Lumpur and Taipei.
In early trade London and Paris each rose 0.3 percent, while Frankfurt gained 0.8 percent.
"After quickly shrugging off the G7 fight club in Quebec, investors latched on to the air of optimism circulating from the Singapore summit," said Stephen Innes, head of Asia-Pacific trading at OANDA.
"And with pro-euro signals emanating from the newly formed Italian government placating investors anxiety about the future of the eurozone, the global risk was in the happy zone Monday."
However, Goohoon Kwon, co-head of Korea research and senior Asia economist at Goldman Sachs, told Bloomberg Television ahead of the signing that markets had already factored in a lower risk of conflict on the Korean peninsula.
He added that the "follow through, execution, implementation" of any agreements was most crucial.
While the Trump-Kim summit was the big news story, traders are keenly awaiting the Fed and ECB policy meetings. The US bank is expected to lift interest rates Wednesday but its post-meeting statement will be closely watched for a clue about its plans for future hikes.
Then on Thursday, European bank officials will likely debate for the first time cutting back on their crisis-era stimulus programme.
The euro extended gains after rallying Monday on the back of comments from new Italian Finance Minister Giovanni Tria ruling out Rome's exit from the single currency. That eased concerns about his populist, Eurosceptic government's intentions regarding the currency bloc.
The pound was also under pressure as British MPs prepare to vote on a string of amendments to key Brexit legislation that could force Prime Minister Theresa May's hand in talks with the European Union.
As It Happens
LATEST UPDATE: October 6, 2018 - 1:53pm
The United States formally concluded that North Korea ordered the murder of Kim Jong-Nam, a half-brother and potential rival to ruler Kim Jong-Un, with the VX nerve agent.
"This public display of contempt for universal norms against chemical weapons use further demonstrates the reckless nature of North Korea and underscores that we cannot afford to tolerate a North Korean WMD program of any kind," US State Department spokeswoman Heather Nauert said.
The finding triggered another layer of US economic sanctions against Pyongyang, just as South Korea reported that the regime is ready for talks to end a nuclear standoff.
October 6, 2018 - 1:53pm
U.S. Secretary of State Mike Pompeo has arrived in Tokyo on Saturday for talks with Japanese officials ahead of his trip to North Korea.
Pompeo is under pressure to make progress on convincing North Korea to abandon nuclear weapons as President Donald Trump seeks to meet with leader Kim Jong Un for a second time after their June summit in Singapore.
Pompeo will meet with Japanese Prime Minister Shinzo Abe and Foreign Minister Taro Kono later Saturday to discuss their North Korea policies before heading to Pyongyang on Sunday. — AP
October 2, 2018 - 6:11pm
North Korea rules out dismantling its nuclear arsenal in exchange for the US declaring an end to the Korean War, saying a peace treaty should "never be a bargaining chip."
The North has for decades demanded that the US formally declare the end of the 1950-53 conflict that was halted only with an armistice, saying an official end to the war would ease tensions on the flashpoint peninsula. — AFP
September 22, 2018 - 10:26am
President Donald Trump says he won't rush into any deal with North Korean leader Kim Jong Un.
Trump tells a rally in Springfield, Missouri, that he received a "beautiful letter" two days ago from Kim. But he's not saying what the letter said.
The president and Kim met in June in Singapore to discuss denuclearizing the Korean Peninsula.
Trump says he has a "very good" relationship with Kim. He notes that North Korea has returned Americans being held there, as well as remains of American service members who went missing during the Korean War.
The president also notes that North Korea has not conducted any ballistic missile or nuclear weapons tests in months.
Trump says, "Let's see what happens," adding "I'm in no rush." — AP
September 6, 2018 - 4:00pm
North Korea has reiterated its calls for the United States to agree to a declaration to formally end the Korean War, which it says President Donald Trump promised during his June summit with Kim Jong Un.
The column in the Rodong Sinmun newspaper also says the Trump administration must discard its "stubborn" stance that the North must denuclearize first before the United States agrees to a peace treaty.
The article says North Korea has shown "goodwill and generosity" through actions such as returning U.S. war remains and dismantling a nuclear testing ground but that the United States has been failing to respond with corresponding measures to improve relations.
The article came a day after a South Korean presidential delegation visited Pyongyang and set up an inter-Korean summit on September 18 to 20. — AP
September 6, 2018 - 12:21pm
A South Korean presidential official says North Korean leader Kim Jong Un told him he still had faith in U.S. President Donald Trump despite ongoing difficulties in the nuclear negotiations between Washington and Pyongyang.
Chung Eui-yong says that Kim emphasized during a meeting in Pyongyang that he has not once talked negatively about Trump to anyone including his closest advisers.
Chung says Kim said that he wishes for North Korea and the United States to put an end to their seven decades of hostile relations before the end of Trump's first term.
After their June summit in Singapore, Trump and Kim announced a vague statement about a nuclear-free peninsula without describing when and how it would occur. Post-summit nuclear negotiations were rocky and quickly settled into a stalemate. — AP