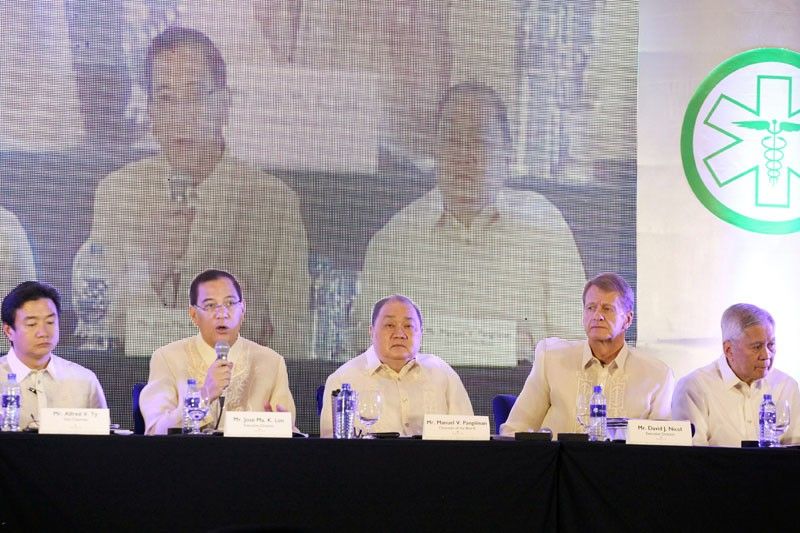 MPIC shareholders meeting: Top officials of Metro Pacific Investments Corp. entertain questions from shareholders during the company's annual meeting yesterday. In photo are (from left) MPIC vice chairman Alfred Ty, president and CEO Jose Ma. Lim, chairman Manuel V. Pangilinan, chief finance officer and executive director David Nicol and independent director Albert del Rosario.
Bening Batuigas
MPIC to boost power portfolio
MANILA, Philippines — The MVP Group is targeting to build a power portfolio of 1,600 megawatts by 2022, tycoon Manuel V. Pangilinan said.
"In power, we are looking to execute on at least 1,600 MW of predominantly ultra-supercritical coal-fired generating capacity by 2022, continue to actively participate in the retail electricity sales market and solidify our position as the Philippines leading power company," Pangilinan said in his message to shareholders during Metro Pacific Investment Corp.'s annual stockholders meeting yesterday.
This would be a mix of coal and renewable energy, particularly wind and solar, Pangilinan said.
The group is looking to invest in solar, wind, run-of-rive, hydro, biomass and battery storage and the latest highly efficient and environmentally-responsive base load and mid-merit coal and gas-fired plants, Pangiinan also said.
MPIC president and CEO Jose Maria Lim said the group would also be awaiting progress on developments of liquefied natural gas (LNG) to determine whether or not the group would be making its foray in LNG.
At present, the MVP Group, through Global Business Power Corp. has at least 800 MW.
MPIC also plans to join the bidding for the power and water requirements of the New Clark City which the state-run Bases and Conversion Development Authority (BCDA) will bid out soon, Lim said.
The 9,450-hectare New Clark City is envisioned to be the next growth driver in Luzon.
In toll roads, MPIC is focusing on the resolution of the company's outstanding toll rate issues to unlock the value of its existing concessions.
"We are also gaining momentum on the construction of new toll road expansions designed to shorten travel times, alleviate traffic congestion and enhance traffic growth in our entire network," Pangilinan said.
MPIC through Metro Pacific Tollways Corp. has new projects in the pipeline including the P10.5 billion, 5.8 kilometer North Luzon Expressway (NLEX) Harbour Link to Caloocan City, which is targeted for completion this year.
Other projects include the NLEX Harbour Link Radia Road 10, a P6.7 billion, 2.6-kilometer road with completion expected next year; and the P23.3 billion eight kilometer elevated NLEX-SLEX Connector Road.
Construction of the NLEX-SLEX connector road is due to start in the third quarte, , assuming formal turnover of the site before the end of June this year.
Completion of the long-anticipated tollroad is due in 2020, MPIC said.
MPTC expects to spend approximately P122.8 billion in the next five years, building highways and tollroads around the country.
Lim said the company expects modest earnings growth in 2018 on the back of stable volumes across all its businesses.
MPIC reported a consolidated core net income of P14.1 billion last year, up 17 percent.