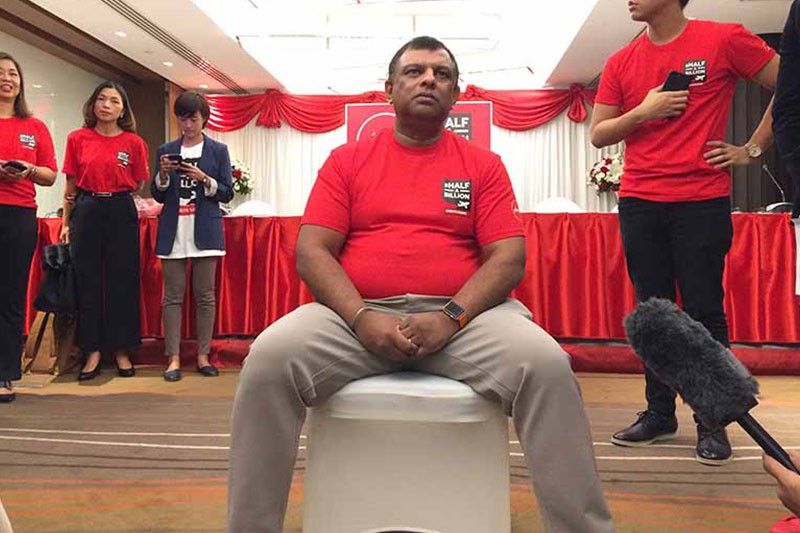 AirAsia Group CEO Tony Fernandes holds a press conference just before the budget carrier celebrated its 500 millionth milestone in Bangkok.
Philstar.com/Audrey B. Morallo
AirAsia says it can weather current period of high oil prices
BANGKOK, Thailand — AirAsia Group chief Tony Fernandes said that the budget airline would "live through" the current period of high oil prices amid fears that this, coupled with depreciating currency values in some Southeast Asian countries, could result in earnings pressure.
Fernandes said that the Southeast Asian budget airline grew and made income even when oil was priced at over $100.
He said that the group had a "strong ancillary income machine" which could help it offset possible losses stemming from pricier oil.
Ancillary income refers to non-ticket revenues such as onboard food and services and baggage fees.
"We will live through this as we have done in other oil price hikes. It's not over a $100 which was where it was before but we still made money," Fernandes said in a press conference in Bangkok just before the company celebrated the milestone of flying its half a billionth passenger.
The appreciation of the US dollar against the Indonesian rupiah and the Philippine peso could also exert earnings pressure on the financial performance of Philippines AirAsia and Indonesia AirAsia, which both delivered profits last year.
AirAsia's Philippine affiliate is also trying to manage the effects of President Rodrigo Duterte's closure of the tourist island of Boracay, traffic to which accounted to around a fifth of its seat sales.
Fernandes also expressed support for Duterte's move to close Boracay to visitors for six months, a move criticized by some quarters as too abrupt and lacking concrete plan at the expense of the island's residents and workers.
The Philippine government officially shut down Boracay on the midnight of April 25 in an effort to save the popular holiday destination from environmental decay and ruin.
In his speeches, Duterte blasted the island and labeled it a "cesspool" after he saw a video of black sewage being poured into the sea in one of the areas in Boracay.
Boracay's closure is expected to affect around 30,000 residents reliant on its tourism for livelihood and negatively impact the country's tourism targets as the island generates billions of pesos for the Philippines.
"It's important as part of these 500 million we support the action by the president. We don't want to be a contributor to future environmental degradation as well," the AirAsia Group's boss told reporters.
Fernandes said that AirAsia group had launched a very strong environmental sustainability program to ensure that its destinations and their local communities were not negatively impacted by tourism and human traffic.
"I think it's important that with the growth of travel in ASEAN that we do make sure that tourism is sustainable. That is very important in the next five to 10 years as we begin to open new destinations," Fernandes told reporters.
Fernandes said that in going to new destinations, AirAsia ensured that it engaged the local community and it had the needed infrastructure for the possible influx of tourists.
He added that the jobs the local residents preferred as well as sacred objects in their communities were also taken into account.