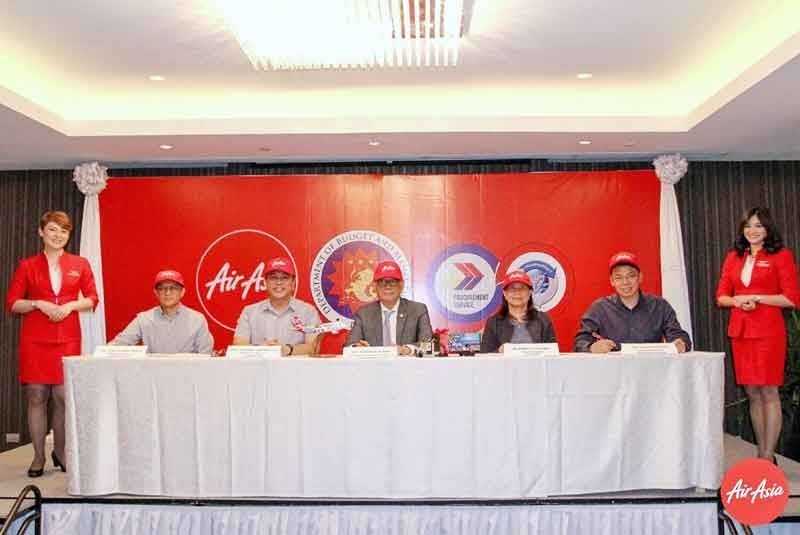 AIR ASIA SIGNS GOV'T FARES AGREEMENT WITH DBM: Air Asia and the Procurement Service of the DBM has signed a Government Fares Agreement which gives government workers discounted rates and exclusive privileges on official trips. Present during the GFA signing (from left) are AirAsia Philippines chief finance officer Jose Leandro Ramos, AirAsia Philippines CEO captain Dexter Comendador, DBM Secretary Benjamin Diokno, PS-PhilGEPS executive director Bingle Gutierrez, and AirAsia Philippines commercial director Gilberto Simpao.
AirAsia gives government workers discounts for official trips
MANILA, Philippines — Low-cost carrier Asia has signed an agreement with the Department of Budget and Management (DBM) for discounted air fares to government workers on official trips.
AirAsia and the Procurement Service of DBM signed Wednesday a government fares agreement (GFA) which gives state employees discounted rates and exclusive privileges on official trips.
Under the GFA, AirAsia will provide an eight to nine percent discount on air fares for all domestic flights.
Budget Secretary Benjamin Diokno said the government's transportation budget for domestic trips this year, particularly for air fare, is around P2 billion.
Among other exclusive privileges under the GFA are the free web admin fee, complimentary 20-kilogram baggage for corporate full fares, rebooking fees at no cost on selected packages and bundled services, among others.
Diokno said the GFA is in line with the government's goal limiting costs and secure savings in the procurement of air transport needs of all government employees for their official trips.
"As government officials, it is our duty to get the most out of the limited public resources entrusted to us. The GFA is a step towards getting the highest value for the hard-earned money of our Filipino taxpayers," Diokno said.
As of end-December 2017, a total of P202.8 million has been generated as sales for the GFA.
"Considering that these airline tickets were purchased at a discount of eight to nine percent less than the regular price, a savings of P19.5 million was achieved for the government as of 2017," Diokno said.
AirAsia is the third air carrier that has signed an agreement with the government following Philippine Airlines and Cebu Pacific Air.
At present, a total of 138 government agencies are now enjoying the benefits of the GFA. These range from national government agencies, state universities and colleges to government corporations.
All airline transactions under the GFA will be made online via the DBM Procurement Service website, giving government offices instant access and the privilege to book with ease through online travel reservation portal connected to airasia.com now available for booking effective May 2, 2018.
For his part, AirAsia Philippines CEO Capt. Dexter Comendador said: "We are your partners in nation building and for the men and women in public service we will go the extra mile to give you and every Filipino traveller what we all truly deserve: seamless connectivity, world-class service and affordable fares."